All Rust servers will eventually wipe, but when exactly does it happen? It depends on the server and if it's a Community or Official server. The type of wipe also comes into play as both normal and forced wipes will happen on servers in Rust. Forced wipes will occur when updates get added to Rust, which occurs on the first Thursday of every month at 2pm EST for all platforms including consoles.
When these wipes happen, all player buildings and items will get cleared off the map. Luckily, most forced wipes do not include Blueprints getting cleared, as the developers tend to avoid wiping them. However, sometimes the developers will wipe Blueprints when needed to keep the game stable.
When do server wipes occur in Rust?
Similar to Forced wipes, community servers will occasionally wipe their progress. Server wipes will also vary in how and at what time the servers wipe. The time servers wipe varies from server to server. Some servers will follow a monthly period, while others will go for a weekly to bi-weekly server wipe period. If you ever want to know when a server wipes, you can find out by checking the server name in the server browser. You can also check what time servers wipe by looking for a date in the server browser, as shown below.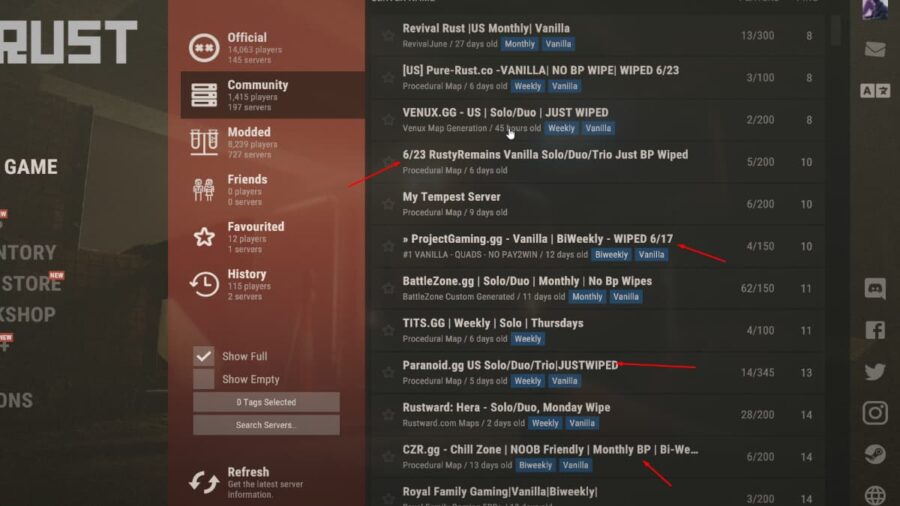 Do Community servers wipe blueprints in Rust?
Some servers, when they wipe, will remove all progress including Blueprints. Other servers will just wipe buildings and items. If you want to find a server with no Blueprint wipes, check for No BP Wipe on the server name in the server browser in Rust.
What time do console servers wipe for Rust?
Console servers in Rust will wipe on the last Thursday of every month at 2 pm EST as detailed in the official blog post for Rust Console Edition.
For more on Rust, we at PGG have you covered with guides like Best Rust Skins and How to Fish in Rust