Between your cases in Sherlock Holmes Chapter One, you will find dozens of delightful side-cases in Cordona to keep you sharp and help you earn a couple of bucks on the side, too. To find the short and sweet Street Magic case, look for a toppled street magic stand near the intersection of Harbor Ave and Fairy St.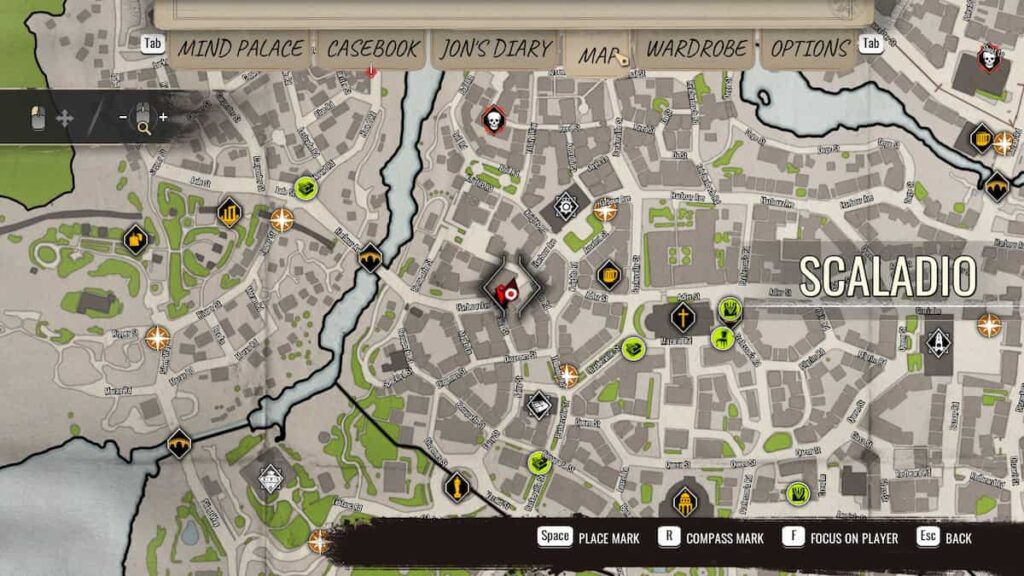 You'll find two pedestrians standing by and gossiping about the events that transpired. Interact with the ear icon above their heads to start eavesdropping on them, and when prompted, choose to keep the following phrases:
Fortune-teller kid.
Assaulted and chased.
Called a liar.
Pin the clue Magical Prodigy and begin examining the street magic stand. You'll find a geode, some tarot cards, a poster, and most importantly, a purple magic hat.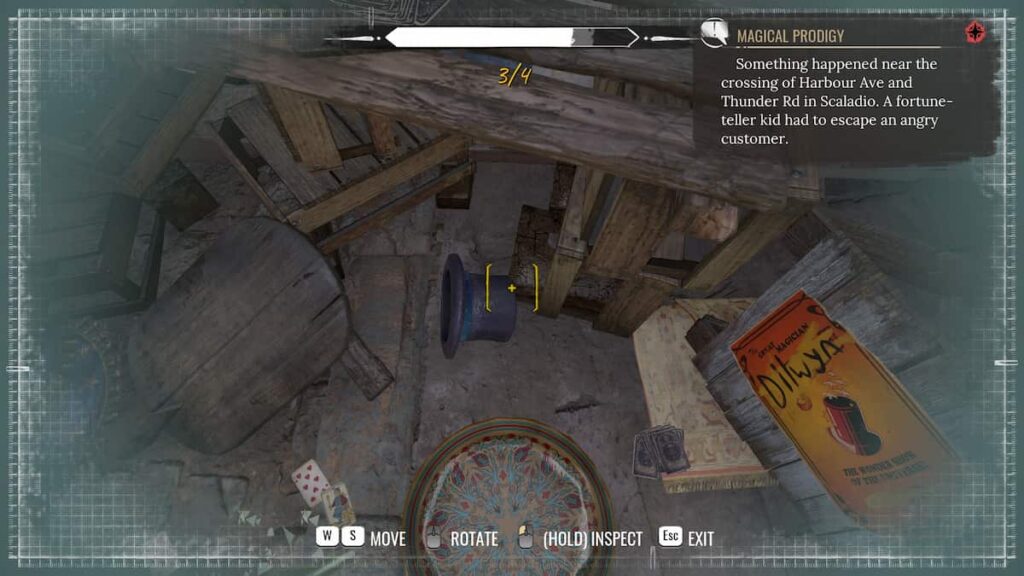 Jon will suggest that you wear the hat for the duration of the investigation. Take his suggestion and equip the hat for the best possible outcome in this case.
Enter Concentration Mode, and you'll find a trail to the right of the magic stand. Stay in this mode and follow the trail; it will end abruptly around a Police Officer speaking to a man. Interact with the Police Officer, and the trail will continue down the stairs and across a bridge.
Once across the bridge, you'll find the Street Magician gasping for air to the left. Interact with the kid to observe him, and when prompted, choose to profile him as a bored rich kid—he'll confirm that.
Exhaust your dialogue options as you see fit, and you will complete the case. If you've worn the magic hat while talking to the kid, you will win the Jon Challenge Chasing Magic and grab the Hocus Pocus achievement.
For more guides and secrets in Sherlock Holmes Chapter One, check out All Bandit Lair Locations in Sherlock Holmes Chapter One, and stay tuned to Pro Game Guides for continued coverage on all of your favorite games!