It's a good time to be a pirate fan with excellent titles like Sea of Thieves and the upcoming Skull and Bones. Between the two titles, fans can find a place for themselves in the pirate life. But with both games offering a seemingly similar experience, you may be wondering what the differences and similarities of Sea of Thieves and Skull and Bones are.
Sea of Thieves vs Skull and Bones
Depending on what manner of pirate experience you are looking for, you will want to pick up Sea of Thieves of Skull and Bones. Here is what we know that is alike and different about both pirate titles.
Similarities between Skull and Bones and Sea of Thieves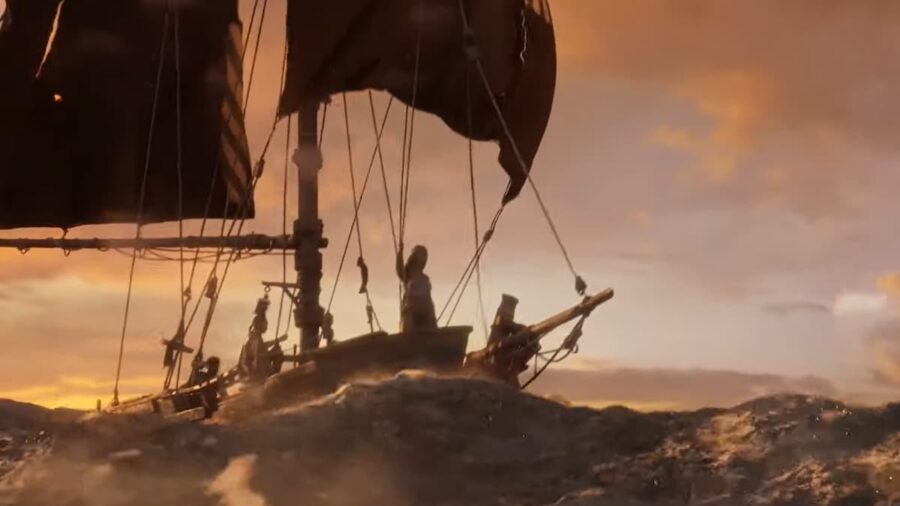 Pirate Simulator
Pirate life has many aspects, and both titles deliver that experience. You are free to captain your ship, gather a crew, and sail the seas. Both Sea of Thieves and Skull and Bones are chock full of pirate activities. You can sail, deliver cargo, steal plunder, engage in naval warfare, and much more.
Sea of Friends and Foes
Both Sea of Thieves and Skull and Bones offers an expansive multiplayer experience. Each title has multiplayer aspects—whether you prefer PvP or PvE content. You are free to engage with other players or avoid them, either duking it out in naval battles, taking on forts, or simply sailing away. Both titles encourage working together if you prefer to play with others.
Related: Will Skull and Bones get DLC – Is Skull and Bones a live service game?
The Pirate Life Goes On
Sea of Thieves initially launched with sparse content, but the developer quickly showed that it intended to support the game with additional post-launch content. Sea of Thieves has received numerous updates that have greatly expanded its gameplay and story. Skull and Bones' developer has also confirmed that it will receive updates and post-launch content in the months and years following the title.
Dead Men Tell No Tales
A downside of being primarily focused on multiplayer is that both Sea of Thieves and Skull and Bones lack a strong single-player story. There are underlying story elements and lore to learn by completing missions or contracts, but there is no overarching story to tie the game together. While this allows for a strong multiplayer experience, those who prefer to play solo or immerse themselves in a pirate life will be disappointed.
Home is Where the Ship is
Perhaps the most important aspect of a pirate's livelihood is their ship. Sea of Thieves and Skull and Bones offer multiple options for what kind of ship you sail. Each ship in both titles has its respective differences and similarities, including the number of crew, weapons, speed, maneuverability, and more. Determining what ship is best for you will depend on what activities you get up in each game.
Skull and Bones and Sea of Thieves Differences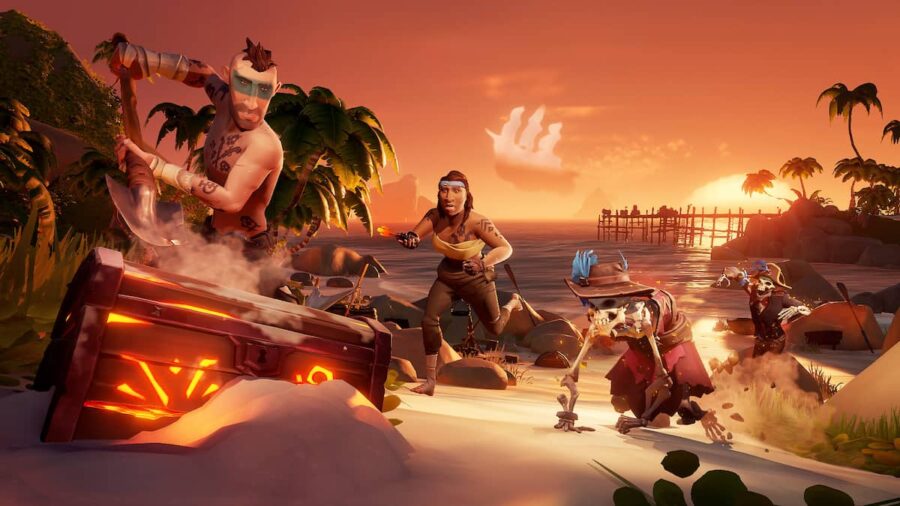 Atmosphere
One major and perhaps most notable difference between the two games is their atmosphere. Sea of Thieves embraces the jolly good life of a pirate with its colorful cartoony aesthetic and humor, while Skull and Bones goes the opposite direction and showcase the dark and gritty life of a pirate. These two different art styles give both games a different air from one another.
A Pirate's Life
Another distinct handling of the pirate's life is that Sea of Thieves is more of an adventure, while Skull and Bones focus on the warfare aspect. Both games allow you to sail a ship, but Sea of Thieves is more of the adventures and crazy shenanigans you get up to with your crew on sea and land. Skull and Bones forsake the adventure and instead has you gaining infamy through sinking ships, stealing cargo, and completing pirate contracts.
Fantasy and Realism
Sea of Thieves offers the fantasy of being a pirate, filled with sea monsters, undead sailors, and more. The title does not take itself seriously and leans into pirate folklore and magic. This is quite different than Skull and Bones, which keeps the setting realistic and showcases the Golden Age of Piracy in its true colors.
Related: Sea of Thieves Season 7 launches this July with Captain customization options
Customization
While both Sea of Thieves offer customization, it is handled in vastly different ways in regards to ships. Ship customization is strictly cosmetic in Sea of Thieves, only changing the appearance of your vessel. Whereas Skull and Bones, customization directly influences how your ship handles. Whether you elect to add more weapons or upgrade your hull, these customization options strongly affect how your ship performs in battle.
Control
Lastly, another different aspect is how Sea of Thieves and Skull and Bones handle their gameplay in the level of control. Sea of Thieves can be played solo, but it is a much more difficult task managing a ship yourself as you are constantly floating between sailing, navigating, and managing cannons. Skull and Bones, however, make it much simpler to control your ship solo. You are the captain and manage your crew, who follow your orders and control, making sailing, fighting, and navigating a seamless experience.
For more information on gaming, check out What is Skull and Bones? Release date, Pirates, and more! and What is the Llama Beard Error in Sea of Thieves and how to fix it on Pro Game Guides.