Steam is one of the biggest distribution services and online stores for video games and other applications on PC. Being an essential app for gamers around the globe, the application seldom faces crashes and problems. Most of the time, the fixes to these issues need to be applied from the users' end. If you're having trouble unpacking your downloaded game, here are some possible fixes that may help.
How to unpack faster on Steam
Restart the unpacking process: The first thing you should do when encountering this problem is to pause and then resume the unpacking/downloading of the game.
Restart your Steam client: Next up, try to unpack the game after restarting your Steam app. You can also try restarting your entire PC and even the network connection, just in case.
Free up space on your storage if required: Unpacking may require significant storage space. The unpacking process may be hindered and fail altogether if you don't have sufficient space left on your drive. Delete any unnecessary files if you are running out of space.
Related: How to fix error code e84 on Steam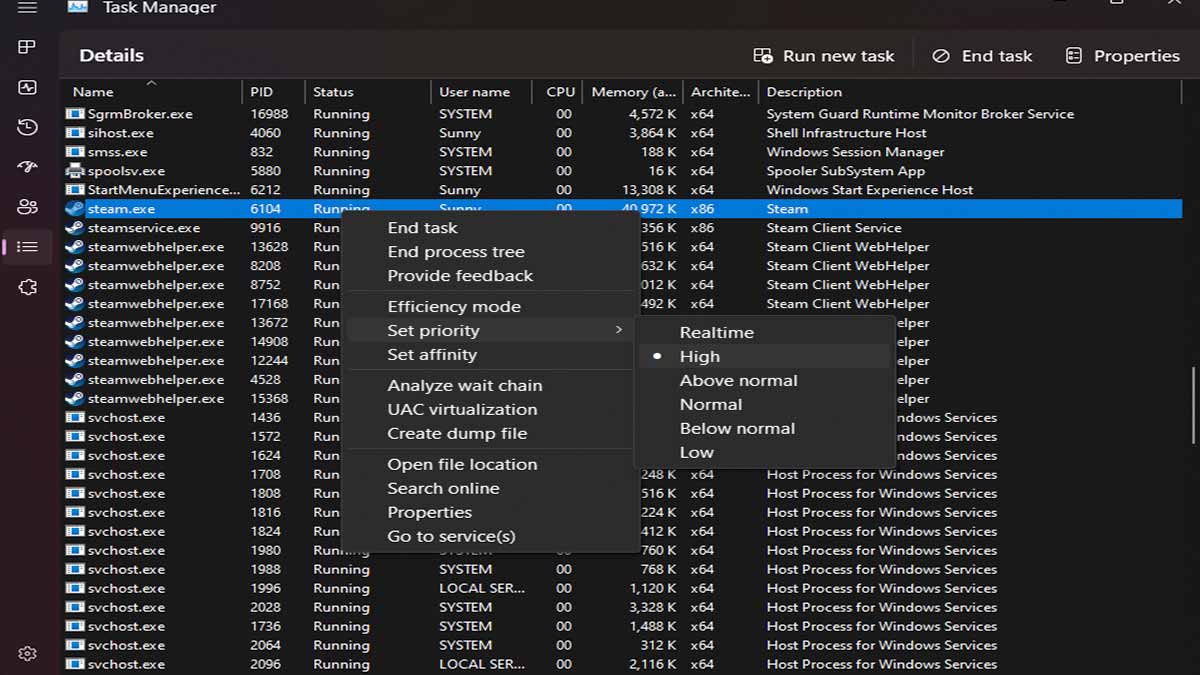 Change Steam's priority: In the Details section of your PC's Task Manager, scroll down until you find steam.exe. Right-click on this icon, go to Set Priority, and select the High option (see the first image). To open Task Manager, simply press Ctrl + Shift + Esc on your keyboard.
Delete Steam's Depotcache files: In your Steam client's installation directory, you'll find a subfolder named depotcache. Open this folder and delete all the files inside it. To access depotcache, paste C:\Program Files (x86)\Steam\steamapps\depotcache on the file explorer search bar. This will be different for users who didn't install Steam at the default destination. If so, you'll have to search for it manually.
Defragment and optimize storage: Run the Defragment and Optimize Drives application on your PC and click on the Optimize button while selecting the storage device in use (see second image). To open this setting, press Windows + R, type dfrgui in the search box, and hit enter.
Stay tuned to Pro Game Guides for more Steam news and bug fixes. In the meantime, check out our articles on Best Free Multiplayer Steam Games and All Nominees for Steam Awards 2022 Game of the Year.