There are plenty of fighters to play in Street Fighter 6, not just the classic characters but exciting new fighters and even your own custom characters as well. I love creating characters, but sometimes there are just too many frustrating details to keep up with, which is why the recipe download and upload feature really blew my mind. You can use other players' designs simply by searching their recipe codes, and we have a list of some of the best ones to try out today!
Best Street Fighter 6 Character Recipes List
Best Street Fighter 6 Character Recipes
Asuka Kazama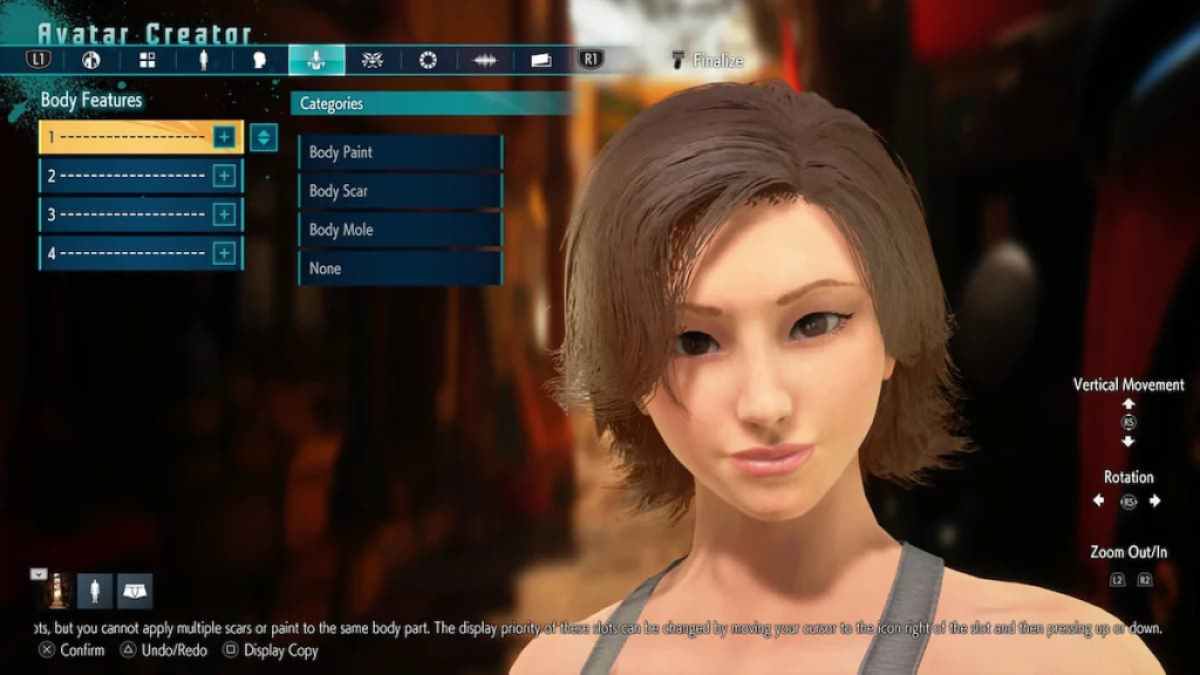 This Asuka Kazama creation is a character inspired by another classic fighting game, Tekken. She is known as a Spirited Peacemaker, and despite her seemingly innocent look, she really knows how to kick butt. This creation was provided by Reddit user, SunNeat4872.
Asuka Kazama Recipe Code: XKJVQMNPU
Genos from One Punch Man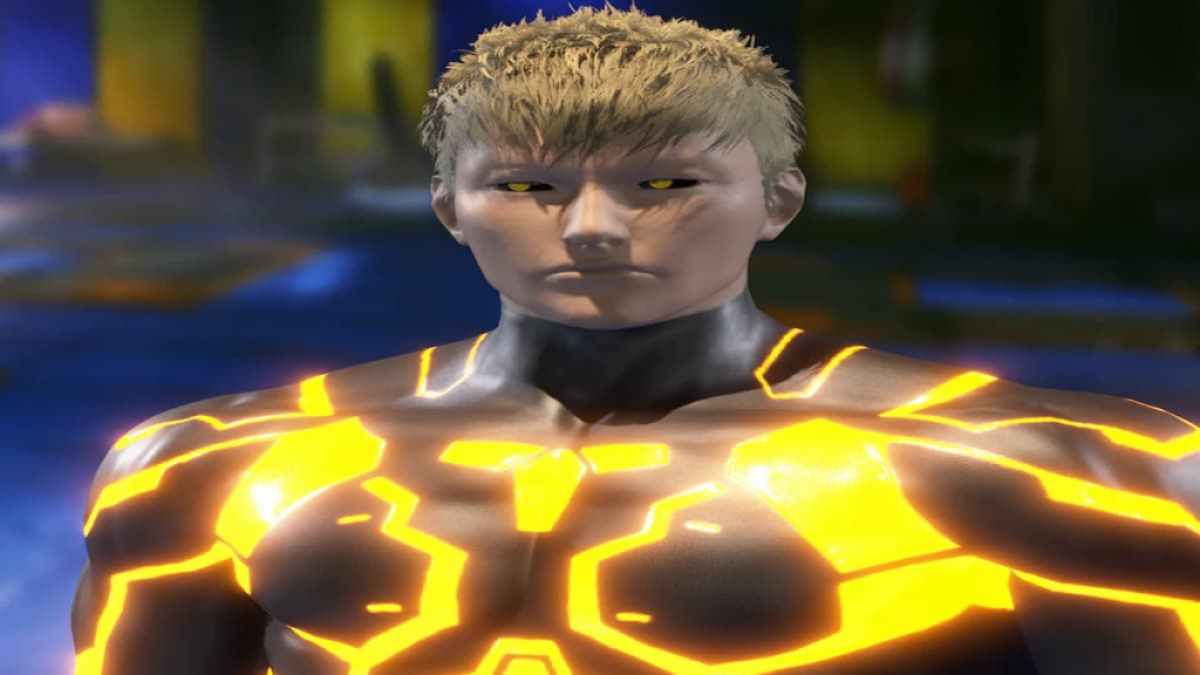 Genos is another inspired character creation from the anime One Punch Man. He is known to be a young cyborg whose hunger for power and fight for justice had others deem him Demon Cyborg. This creation was provided by Reddit user, Fletchyboyo, and he is open to some added improvements or revisions of the look as well.
Genos from One Punch Man Recipe Code: QKVN3NEF4
Kiara from Hololive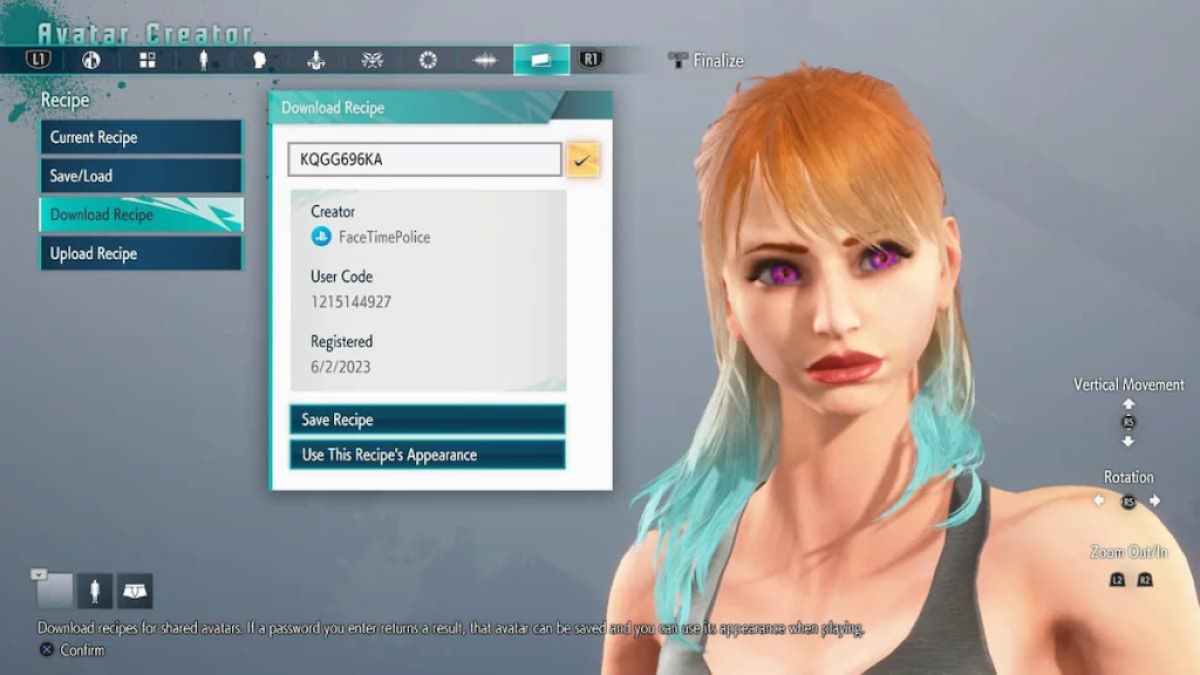 This bright-eyed character is a sweet interpretation of the character Kiara from Hololive. Even though Kiara is known to be a gamer and virtual Youtube star, who says she can't jump into a fight? Try out Kiara in your fights and add your own little customization to her. This recipe is provided by Reddit user, FaceTimePolice.
Kiara from Hololive Recipe Code: KQGG696KA
Brazillian Female Fighter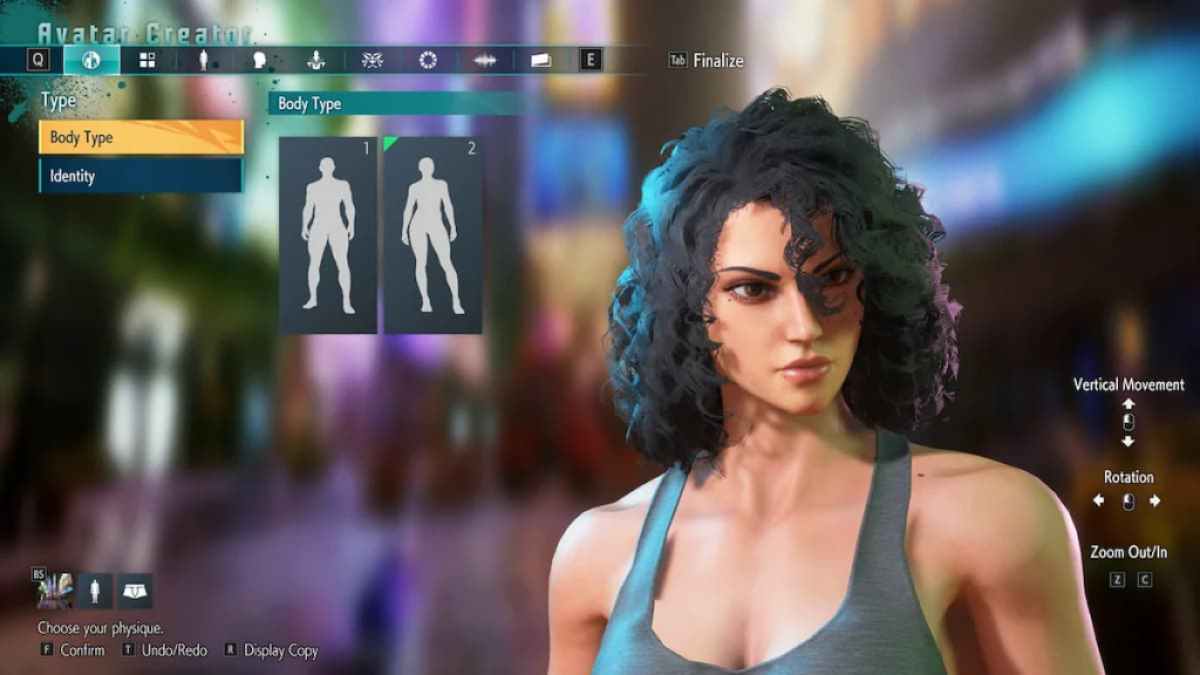 If you're not looking for a specific character creation inspired by tv or other games, there are plenty of creations available that are just truly unique and original, such as this Brazillian goddess. This avatar preset has a tall, strong build perfect for extended reach, made with Cammy's iconic moveset in mind. This recipe is provided by Reddit user, jonsonH.
Brazillian Female Recipe Code: DTHGG86KM
Related: Street Fighter 6 – How to unlock Classic & Alternate Costumes
Scarred Female Fighter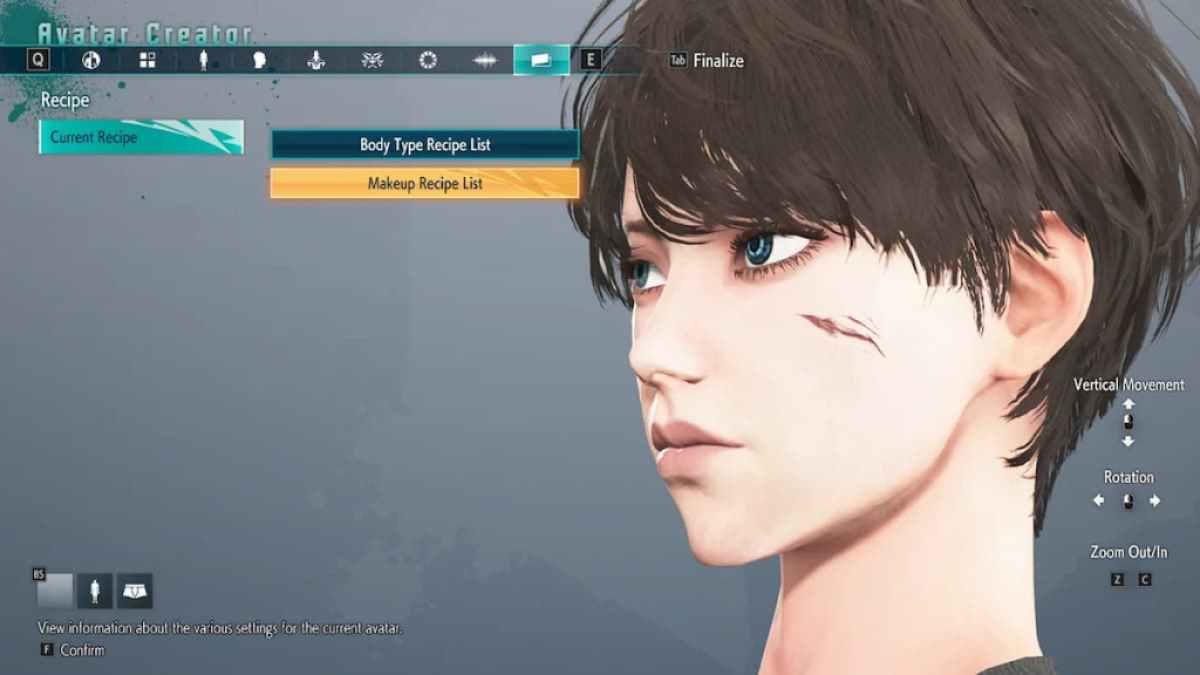 This creation is another completely original design. This female fighter has an icy look to her, piercing through her opponents with bright blue eyes. The nasty scar on her cheek gives the impression she has seen plenty of action in her days and is definitely not one to mess with. This recipe is provided by Reddit user, Chibi1234.
Scarred Female Fighter Recipe Code: L3HEMVUQN
Leon Kennedy Modern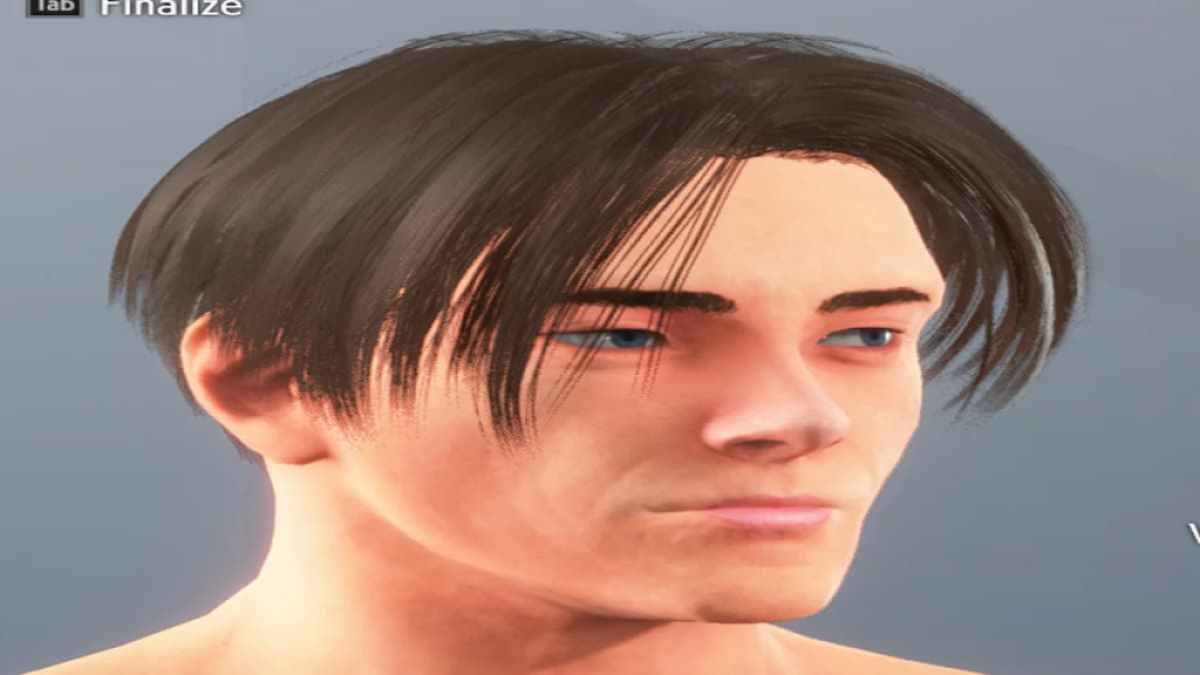 This character recipe is an interpretation of the Resident Evil character Leon Scott Kennedy. With a slightly more modern twist on the agent, he looks as brooding as ever, and he is ready to take on a brand new battlefield and face any enemy that stands in his way. This recipe was provided by Reddit user, ADingo__.
Leon Kennedy Modern Recipe Code: KLAPA6HMN
LTG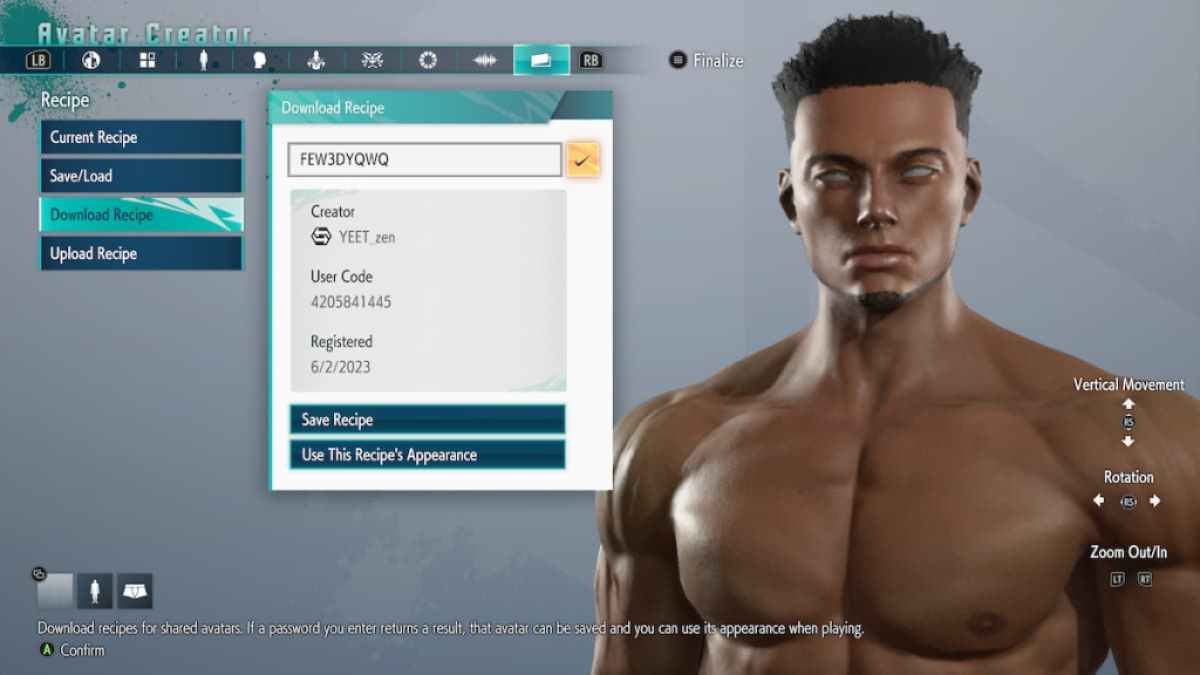 LTG, or Low Tier God, is a Twitch gamer known for playing Street Fighter and being fairly blunt and aggressive. This character is supposed to reflect his image that quickly became a meme of sorts, in which his eyes are all white, and he has lightning flashing around him. This recipe is provided by Reddit user, Ok-Archer-7475.
LTG Recipe Code: FEW3DYQWQ
Lord Orochimaru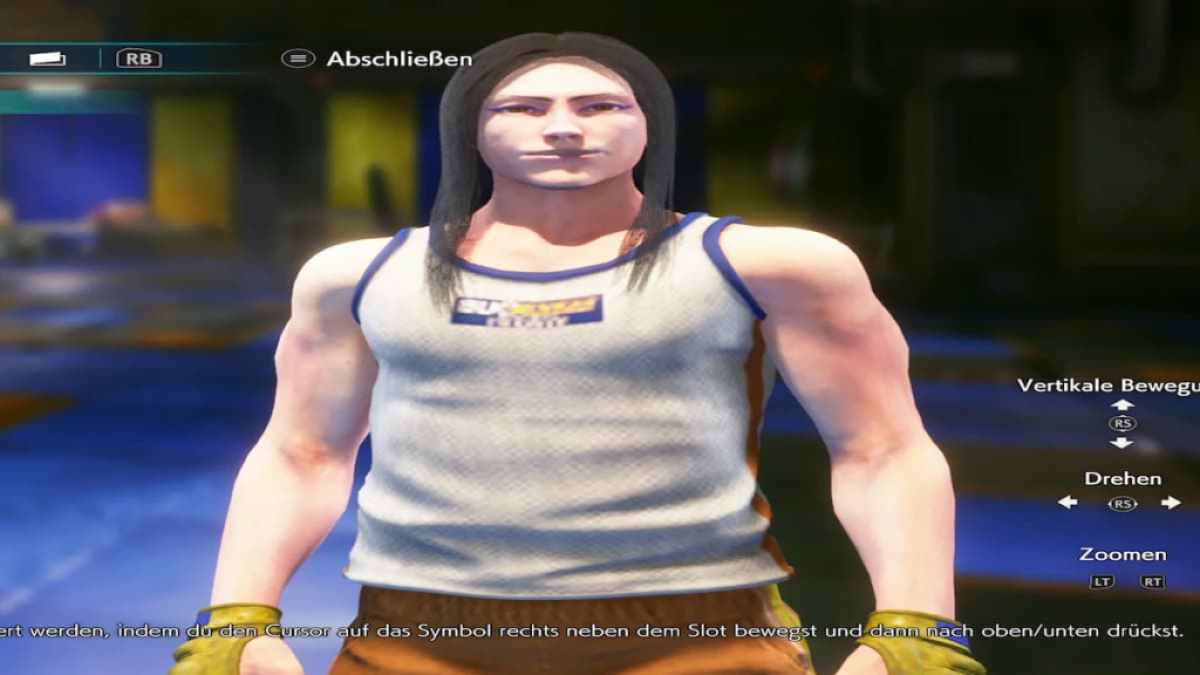 This avatar creation is inspired by the Naruto character, Lord Orochimaru. It perfectly inhabits his sly, mischievous grin, and hopefully, his ruthless, dark behaviors carry over to the battlefield and wipe the floor of his opponents. Add your own touch on the character and take him to the fight. This recipe was provided by Reddit user, shebba123.
Lord Orochimaru Recipe Code: KCXVFS4M4
Lara Croft
If you're a fan of the Tomb Raider franchise and would like to have a fighter resembling the famous aristocratic adventurer Lara Croft, this recipe is the best one I found yet! It perfectly captures her body type and her iconic braid from the previous era of games that will hit her fans with a nostalgic note!
Lara Croft Recipe Code: TFJXX6CLA
Terminator
Who wouldn't want to play a metal android with a cybernetic endoskeleton having a go at squishy humans? This incredible recipe represents the original T-800 from the very first Terminator movie, with half of his face torn off, showing a glimmering metallic skull and an iconic red eye. He's back!
Terminator Recipe Code: Terminator
Harley Quinn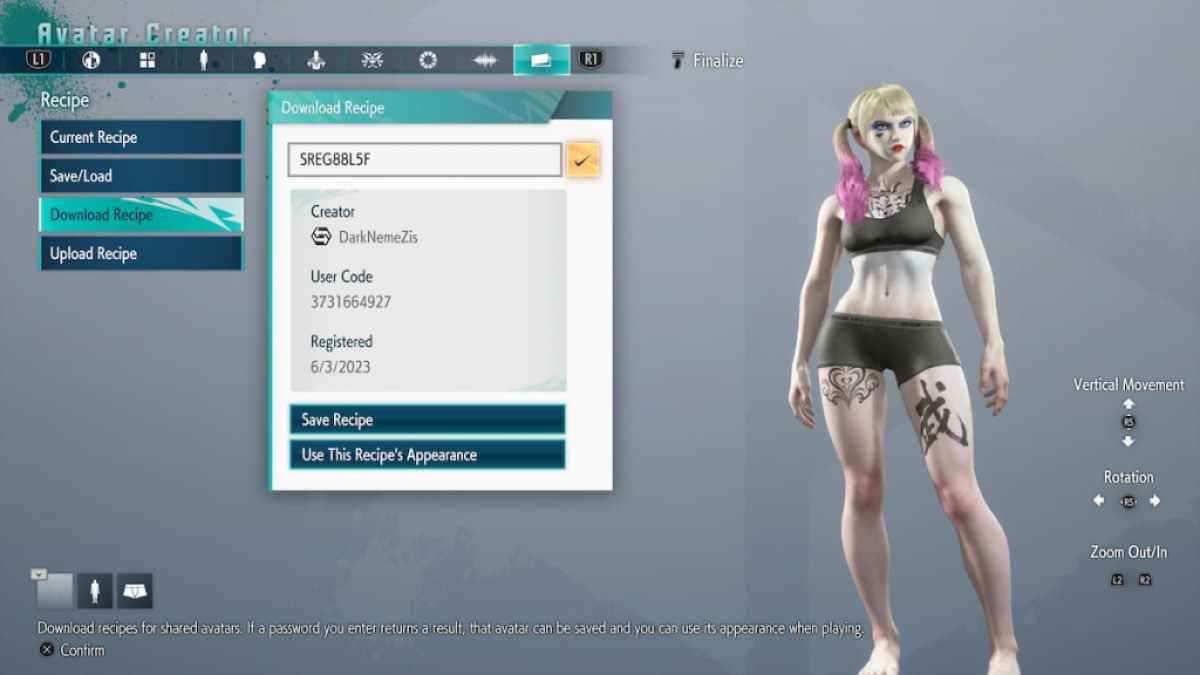 Nothing gives a girl boss vibe like a character with dyed pigtails and tattoos covering her thighs. Wearing characteristic makeup, you can customize this character to make her look like any of the recent Harley Quinn iterations from movies or comics.
How to enter the Avatar Creator and input Character Recipes Codes in Street Fighter 6.
To enter the Avatar Creator and input the codes for character recipes in Street Fighter 6, follow the steps below: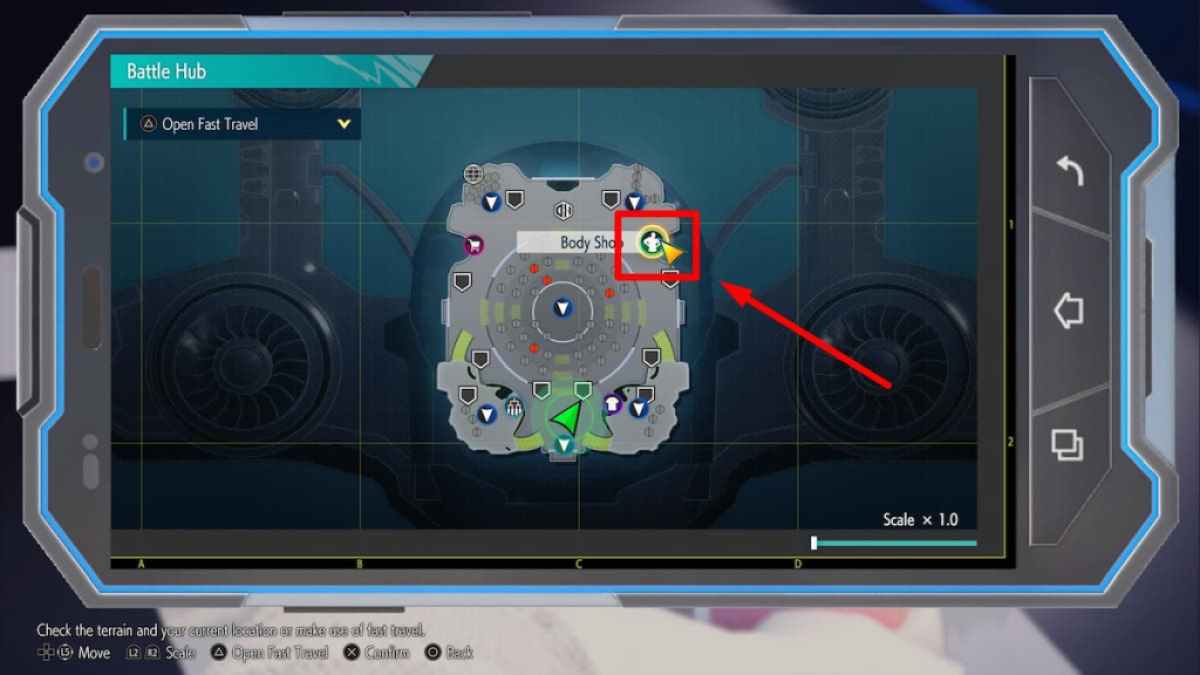 Start Street Fighter 6 on your platform.
Once in the Main Menu, enter the Battlehub.
Find the Body Shop stand at the Battlehub. You can find it using the map for reference.
Select the Avatar Creator from the top menu. This sub-menu will grant you access to Character Recipes.
How to Download Character Recipes in Street Fighter 6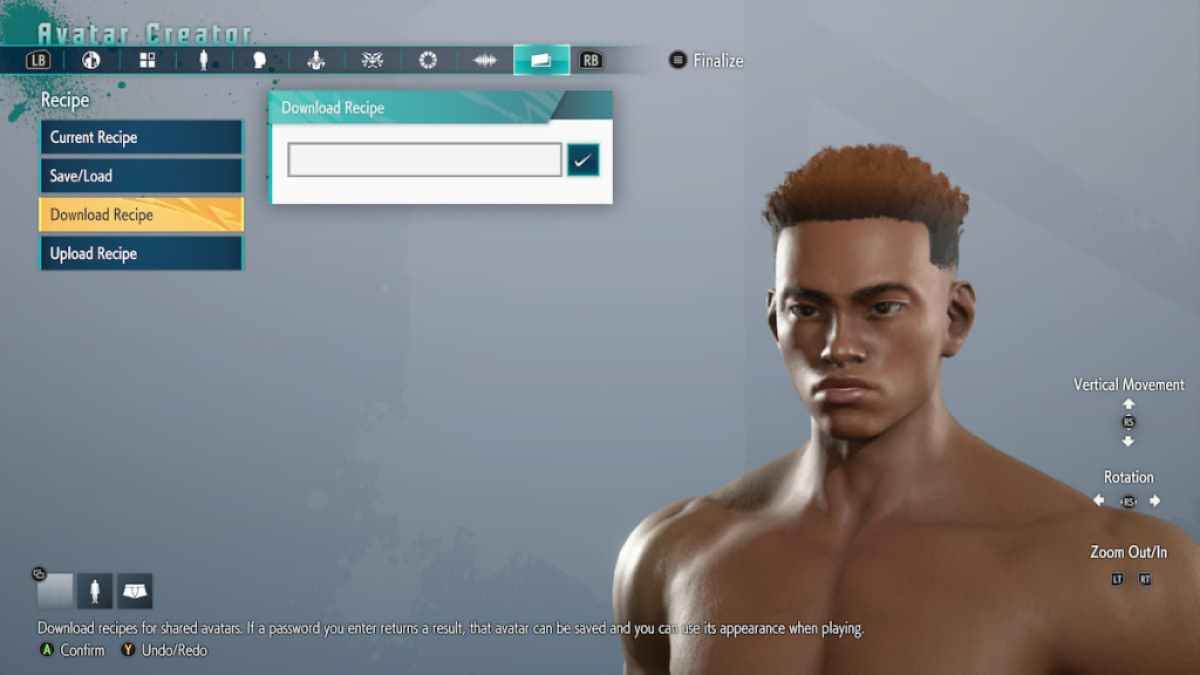 To download a recipe from other players, you will need to use their Recipe Code to search for it. Navigate to the Recipe tab in the Avatar Creation menu. Then in the Download Recipe text box, type the Recipe Code they provide. Click the checkmark to search for the recipe, and if it exists, it should pull it up and give you the option to save it or use the recipe's appearance.
Looking for more Pro Game Guides Street Fighter 6 content? Check out our guides on Street Fighter 6 – How to change your avatar or All fighters in Street Fighter 6 – full roster!