Street Fighter 5 has been out for six years now and has a vast, 45-figher roster. With this many fighters, it can be overwhelming to pick what's right for you. Thats where our tier list of the best Street Fighter 5 fighters comes in.
Below, we've ranked all the Street Fighter 5 characters into six tiers, S to F. This way, you can find out which fighters are broken and which you should steer well away from.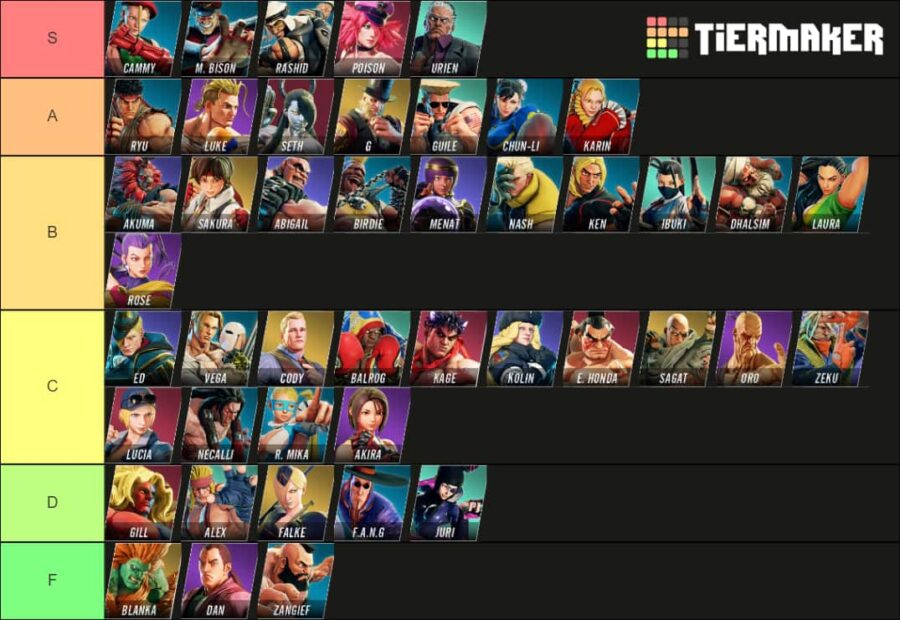 S Tier
Cammy, M. Bison, Rashid, Poison, Urien
These are the unbeatable top-tier. Cammy, M. Bison, Rashid, Poison, and Urien all have features that make them horrible to play against, with zoning elements, mobility, and counters that can't be beat. If you want to win and dominate so bad it makes it feel unfair, use these guys.
Related: When does Street Fighter 6 release?
A Tier
Ryu, Luke, Seth, G, Guile, Chun-Li, Karin
Top tier Shotos are here, and some other archetype makes, such as Guile and Chun-Li. These fighters are solid all-rounders with great damage, great tools for offense and defense, and have excellent overall coverage. However, they're just shy of being perfect.
B Tier
Akuma, Sakura, Abigail, Birdie, Menat, Nash, Ken, Ibuki, Dhalsim, Laura, Rose
These fighters are in the category of "good, but not great." You're going to win the majority of your matchups with B-tier fighters, but they can't hold a candle to A and S. B-tier features some of the weaker Shoto characters and archetypes.
C Tier
Ed, Vega, Cody, Balrog, Kage, Kolin, E. Honda, Sagat, Oro, Zeku, Lucia, Necalli, R. Mina, Akira
This is strictly middle-of-the-pack. There are some good matchups and some bad. None have exceptional tools to excel, and you'll likely find them a bit harder to play than fighters in the tiers above. That's why Vega and E. Honda fall into this category.
D Tier
Gill, Alex, Falke, F.A.N.G, Juri
These are fighters with a majority of bad matchups. Their use is situational, but they often lack the tools other fighters have to win. They'll often consistently beat C or other D tiers, but they lack the utility and movesets to defeat S, A, and even B-tier characters.
F Tier
Blanka, Dan, Zangief
These characters are either bad or literal joke characters. They have a lot of poor matchups against the majority of other fighters, and they only win against unskilled opponents. A master of these fighters can do well and knock out some unexperienced players. Otherwise, stay away.
Looking for more classic fighting game action? Check out When does the Capcom Fighting Collection release? on Pro Game Guides.