The Tears of Themis Anniversary event, Blissful Fête, runs throughout July and brings plenty of Stellis Celebrations for attorneys to enjoy and resources to farm for the coveted Shadow of Themis limited banner. From July 5, 2022, to July 30, 2022, you can play various Festive Games with your favorite male leads to earn S-Chips and Likes Celebration Stickers.
One of the Festive Games you can play is called the Trial of Love. Head to the Stellis Celebration menu above the X-Note, select Festive Games, and choose the Lucky Choice tab to begin.
How to play Lucky Draw in the Tears of Themis Anniversary event
In the Lucky Draw mini-game, your partner will draw two cards: one facing up, and one facing down. Your goal is to guess whether the value of the face-down card is higher or lower than the face-up card. This sounds simple in theory, but there's a caveat—if you make a wrong guess, you lose all your points, ending the game.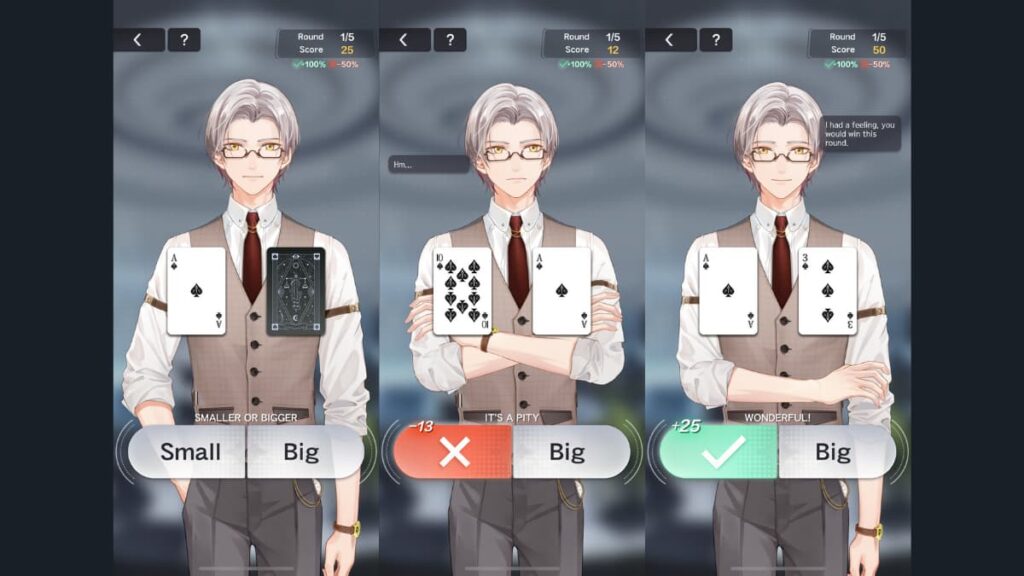 Losing can be tumultuous as you need to win all rounds to score enough points for the S-Chip reward. There are four stages that unlock throughout the event, so make sure to check back once in a while. Don't forget to claim your rewards manually by clicking each reward above the score line (under stages)!
Related: Tears of Themis Stellis Anniversary Returner Gifts event guide
Tips for winning Lucky Draw in the Tears of Themis Anniversary event
You can play Lucky Draw purely with luck. But if you've tried one too many times and still can't get enough points for the S-Chips, here are some tips to play the game a little more mindfully and increase your chances of winning.
Lucky Draw uses either one or two suits with 13 cards each. A suit is a symbol corresponding to each card, such as the heart, spade, diamond, and clover. So a game can have either one deck of hearts (single suit) or one deck of hearts and one deck of spades (double suit).
The cards are valued in this order of increment: numbers 2 to 10, then Jack, Queen, King, and Ace. All the cards will only appear once in each game, so you can make a list of the number and suit of each card that appears to narrow down your choices.
Take this single suit scenario, for example:
Round 1: Face-up card is 5 of hearts. You choose higher and the face-down card turns out to be 10 of hearts. You win the round.
Round 2: Face-up card is King of hearts. The face-down card cannot be 5 of hearts, 10 of hearts, or King of hearts.
As you progress through the rounds, you can make choices based on the cards that have already appeared. So if all the biggest values, such as the King, Queen, Ace, and Jack, have shown up, you can choose lower even with a 10 on the face-up card.
Additionally, consider the following to help you:
When the face-up card is a 2, always choose bigger.
When the face-up card is an Ace, always choose smaller.
In a double suit game, if both cards are the same value but different suits, the round will end in a draw. A draw is not considered a win—you don't earn nor lose points.
Generally, you want to choose bigger when you get lower values (2 to 5) and choose smaller when you get higher values (10 to Ace), but RNG can mess this logic up.
Check out our guide on How to play Chromatic Melody in Tears of Themis – Stellis Anniversary event Festive Games guide to complete another Festive Game.