The Tears of Themis Anniversary event, Blissful Fête, runs throughout July and brings plenty of Stellis Celebrations for attorneys to enjoy and resources to farm for the coveted Shadow of Themis limited banner. From July 5, 2022, to July 30, 2022, you can play various Festive Games with your favorite male leads to earn S-Chips and Likes Celebration Stickers.
One of the Festive Games you can play is called the Trial of Love. Head to the Stellis Celebration menu above the X-Note, select Festive Games, and choose the Sweet Tracks tab to begin.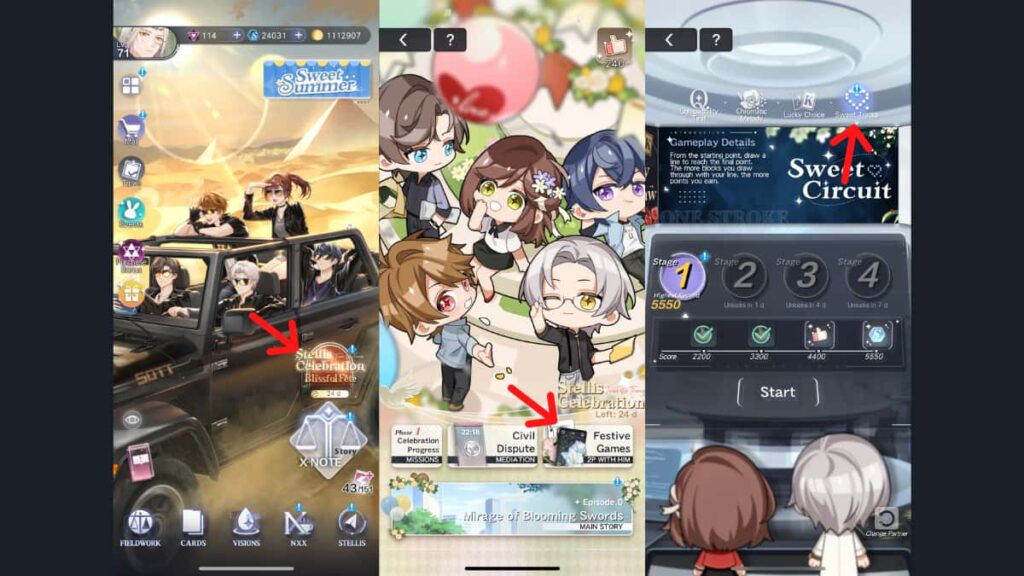 Related: How to play Chromatic Melody in Tears of Themis – Stellis Anniversary event Festive Games guide
How to play Sweet Circuit in the Tears of Themis Anniversary event
In Sweet Circuit, your goal is to create a path from the Start tile to the End tile by dragging your fingers along the tiles. Each tile gives a number of points, so the more tiles you use in your path, the higher your score will be. You need to use all the tiles to gather enough points for the S-Chip reward.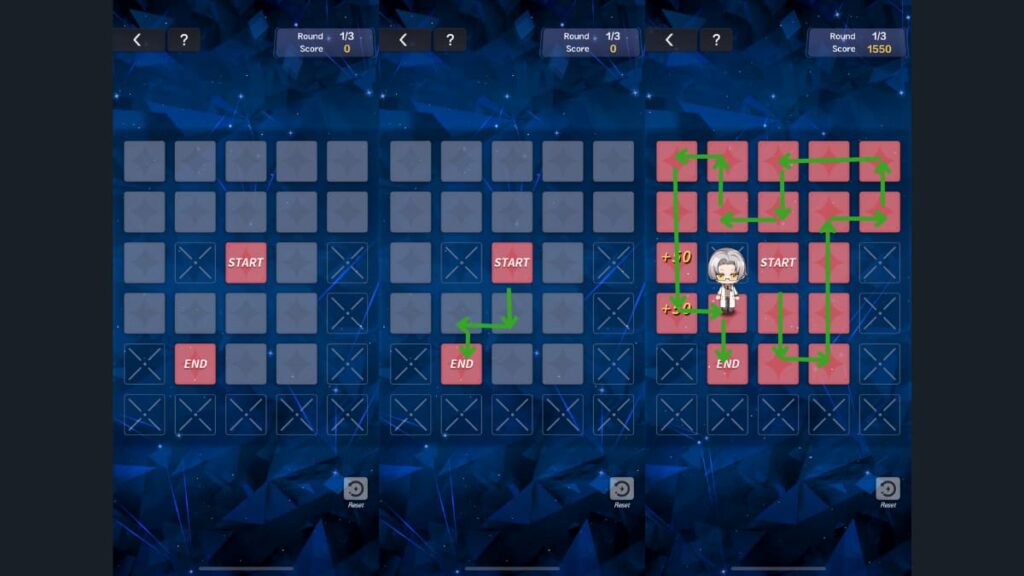 The images above demonstrate two ways you can solve the puzzle. The first image is how the puzzle looks upon starting the game. You can complete it by creating a short path from Start to End, as shown in the second image, but you'll only get around 150 points for it. In contrast, using all the tiles like the third image will merit you over 1,500 points.
Each stage consists of three rounds. In later rounds, you'll encounter blue and red Start to End tiles. Keep in mind that red Start tiles can only connect with red End tiles, and likewise for blue tiles. There are four stages that unlock throughout the event, so make sure to check back once in a while. Don't forget to claim your rewards manually by clicking each reward above the score line (under stages)!
Check out our guide on How to play Lucky Draw in Tears of Themis – Stellis Anniversary event Festive Games guide and beat your favorite male lead in a card guessing game.