The Tears of Themis Secrets of the Tomb event runs from April 29, 2022, to May 20, 2022. The Egyptian AU event features an interactive event story called the Shadow of Resurrection, which releases in four phases throughout the event period.
The Shadows of Resurrection are divided into three parts: Main Stories, Side Stories, and Collection Stories. Main Stories are automatically available, Side Stories are unlocked after completing their corresponding Main Stories, and Collection Stories are unlocked after obtaining artifacts.
Related: How to unlock Shadows of Resurrection Collection Stories in the Tears of Themis Secrets of the Tomb event
Shadows of Resurrection Gameplay Mechanics
Controls
The controls for the Shadows of Resurrection are fairly simple. Swipe the directional keys on the bottom left of the screen to move and use the hand button on the bottom right to interact with NPCs, objects, and events.
Story Tasks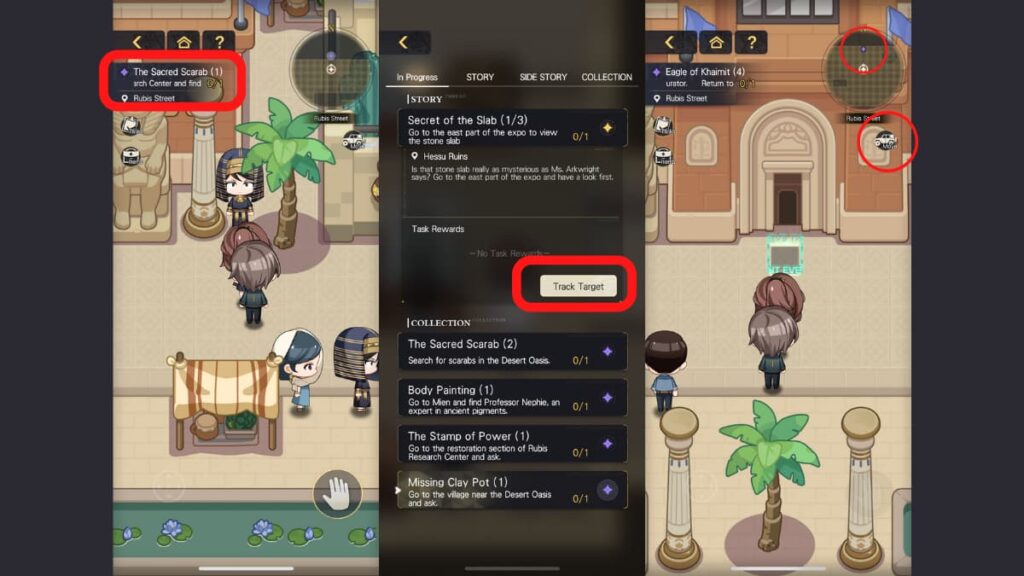 The story dialogue is divided into a series of tasks. Click on the upper left to open up your tasks menu. Select any task and click on Track Target to help you locate the NPC or event that you need to interact with. You can only track one task at a time but can trigger other tasks by accident without tracking. It's highly recommended to always track the task you're working on, as some dialogues or events won't initiate otherwise.
Tracked tasks will appear on the mini-map at the upper right of the screen as a dot with the color corresponding to the task. For instance, Main Story tasks will show a yellow dot, while Collection Stories will show a purple dot.
If the task is located in a different area, click on the Move button under the mini-map and head to the location marked with a colored dot to find the next event.
NPC Interaction
You can interact with NPCs throughout the event maps even if they have nothing to do with your tasks at hand. It's a great idea to do so if you're interested in Khaimit's lore!
Events and Debates
Some tasks will trigger events, which are essentially dialogues with NPCs. However, these can escalate into an Inspection, Questioning, or debate. Debates cost 0 AP and usually require a power level of 30,000 to 35,000.
Check out our guide on Which male lead should you take to the Tomb of Ita in the Tears of Themis Secrets of the Tomb event? to help you farm Antiquated Coins and EXP quickly during the event.