Tears of Themis' Marius Birthday Preparations event runs from June 12, 2022, to June 15, 2022, to prepare for the CEO of the Pax Group's birthday on June 21. All attorneys are eligible to participate through the event menu.
Marius' Birthday Preparations Event
The mechanics for the event are fairly simple—you need to complete a series of tasks to earn Inspiration Value and claim rewards manually through the event menu. The tasks rotate every day and will grant you a total of 210 Inspiration Value, but you only need 160 to get all the rewards.
Don't forget to manually claim rewards by clicking on the gift box above the tasks on the event page. You can no longer claim them after the Birthday Preparation period ends. See below for the list of tasks you need to complete: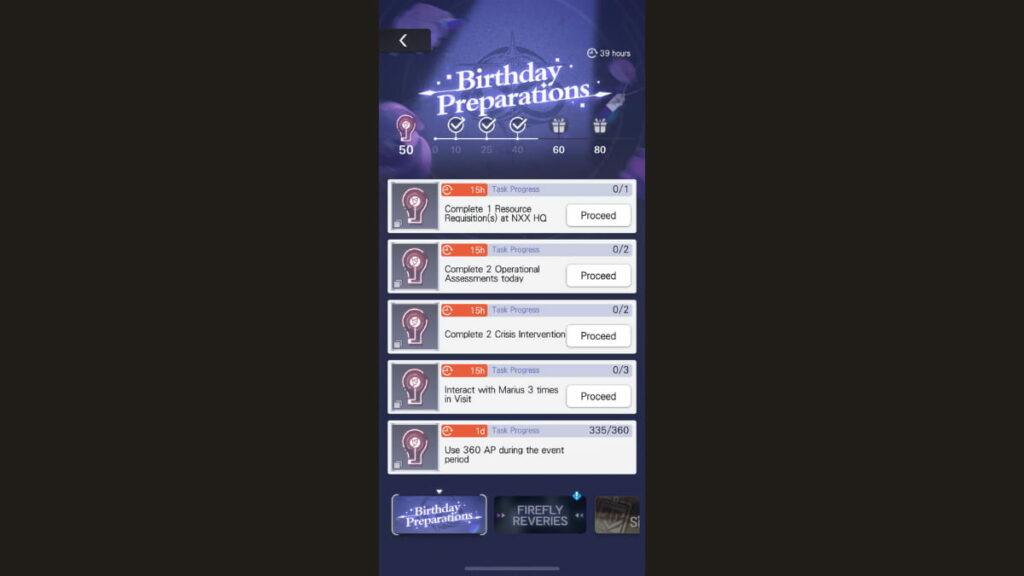 One-Time Tasks (20 Inspiration Value each)
Use 120 AP during the event.
Use 240 AP during the event.
Use 360 AP during the event.
Daily Tasks (10 to 15 Inspiration Value each)
Interact with Marius three times during visits (you must chat and consume Daily Affection).
Complete one File Room - Analysis in NXX Headquarters.
Complete two Legal Studies or Consults (rotates daily, check event page for the exact stage to run).
Complete two Operational Assessments or Business Consults (rotates daily, check event page for the exact stage to run).
Related: How to complete Lawsuits in Fieldwork in Tears of Themis
When Will the Birthday Banner Start?
The limited Shadow of Themis featuring Marius' Birthday Banner will run from June 14, 2022, to June 25, 2022. It's a solo banner that features three Marius SSRs, including the limited birthday card:
"Crown of Glory"
"Eye of the Beholder"
"Narrow Road"
What to Prepare for the Upcoming Birthday Event
Marius von Hagen's official birthday event will start on June 14, 2022. You need to complete his Personal Story 1-1 to participate. It can be initiated in the Visit menu. Additionally, all debates during the event can only be conducted using Marius cards, so make sure to prepare your deck in advance. The difficulty level is not high, so the event can be completed with a deck of mostly R cards.
If you miss out on the Birthday Preparations event, don't worry, as it's not a prerequisite to the actual birthday event. You won't miss anything by skipping the preparations.
Check out our guide on How does the DLC feature work in Tears of Themis to participate in permanent events any time you're free.