HoYoFEST SEA 2022 ran in three phases, celebrating some of HoYoverse's most popular live-service titles. Tears of Themis was squished between Genshin Impact and Honkai Impact 3rd, and ran from October 12, 2022, to October 23, 2022. It was held in partner cafes in Jakarta, Kuala Lumpur, Manila, and Singapore. I paid a visit to HoYoFEST Philippines, held in Moon Rabbit Cafe. Moon Rabbit Cafe is an adorable venue located in a hidden, residential corner of San Juan, that serves delicious Chinese dishes.
Reservation
There wasn't too much press surrounding the event. Tears of Themis announced it on social media, but the schedule clashed with the in-game Dreams of Childhood event, so HoYoFEST was quickly buried under other posts. Moreover, the cafe wasn't exclusively closed for HoYoFEST, so normal diners could still come and go.
Everyone was required to make a reservation to guarantee a table and get the opportunity to purchase merch. Walk-ins were notoriously not allowed to make any purchases but could still dine. Reservations were open up to the 14th but eventually extended to the 17th, so my friend and I made the last-minute decision to head to the Moon Rabbit Cafe on October 19.
We made a reservation after closing time on the 17th. I called the cafe on the 18th to ensure they received the reservation, but they said it would take two to three days to confirm—which seemed strange as next-day slots were open. They eventually said they'd take a look and approved our reservation on the afternoon of the 18th. It was likely easier to get approved as we went on an odd Wednesday, so make sure to reserve earlier if you're to go on a busier day.
Accessibility
There was quite a flight of stairs to get to the entrance, but the cafe was accessibility-friendly, with a long ramp for wheelchairs and people on crutches. Because the ramp wasn't covered by a roof, it got very slippery and dangerous after the rain, but security was helpful enough to assist anyone who needed help.
Ambiance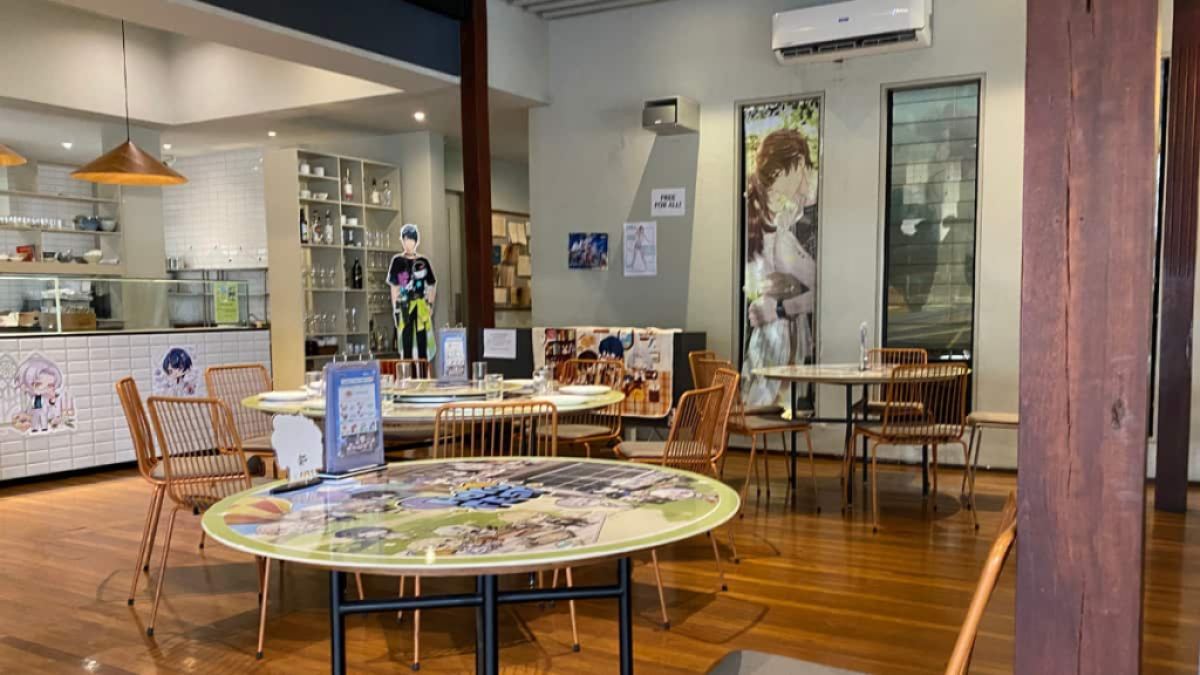 The crowd was small on an unassuming Wednesday, but we were last to arrive among the 11 AM batch (despite arriving on the dot!). The cafe's interior was decorated with posters and standees featuring Stellis City's beloved male leads. The best decor was hidden outside the main dining area—where the walls were lined with panels of Rosa and the male leads.
The warm lighting and cozy atmosphere created an intimate dining experience, perfect for going on a date with Luke, Artem, Marius, and Vyn. However, the low lighting resulted in notoriously terrible photos.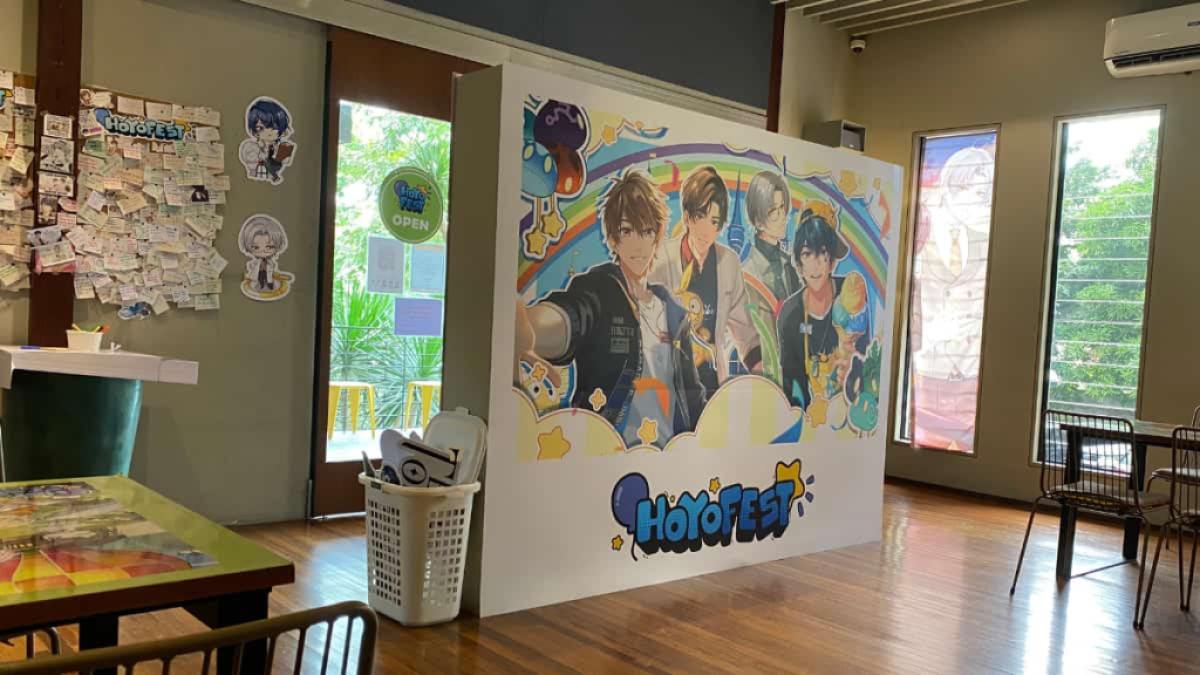 The cafe played Tears of Themis' familiar OST for a few minutes but eventually dwindled to silence. When lunchtime rolled around, business people and families started coming in for their completely normal lunches, but the cafe was never crowded.
Food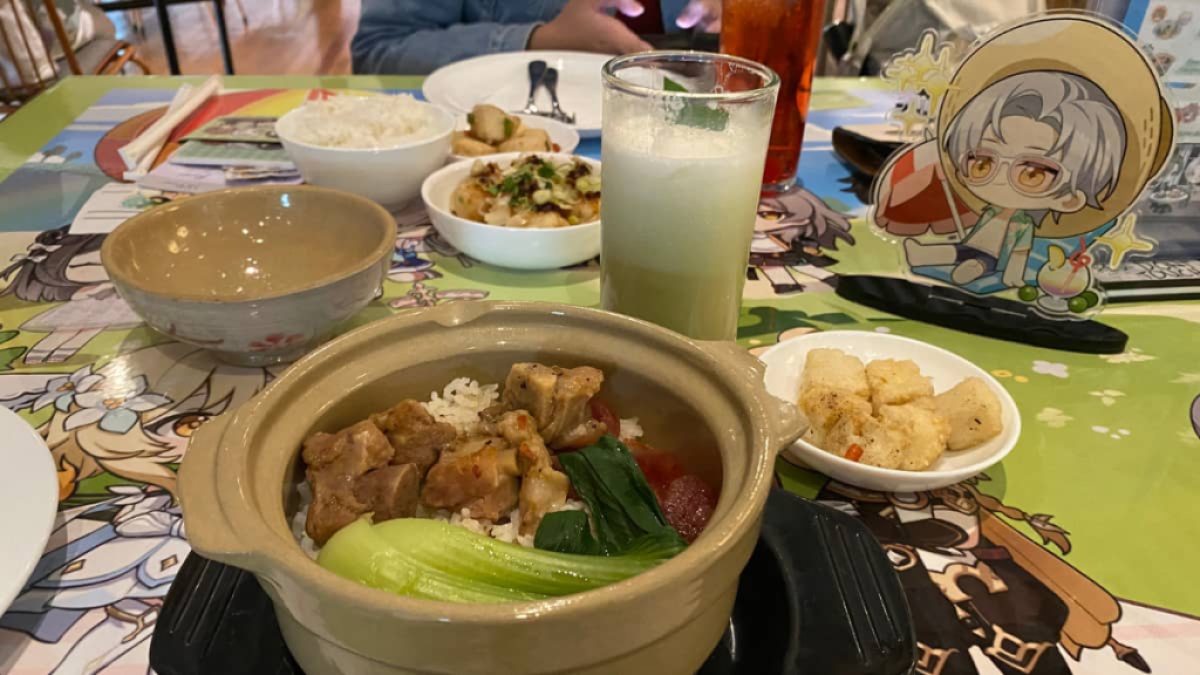 To participate in HoYoFEST, each guest was required to purchase an adorable set meal that cost P450 (+P50 for an appetizer). Moon Rabbit Cafe offers Chinese dishes but offers a wider range of beverages and desserts. The meal options were well-curated and were tethered to each male lead:
Luke: White Chicken and Caramel Cloud Latte
Artem: Chili Garlic Wanton and Cherry-Aid
Vyn: Spaeribs Claypot Rice and Matcha Cloud Latte
Marius: Black Pepper Beef and Taro Chiffon
Mixing and matching food and beverages wasn't allowed, so you'd have to commit to a set or buy more. The appetizer was Salt and Pepper Tofu, regardless of which set meal you picked. Pictured above is Vyn's set meal, and below is Artem's set meal.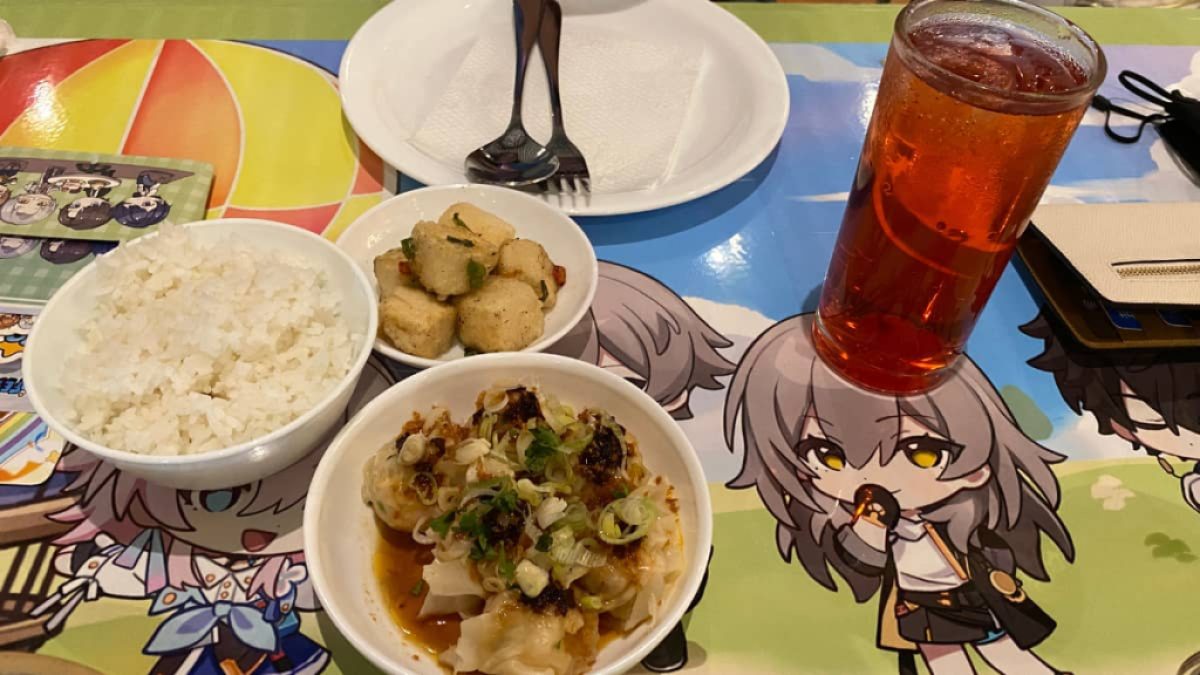 Both meals were presented really well and perfectly reflected each of the male lead's personalities. We loved how both meals tasted, and even the Cherry-Aid wasn't bad at all (and we both hate cherries!). The serving sizes were so huge that we had no room for dessert after. However, the drinks were fairly small and enticed a round of coffee after.
Related: Genshin Impact dishes appear in latest Tears of Themis CN event trailer
Merch
HoYoverse either underestimated the buying power of thirsty Stellis City attorneys or had no choice but to ration merch among all of the SEA events, as the merch table was virtually empty when I went. Only two Tears of Themis items were left: a magnet and Shikishi. There were a few keychains and magnets featuring other HoYoverse games, but they could have been more interesting.
The merch lineup was certainly more exciting on the first day, but most items also sold out immediately. If you intend to stock up on coveted merch, such as pillows and plushies, then you must absolutely go at the earliest schedule on the first day and line up early to guarantee big-ticket items.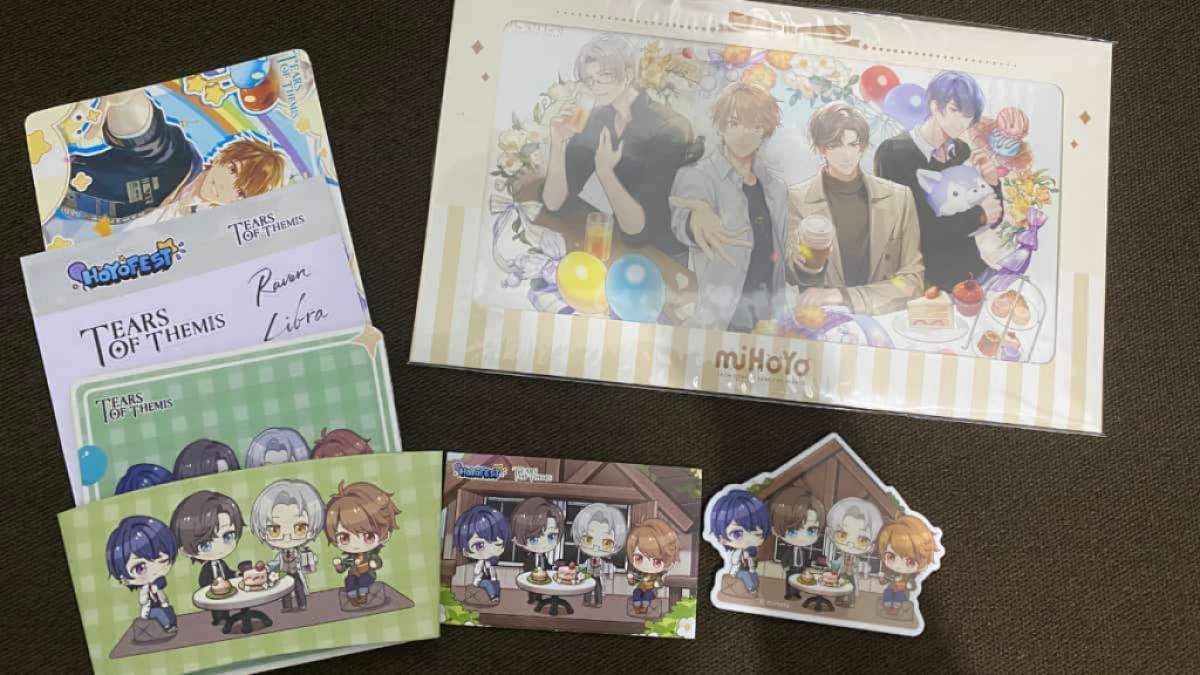 Everyone received a scratch card by liking the Tears of Themis Facebook page, which was essentially a gacha where you could win an in-game code for some S-Chips or amazing merch, with the grand prize being a blanket. The set meals also came with a bunch of small freebies, like cup sleeves and coasters. If you purchased P800 or more in merch, they'd give you a free A6 clear file, and everything was packed in a HoYoFEST paper bag—with three extra bags inside!
Overall Experience
HoYoFEST 2022 was an interesting themed cafe event. I loved the calm and easygoing ambiance (which was probably a hundredfold more chaotic on weekends), so I highly recommend paying a visit on a random weekday—unless you're pining for merch. HoYoFEST was set up a bit differently than most themed events. It felt more intimate to a degree where you would probably feel a little awkward attending alone. With that said, there were also no activities to do apart from trying your luck with the scratch card and taking photos, so it probably wouldn't be too exciting to younger fans. HoYoFEST 2022 was still a genuinely amazing experience, and it's exciting to see how HoYoverse intends to further amplify the fan experience next year and beyond.
Check out our compilation of Tears of Themis Codes to get free S-Chips and more.