If you're wondering where-to find the Pendant in the Gone With Sillaro quest in Temtem then you've come to the right place! This is one of the earliest quests you can get, but it's not all that obvious on where exactly you'll find the item you need to complete it. We'll clear that up for you so that you can grab that reward and head forward to conquer the world of Temtem!
Gone With Sillaro Quest
Talk to Clara on the beach of Zadar where you start out the game. She will mention that she lost a pendant and you will be tasked to help her. She will mention that she went for a swim in the Sillaro River and that's how she lost it. The Sillaro River is directly to the east of you, but you can't enter the water just yet. Unfortunately, you can't complete this quest at the start of the game. You will need to complete the first dojo, and obtain the surfboard to cross water parts of the map! So, once you've done that, head on to the next part of the guide!
How-to Find the Pendant
Now that you have your surfboard and can glide across the water, you will want to head to Brical De Mar. This is the large town in the middle of the map. Go south of the docks, and then surf over to the opposite shores that are east of the town. Check out the map below for the exact location of the pendant!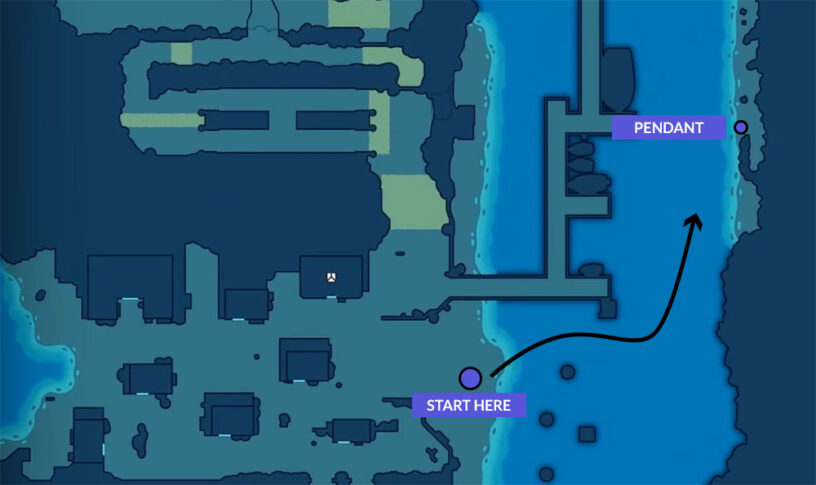 On that shore you will see a small glimmer near some boat wreckage, this is the pendant you need to collect! Hit your use button (F on keyboard), and you will collect the Lost Pendant. Head back down to Zadar and talk to Clara to hand over the item! You will be rewarded with the TC Tsunami that you can teach to your Temtem!