As you travel through the mystical world of Aida, more and more mechanics will begin to unlock for you. One of these is the Suppressor, which upgrades your character's four main stats a small portion—Attack, Resistance, HP, and Crit. Unlocking these upgrades is very simple. You only need your character to be at a certain level and have a material called Potent Omnium Crystal. Here's how you get this material in Tower of Fantasy.
How to find Potent Omnium Crystals in Tower of Fantasy
There are multiple ways to get Potent Omnium Crystals in Tower of Fantasy, and in each method, you can obtain them just by playing the game. There is no particular method to farm them—just dive into ToF and unlock the game's different features and mechanics. You'll have plenty for each Suppressor upgrade.
Related: Tower of Fantasy List of Servers
All the ways to get Potent Omnium Crystals in Tower of Fantasy
Here are all the ways to get Potent Omnium Crystals in Tower of Fantasy.
Level Pack in Tower of Fantasy
A Level Pack is a free reward you can claim just by getting to certain levels in Tower of Fantasy. These increments are every five levels, starting at Level Five and ending at Level 80. Starting at Level 15 onward, you will only get Potent Omnium Crystal for each pack you claim. You do not get them from reaching Level 5 and 10.
To find the Level Pack, look for the Gift Icon in the top-right corner of your screen, and tap/click it to open up the Rewards screen. From there, look to the left of the screen for Level Pack, then hit Claim when you have reached that level increment.
Exploration Rewards in Tower of Fantasy
In each region you explore in Tower of Fantasy, you will earn Exploration Points and fill up an Exploration progress bar. You will earn these points by completing specific objectives, and you can get free rewards at certain increments.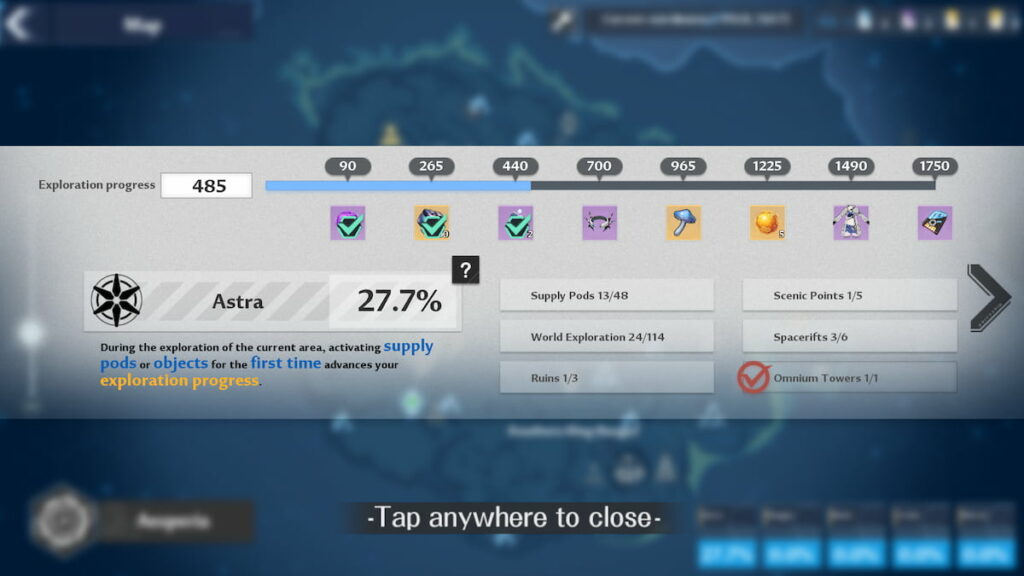 You can claim by pressing on the region in the bottom right-hand corner of the map screen. So, for the Astra region, when you get 440 Exploration Points in the Astra region, you can claim two Potent Omnium Crystals. The Exploration Points needed in each region will differ, but here's how much you need to get Potent Omnium Crystal in each area.
Banges—300 Exploration Points.
Navia—250 Exploration Points.
Crown—290 Exploration Points.
Warren—285 Exploration Points.
Related: 5 things to know before playing Tower of Fantasy
Wanderer's Log in Tower of Fantasy
The Wanderer's Log unlocks in Tower of Fantasy at the start of Chapter 1-05. Once it unlocks, you get multiple tasks to complete in a chapter. These could be as simple as spending 1000 Gold, unlocking two Supply Pods, or more. After you have completed the tasks just by playing the game, you can claim free items. You can get two Potent Omnium Crystals by reaching Level 18 and claiming the item in the Wanderer's Log. To access the Log, click/tap the Journal button in the top right of the screen, to the right of the Present.
Clearing Ruins in Tower of Fantasy
Ruins in Tower of Fantasy are the dungeons you can clear in every region, with the potential of getting Potent Omnium Crystals after completion. In Astra, there are three Ruins that you can clear. You do have to be at a specific level requirement to enter, but once completed for the first time, you have the chance to acquire this item. Each Ruin has three difficulties that increase the number of items you get from completion.
Plot Rewards in Tower of Fantasy
By completing the main missions in the Tower of Fantasy story at specific percentages of completion in Chapters, you can claim Plot Rewards that will always contain one Potent Omnium Crystal. You can claim Plot Rewards by clicking/pressing the button in the top-right corner of the screen and going to Terminal. Then go to Story, and click the chests when they have color. If they are grey, you have not yet reached the percentage requirement.
You can also get Potent Omnium Crystals by leveling up the Crew Store and clearing Bygone of Phantasm. We do not currently have enough information on these but will update when we do.
For more Tower of Fantasy guides, Pro Game Guides has you covered. Check out Which server to pick in Tower of Fantasy – How To Choose and How to claim your pre-registration rewards in Tower of Fantasy.