Tower of Fantasy houses plenty of puzzles for players to solve. In the Ring of Echos, you'll find platforms that make sounds of music notes upon stepping on them. If you step on them in the right order and produce a specific tune, you'll get a Lost Treasure Chest reward. Before starting, we recommend completing Chapter 1-5 to unlock the full map of Astra.
Once you're ready, head to the area circled in the image below to find the musical puzzle in the Ring of Echos.
How to solve in Ring of Echos musical platform puzzle in Tower of Fantasy
To solve the music puzzle in the Ring of Echos, you need to step on the yellow button-like platforms in a specific order. You need to jump onto the platforms since they're awkwardly elevated. We recommend turning the sound on while solving this puzzle so that you can hear the sound each platform makes to ensure that the music note is registered. Assuming that the empty clearing is in front of you, reference the image below for the exact order of stepping on the platforms.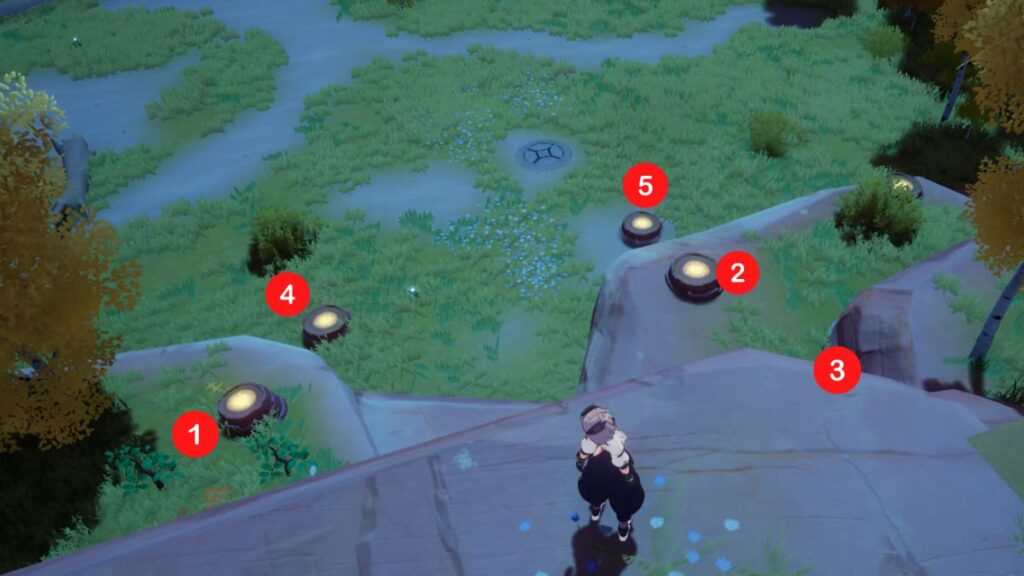 After stepping on the first platform, the second one will light up, making it easy to identify where to go next. The same goes for the third platform, which is not pictured above but is directly behind the second one. After stepping on the third platform, the fourth and fifth will light up at the same time. Make sure to step on them in the order prescribed above to solve the puzzle! If you manage to complete the puzzle as instructed, a Lost Treasure will appear in front for you to loot.
Check out our guide on How to break rock walls in Tower of Fantasy to find hidden Power Supplies.