Lin is a simulacrum introduced in Tower of Fantasy's 2.1 update. Wielding her fan-shaped blade, she can be a worthy addition to any team comp in a player's arsenal. However, to unlock Lin's full potential, you will need to Advance her by acquiring multiple copies of her weapon. This begs the question: is it worth the investment? In this guide, we'll tell you if you should prioritize obtaining Lin in Tower of Fantasy.
Should you get Lin in Tower of Fantasy?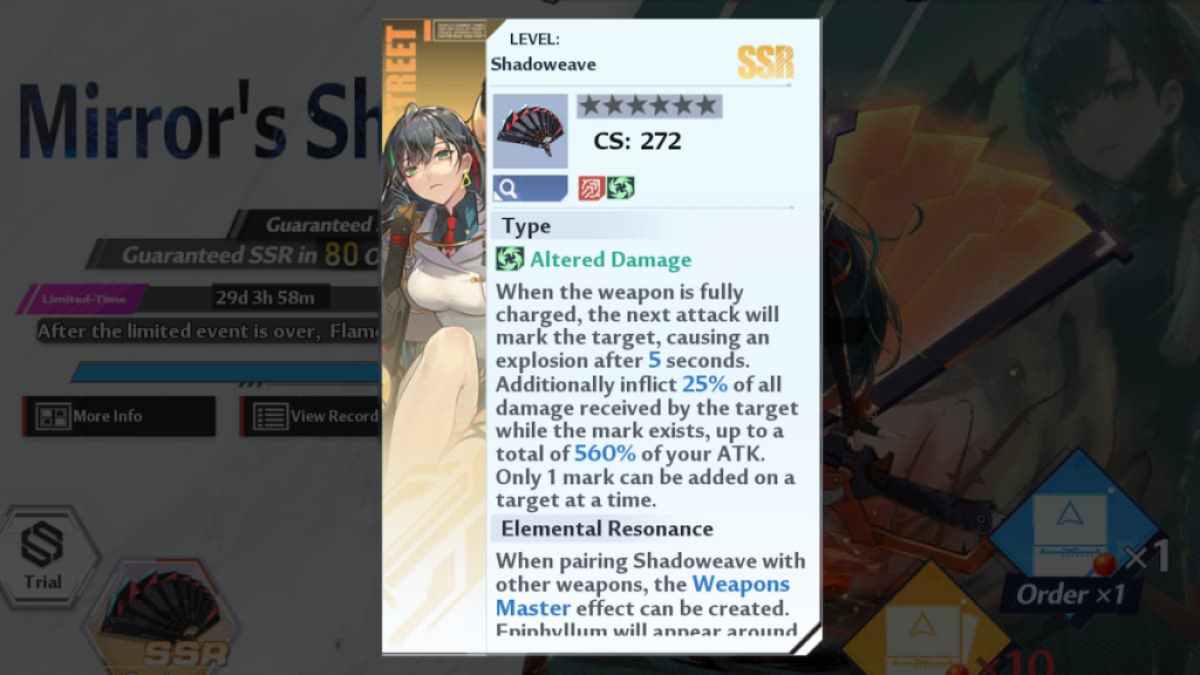 Lin is essentially a damage-support simulacra. She wields the Shadoweave, a bladed fan-shaped weapon that can deal tons of CC damage and buff the damage output from other weapons. She is the first simulacra with Altered Damage Elemental Resonance. Pairing Shadoweave with any two other weapons of the same Elemental Resonance will grant varying buffs depending on the paired weapons. Therefore, Lin is an obvious choice for any team composition focused on maximizing damage.
Related: Who is Saki Fuwa in Tower of Fantasy? Release date, element, & more!
Lin's Advancement Skills in Tower of Fantasy
Lin is great at maximizing your total damage output and can significantly buff other weapons' damage stats. Furthermore, progressing Lin's Advancement Skills will grant additional effects. Players will need to make several banner pulls and obtain Lin multiple times to unlock her Advancement Skills. The following are all of Lin's Advancement Skills in Tower of Fantasy:
1-star: Normal attacks deal AoE damage. When an epiphyllum is caught within an epiphyllum explosion radius, damage of all subsequent epiphyllum explosions is increased by 10%, up to 50%.
2-star: Increase the current weapon's base Attack growth by 16%.
3-star: Epiphyllum generation from Moonlight Realm reduced to 0.3 seconds. Epiphyllums now attach to enemies. The duration of Moonlight Realm is increased to 20 seconds.
4-star: Increase the current weapon's base Attack growth by 32%.
5-star: When under the AoE of Moonlight Realm, gain 30 weapon charge every second, and increase the damage of the discharge skill by 15%.
6-star: Switch modes on Moonlight Realm up to two times. Gain one attempt after the skill cooldown and another by charging discharge skill. Using any weapon discharge three times to gain +1 second of Moonlight Realm duration (Effective when Shadoweave is in the off-hand slot). Additionally, when under the effect of Moonlight Realm, increase attack to 23%.
Lin's Awakening Traits:
1200 Awakening Points: Epihyllum Blossom

Increases epiphyllum explosion damage by 15%.

4000 Awakening Points: Epiphyllum Glamour

Increases epiphyllum explosion damage by 20%. Reduce all resistance by 7% when dealing damage with an epiphyllum (Effect does not stack).
How to get Lin in Tower of Fantasy
Players can obtain Lin from the Mirror's Shadow Limited Order Banner. This banner can be found on the Special Orders page and can be purchased in exchange for Red Nucleus. During this limited event, players have a 2% chance to obtain an SSR weapon, with a 50% chance of the SSR weapon being Lin's Shadoweave.
Looking for more guides on simulacras and weapons in Tower of Fantasy? Check out Is Ruby worth pulling in Tower of Fantasy?, right here on Pro Game Guides.