If you want to make the Embers Spear or the Surtur's Grip armor set, you must find and get Pyrestone. However, Pyrestone is an illusive mineral that appears players can only get from the Volcanic Spire biome. Luckily that is not the case, and there are ways you can get Pyrestone without needing to visit the Volcanic Spire early on.
In short, besides the Volcanic Spire biome, you can also gather Pyrestone from Outposts in the Inferno Saga quest. You can find these Outposts in most biomes marked by unique Volcano icons on the map. If you have trouble finding these Outposts, we recommend falling the road system and fully exploring all biomes you come across.
But if you still can't find Outposts, you may have started the Saga too late in the game. In short, when you first spawn in Tribes of Midgard Saga mode, you have to choose your Saga quest by accessing the Sanctuary. We highly recommend doing this step as soon as you spawn, so Outposts generate on the map. That said, once you find an Outpost, you can get Pyrestone by fighting to the top of the Outpost and looting the chest.
Related: How to make cut stone in Tribes of Midgard Survival Mode
How to get Twilight Pyrestone in Tribes of Midgard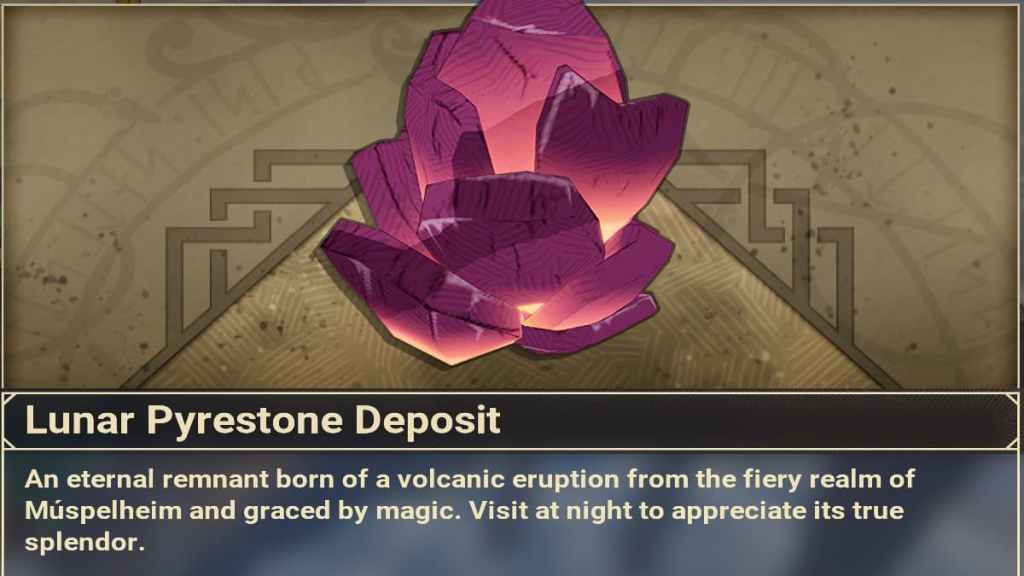 If you want to get Twilight Pyrestone in Tribes of Midgard, you must visit the Volcanic Spire in either Saga or Survival mode at night. In short, it is only at night when you can get Twilight Pyrestone from Lunar Pyrestone deposits. You can find these Lunar Pyrestone deposits in the same areas as normal Pyrestone deposits. The only difference between both Pyrestones is that Lunar Pyrestone will glow at night.
How to use Pyrestone in Tribes of Midgard
Players can use Pyrestone to make various weapons such as the Embers Spear and a full set of Surtur's Grip. But before using Pyrestone to make either item, you must first unlock the crafting recipes for both items. You can unlock the crafting recipe for both the Embers Spear 3 and the full set of Surtur's grip by earning Seasonal rewards.
For more content on Tribes of Midgard, we at Pro Game Guides have you covered with guides like our resource compendium Where to find and How to get all Resources in Tribes of Midgard and Best ways to farm Golden Horns in Tribes of Midgard and How to get them.