You want a gorgeous college in Two Point Campus, that's no surprise! But how do you get the high Prestige along the way? It's mainly a matter of adding Prestige Items to your rooms, but we've got all the specific details.
How to improve Room Prestige Quickly in Two Point Campus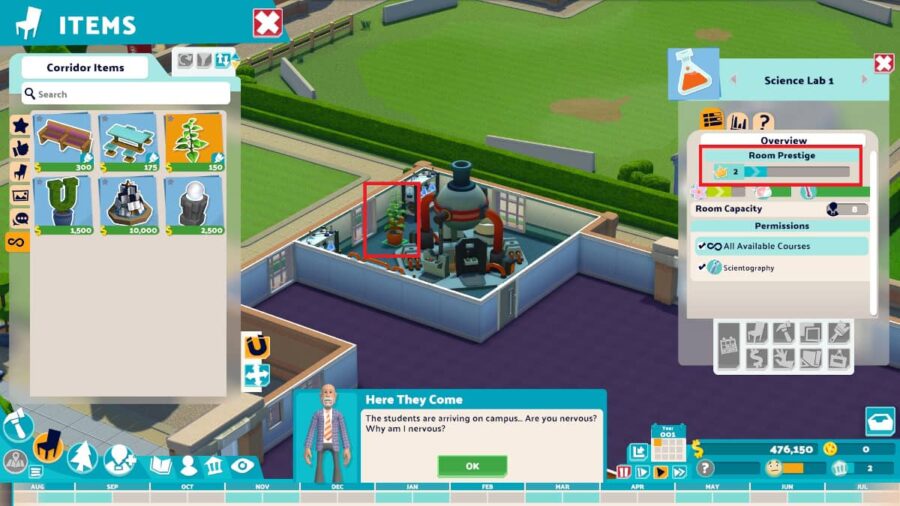 Items with Prestige have a Pink Flower icon that says Increase Attractiveness. Use these items in your rooms. Here are our best specific tips to get your Room Prestige up, pronto:
Make the rooms a bit larger than the recommended size that the game suggests. For example, Lecture Theatres are suggested to be 4x4 in size. Instead, consider making it 5x5. This is because Prestige increases slightly with room size, but you'll also get more space for decor and equipment.
Try to find the balance between most Prestige offered and the lowest cost per item. For example, the simple Leafy Plant and Rubbish Bin that you have in your catalog are cheap and effective ways to increase Prestige.
How to check item Prestige
To check how much Prestige is added to an item, watch the Room panel on the right side of the screen as you set down the item. The Room Prestige bar will move forward. If you are not satisfied with the amount of Prestige the item gave, exit out of the Items mode. From there, click on the desired item and choose the $ symbol to sell it back to the catalog.
What not to do in Two Point Campus when improving Prestige
Avoid making these two mistakes when trying to improve your Campus or Room Prestige:
Don't make your rooms needlessly large. A bathroom doesn't need to be 6x6 in size, especially if you're going to make a few more on campus. As mentioned above, you can have a large-sized room and fewer locations if you utilize them effectively. There is a helpful increase in size, but sometimes too big just means less space for other important buildings and rooms.
Don't immediately buy the most expensive prestigious items in your catalog. This will drain your money. While not the most aesthetically stimulating, a cheap and reliable plant in the corner of every room goes a much longer way than a $5,000 item that is only in one room.
How to improve Campus Prestige in Two Point Campus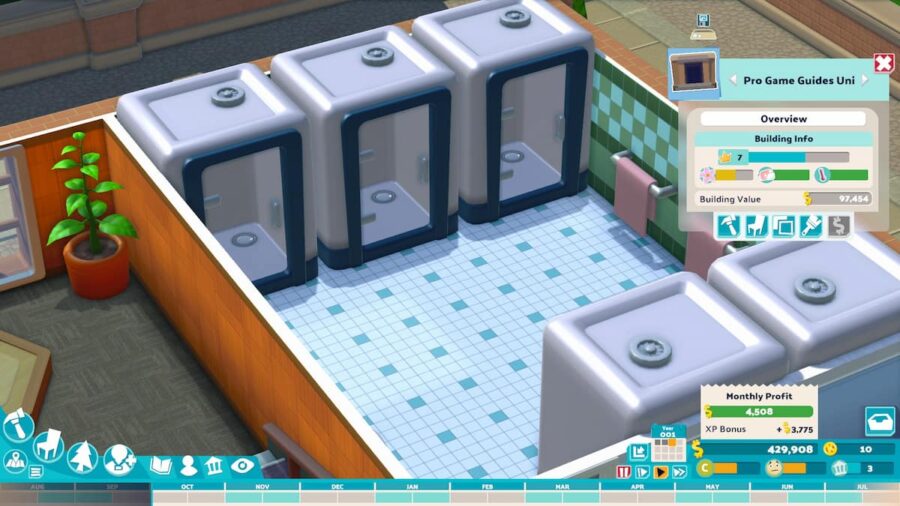 In Two Point Campus, most of your Campus Prestige will come from the rooms that make up the Campus. This makes it most important to build up your levels in those individual rooms. You do have a few areas in common spaces that will need some Prestige building. Mainly, you'll want to add Prestige Items to hallways, common relaxation spaces, walls, and the exterior grounds.
What will hurt Prestige in Two Point Campus?
There are not too many things that will negatively impact Prestige, thankfully. This means that you won't have to monitor this to a crazy close degree. Watch out for these things that will impact Prestige negatively:
Filth/Trash (in Rooms and around Campus)
Prestige Items needing maintenance
Lack of Prestige Items after continuous gameplay, since you are expected to grow Prestige over time.
Want to read more about Two Point Campus? If so, check out All College Campuses in Two Point Campus on Pro Game Guides.