In Two Point Campus, you take control of every aspect of running a successful college including building facilities, designing courses, and hiring staff. Teachers, assistants, and janitors can also be hired right from the start and can be assigned to tasks like teaching a course, running a library, or cleaning the campus. After hiring staff, you can upgrade their perks or add qualifications by training them.
To train staff you must first build a Training Room on campus, then, go to the Staff menu by selecting the avatar icon with the badge in the bottom left corner. Your entire list of staff will come up and you can select what positions to view in the top right corner tab. Select train staff and select the staff member you want to train.
Related: How to improve Campus & Room Prestige in Two Point Campus
What does training do in Two Point Campus?
Each staff member has one or more perks that affect how they perform their job. These perks can be upgraded by training the staff. Perks can also be added after the staff member levels up and unlocks new qualifications. When hiring staff, you can see what perks they begin with to plan if they can benefit from training. Training does take time and will require the staff member to leave their assignment, so it is recommended to perform training during summer break.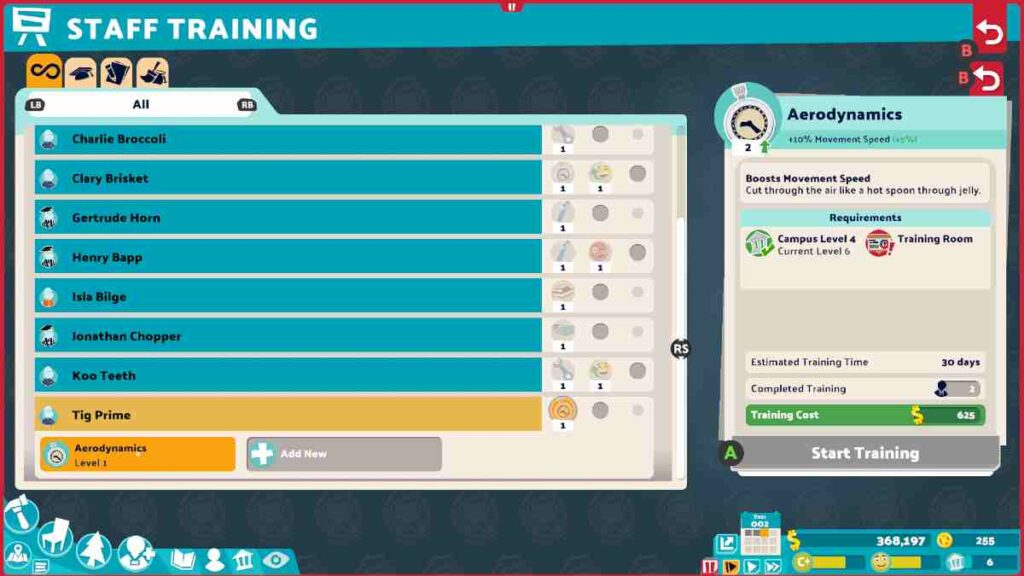 Training not only takes time but also money. Minor perks like Comic Training or Happy Thoughts do not require very much money or time to train, while course-specific perks take a significant amount of time and money to complete. Make sure to budget in training for your staff during the summer and check in on courses, hygiene, and learning power during the year to see if you need to train staff more.
For more Two Point Campus guides, check out How to keep students happy in Two Point Campus on Pro Game Guides.