Two Point Campus is a college simulation game that allows you to design and run your own campuses. There are many campuses available to you along the way, focusing on varied courses from wizardry and knighthood to music and sports. It's your job to keep students happy and healthy while they attend your college to learn––which means providing all objects and rooms required for their benefit. As you progress, these materials will also need to be upgraded to keep up with the additional flow of students and the advancing classes.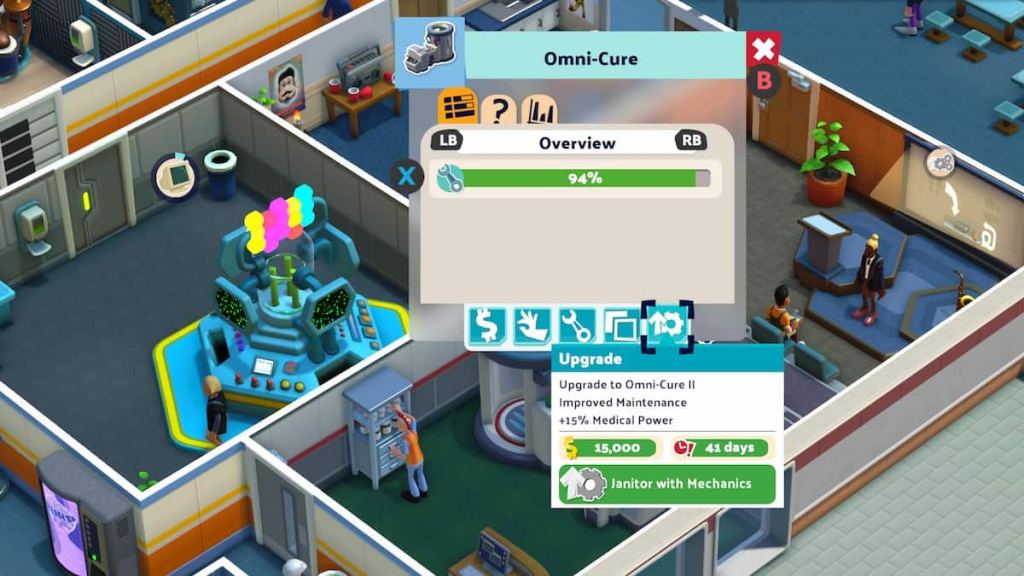 Particular objects on your campus can be upgraded as you progress through the years, such as your lecterns, your Omni-Cures in your med-wing, and some classroom interactions. Clicking on any of these objects and scrolling over to the arrow up and the cog icon will allow you to upgrade them for a varied cost depending on the upgrade level and the item you're upgrading. If the cog icon isn't visible when pressing on an object, it cannot be upgraded further. It will also take a certain number of days to complete the upgrade, shown beside the cost with a red clock and exclamation mark. To begin upgrading, you will first need a janitor with an understanding of mechanics.
How to get a mechanic in Two Point Campus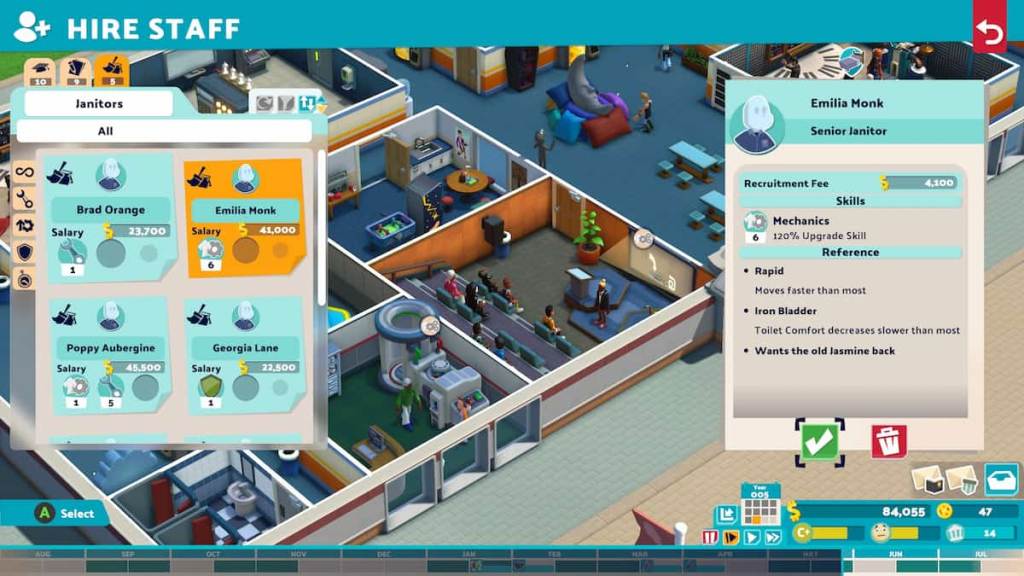 To get a janitor capable of upgrading your objects, you must hire one with the Mechanics skill. Navigate to your hire staff menu symbolized by the silhouette and plus sign. On the Janitors page, look for a staff member with the Upgrade icon listed under them and the skill Mechanics listed on the right menu. The higher the number under the symbol, the better their skill is. Press the green check mark to hire them, and then you can begin upgrading the object you want.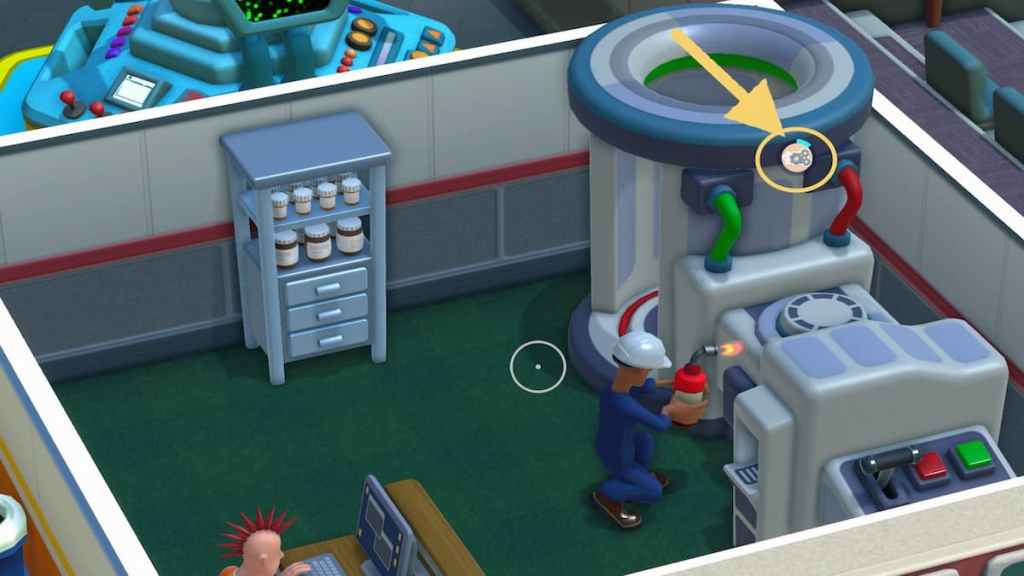 Once you have a mechanic and press the upgrade button on the object, they will make their way over to start working on it. Notice the cogs icon hovering over your object. This shows how long it will take for your mechanic to work on the object before your upgrade is complete.
What does upgrading do in Two Point Campus?
While it isn't necessary to upgrade your items, it is helpful to continue advancing along with your students. Upgrades take time and money, but they will also significantly boost learning power and durability. When hovering over the icon, you can find their bonuses listed on the upgrade tab. Upgrading will help your students learn more efficiently or heal more quickly with the help of better equipment. The higher level of the object, the more powerful it will be.
It's always a good idea to keep expanding and growing your campus as the terms come and go, providing students with a progressive and maintained atmosphere. You can keep high grades and earn stars for your thriving campus this way. Don't forget to research and keep upgrades available!
Looking for more Pro Game Guides Two Point Campus content? Check out our guides on How to improve Campus & Room Prestige in Two Point Campus or How long does is take to get a 3 star rating in Two Point Campus?