Hollowfang Battlegear in V Rising is the next set of armor that players will need to tackle tougher parts of the Dunley Farmlands. A full set of armor will require a bit of farming but there are some bosses that players will have to take down first. An upgraded version of the armor can also be discovered as a Recipe or be researched by collecting Scrolls. This is how to craft Hollowfang Battlegear in V Rising.
How to unlock Hollowfang Battlegear in V Rising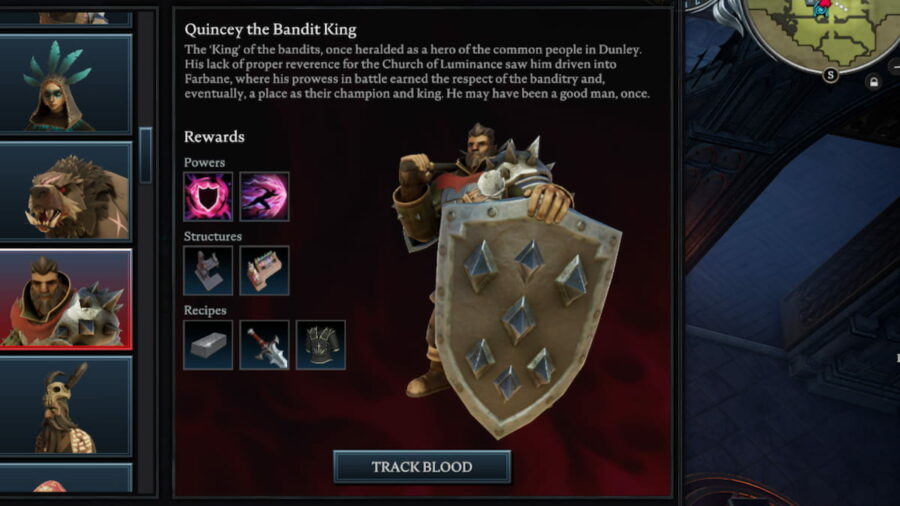 To craft Hollowfang Battlegear or Armour, players will have to use the Tailoring Bench. This Structure is unlocked after defeating Quincey the Bandit King and requires 200 Blood Essence, 40 Planks, and 28 Cotton Yarn. Each piece of the Hollowfang Armour requires 8 Cotton Yarn, 8 Leather, and 8 Wool Thread for a total of 32 Cotton Yarn, 32 Leather, and 32 Wool Thread to make the entire set.
Wool Thread can be farmed by visiting various houses in the Dunley Farmlands and looting directly from the villager's homes. Villagers have a chance to drop both Cotton Yarn and Wool Thread, making this the most effective method for farming these crafting materials before obtaining the recipe to craft Cotton Yarn and Wool Thread.
Related: Where to farm Cotton Yarn in V Rising
How to unlock the recipe for Cotton Yarn and Wool Thread in V Rising
The recipe for Cotton Yarn is unlocked after beating Beatrice the Tailor and requires 20 Cotton to make each Yarn. Cotton Yarn can still be farmed from Villagers so players that find the Dunley Farmlands to be too difficult can still get them without much trouble. Normal Cotton can be farmed the most effectively using the Worker Blood Type. Wool Thread's recipe is unlocked after defeating Meredith the Bright Archer. The boss is much more difficult playing solo, but if players defeat her, Wool Thread can be crafted using 8 Fire Bloom and 12 Coarse Thread.
How to unlock Merciless Hollowfang Armour in V Rising
The Merciless Hollowfang set of Armour can be unlocked as a recipe by farming against enemies in the Dunley Farmlands. It can be unlocked randomly by researching at the Study using Scrolls for 75 Scrolls per technology. The entire set can take some time to unlock but after defeating Frostmaw the Mountain Terror, the recipe for making Scrolls will be unlocked. Players will still need to unlock the Paper Press to craft it, which is another Technology that must be discovered at the Study.
For more V Rising guides, check out All V Blood Boss locations in V Rising on Pro Game Guides.