V Rising isa new survial game from developers Stunlock Studios. Surviving and thriving as a vampire is just not as fun without a few vampire friends. This is where creating a dedicated server can enhance your play. You can alter game settings and survive the way you want to. Here is how to establish a dedicated server for V Rising.
Steps to setting up a dedicated server in V Rising
Step 1: Install and set up SteamCMD
Install SteamCMD here.
Extract the folder once it's finished downloading, and run the program in the folder.
You will see a console open up that begins to install various other files and folders. Wait patiently for this finish. You will know it is complete when you see the word Steam appear at the bottom.
Next to the word Steam, type in login anonymous and press Enter.
The word Steam will appear at the bottom of the console once again. This time type App_update 1829350 and hit Enter. This will install the V Rising Dedicated Server files.
Give that a moment to complete and then you should see the word Steam appear near the bottom again. This time just type exit next to it and press Enter. This will close the program and you'll be ready to move on to the next step.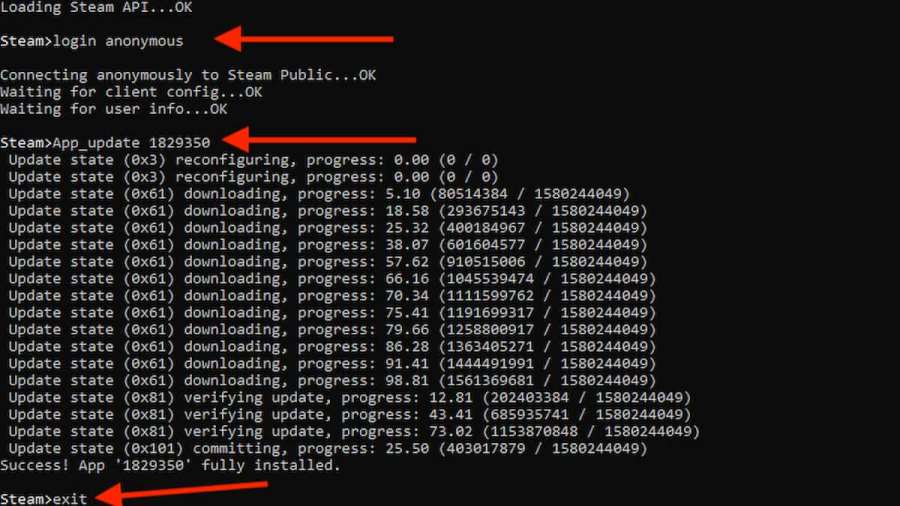 Note: Follow these same steps anytime the game updates and you need to apply it.
Related: Where to find Paper in V Rising
Step 2: Running the Server
Now within the steamcmd folder, you will see a folder called steamapps. Click on that to open a secondary folder structure
From here navigate into the common folder, and you should see a folder in here titled VRisingDedicatedServer. Open this folder.
In this folder, you will find a batch file by the name of start_server_example. If you right-click on this file and edit it with Notepad, you will be able to change the name of the server and the save.
It is recommended to create a copy of this batch file before editing it, as every time the game updates it will reset the original one.
If you wanted to start your server now without any modifications, you could do so by simply clicking on and running the batch file.
However, we recommend you configure the server settings first. Proceed to Step 3 for the steps on how to do that.
Step 3: Configuring the Server
In the VRisingDedicatedServer folder, you will find a folder called VRisingServer_Data. Open this folder.
In this folder, you will find a folder by the name of StreamingAssets. Click on this folder.
Finally, within this folder, you will want to navigate to the Settings folder.
In the Settings folder, you will find four files. Below are all four files and what they do.

adminlist - view server Admins or type SteamID's into this box to make that person an Admin.
banlist - view banned players or type SteamID's into this box to ban a player from your server.
ServerGameSettings - In this file, you can adjust everything relating to gameplay such as Player Damage and Inactivity timers.
ServerHostSettings - In this file, you can adjust all settings relating to hosting the server such as Server name, description, and password.

Once you have the settings where you want them, you are ready to launch the server.
Do this by navigating back to the VRisingDedicatedServer folder and launching the batch file discussed in Step 2.
This will open a console that states the server is running. Leave this console open to keep the server running.
Step 4: Connecting to the Server
Now, all that is left to do is to connect to the server within V Rising.
Launch V Rising.
Once running, click on the Play button, then select Online Play.
In the bottom corner of this screen you will see a button labeled Find Servers. Click this button.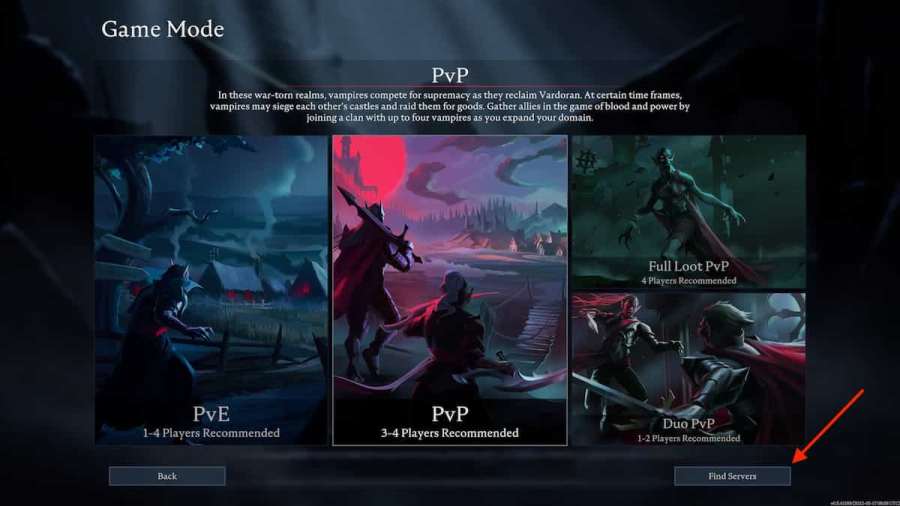 This will pull up the master server list. From here, you can enter the name of your server in the search bar, and your server should pop up in the list. You can also directly connect to the server if you have the server's IP.
So there you have it, those are all the steps to setting up a dedicated server in V Rising. The developers have also released a helpful guide to creating a dedicated server that you can check out. The devs have also stated that if you run into any issues, feel free to post about it on the games Steam discussion board.
For more V Rising guides, check out V Rising Multiplayer – How to Play with friends right here on Pro Game Guides.