To find Nicholaus the Fallen in V Rising, you must head to the Forgotten Cemetery and climb the steps to the top. At the highest level of the Cemetery is where you will find Nicholaus the Fallen. But Nicholaus the Fallen is a level 37 enemy, so before facing him, you will need to raise your Gear Level to level 37. If you want to raise your Gear Level High enough to kill Nicholaus the Fallen, we recommend making the following items in V Rising. 
Merciless Copper Weapons
Merciless Crossbow
Merciless Night Stalker full armor set
Mist Signet
Once you raise your Gear Level, you will be able to face him in the Forgotten Cemetery in the location shown below in Farbane Woods.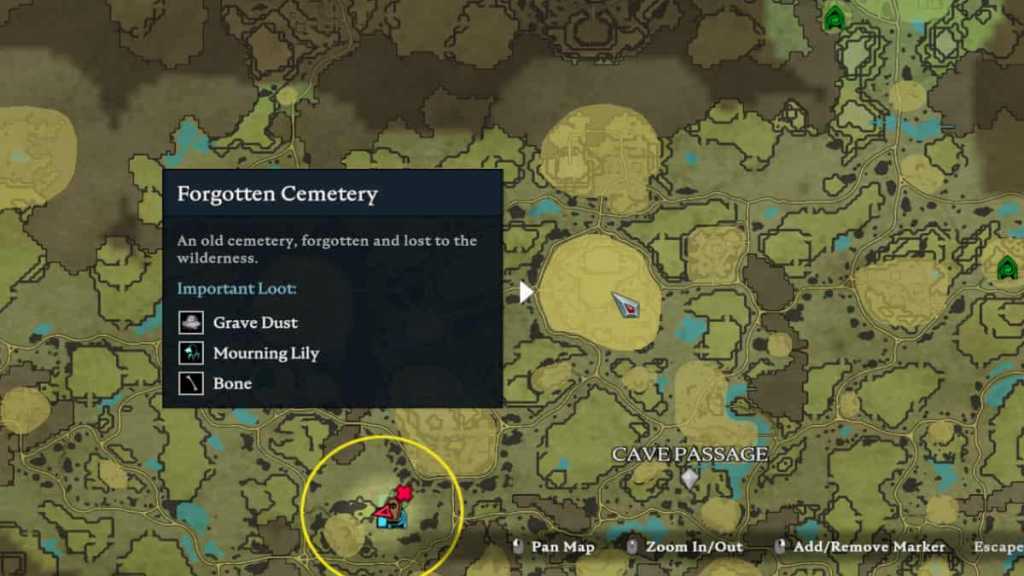 How to beat Nicholaus the Fallen in V Rising
If you want to beat Beat Nicholaus the Fallen without pulling your hair out of your head, we recommend getting the following first:
Chaos Volley: This is a powerful magic attack that you can get from killing Lidia the Chaos Archer. 
Aftershock: A powerful AOE attack that can set fire to enemies dealing damage over time. You can get this power from killing Errol the Stone Breaker. 
Merciless Crossbow: You can make the Merciless Crossbow with the following resources:

Hunter's Crossbow
2 Gem Dust
8 WhetStone
4 Leather
Once you got everything listed above, the fight with Nicholaus because pretty straightforward. In short, you will want to circle around Nicholaus, spamming both Chaos and Aftershock combined with Rain of Bolts from your Crossbow. You will also want to watch out for AOE attacks in the form of floating green skulls from Nicholaus. We recommend saving Veil movement skills to get out of the AOE attacks.
But for the most part, you shouldn't have too many problems as long as you keep circling and spamming the three attacks. If you do end up running into issues, keep trying, and you will eventually kill them or bring a friend along to make the fight go even faster. 
What is the Forgotten Cementary in V Rising?
The Forgotten Cemetery is one of many locations in Farbane Woods. The Location has high volumes of undead enemies and can be used to farm the following resources:
For more on V Rising, we at Pro Game Guides have you covered with guides like Where to find the Ferocious Bear Boss in V Rising and Where to find Quincey the Bandit King in V Rising