Other than chasing boars or picking berries, you can also fish to get a steady source of food; but in order to fish, you will need to get a fishing rod; here's how and more.
Where to get a Fishing Rod in Valheim
To get a fishing rod in Valheim, you will need to buy one from the merchant Haldor for 150 coins; along with this, you will also need to get fishing bait for 10 gold for 50 stacks of bait.
That said, if you don't know already, you can find Haldor in the black forest biome; when you are near him, a bag icon with show up on the map. Once you find him, you can buy both the fishing rod and fishing bait from him by walking up and pressing e on him and then buying them via the shop menu.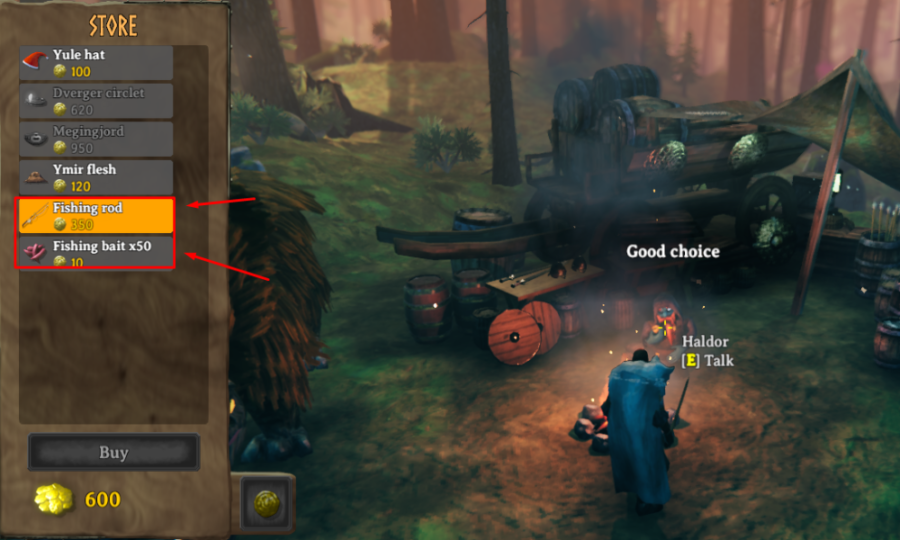 However, if you don't have any coins, you can get them real easy by selling items you don't want or by selling stuff like amber and rubies. Then once you get the fishing rod and bait, you can then fish by doing the following below.
How to fish in Valheim
To fish in Valheim, you will need to find a water source with fish, such as any water source near or in the meadows biome. When you find a good spot with fish in the water, left-click to cast the line, and wait for the fish to bite.
You can tell they are biting when the bubbles appear around the bobber; when this happens, wait for the bobber to dip below the water; at this point, you will need to right-click and hold to reel the line and catch the fish. As a side note, make sure you got plenty of stamina as reeling fish in with your fishing rod drains your stamina, and if you run out you will lose your fish.
For more on Valheim, we at PGG have you covered with an expanding roster of guides like how to build a ship and how to make mead using cauldrons in Valheim. Along with these two awesome guides, check back later and we will have even more guides for Valheim coming out in the weeks and days ahead.