To make a lox cape in Valheim, you will need to find and kill loxs and harvest their pelts. You also will need a total of six lox pelts and two silver ingots.
All of these materials will need to be made inside a level two workbench as well. That said, starting with silver, you can get it by using a wishbone obtained from Bonemass in the mountain biome.
Related:How to get Silver ore in Valheim | Silver ore locations
You will need to use the wishbone to locate silver deposits, but if you need more help with getting silver, we have an extensive guide that goes over it linked above.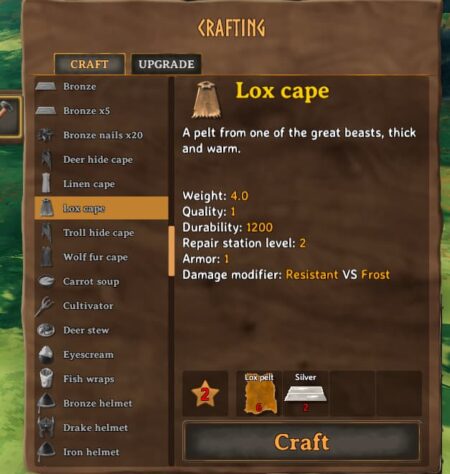 Now for the lox pelts, you will need to head into the Plains biome and farm loxs. Every time a lox dies, it will drop lox pelts, so you will need to farm them for a total of six pelts.
Once you have all the materials, you can put it all together, provided you upgraded a workbench to level two.
How to use a lox cape in Valheim?
When a lox cape has been fully crafted, it can be used to provide yourself a damage resistance modifier vs. frost. In short, it protects against the cold and will allow you to survive the coldest biomes in the game. Because of that, it's highly recommended to make it as soon as possible in Valheim.
For more awesome Valheim guides, check out our entire Valheim catalog.