VALORANT is extremely popular because it has the perfect mix of gunplay and abilities. It also encourages teamwork and cooperation, and it's fun to play with friends. The regular Unrated mode presents a challenge for novice players and is the perfect place to start. After learning how to play and choosing your favorite main, you can move to the ranked mode to see how good you are.
The Ranked System
The Ranked mode tests your skill against tougher opposition and forces you to play as a team. It's way more competitive, and the way you play influences how fast you climb up the ranks. The system can be complicated, so it's time to answer a question we get asked a lot. How does the VALORANT ranked system work?
Ranks
There are eight ranks in VALORANT, and each of them has three levels, except for the highest level. Radiant is the highest rank and has a single level. Each level within a rank is labeled from one to three, and you always start on level one and progress to level three.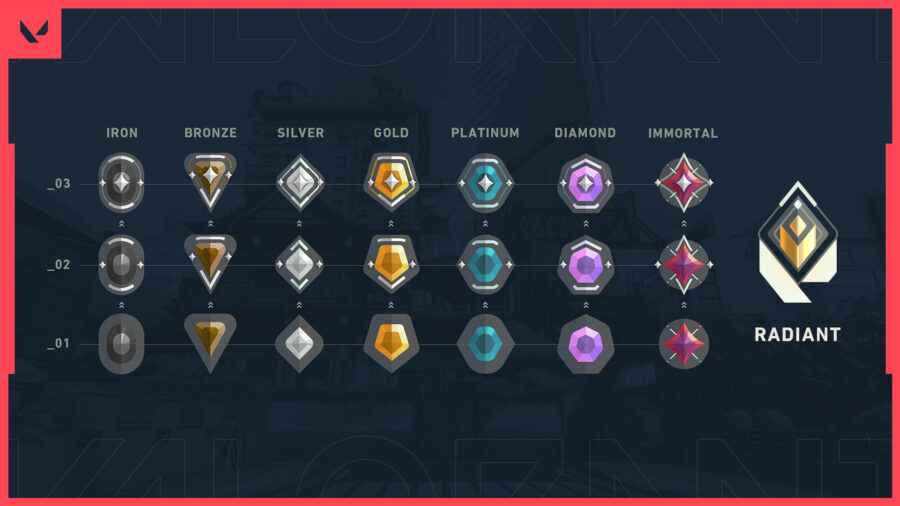 Getting Started
Before you can start a ranked match, you have to play 20 unrated games. Your results in the 20 games allow the system to find out more about your skills and ensure that you know how to play the game.
After 20 unrated games, you then play another five ranked games with players who've completed their placement matches or are unranked. The system will then give you a rank for your upcoming competitive matches. You can then play against opponents up to two ranks above or below yours. If your friends aren't within those two ranks, you won't be able to play with them in competitive mode.
Climbing the ladder
Your rank can fluctuate based on your performance, so you need to be consistent. Wins and losses are taken into account, and so is the number of kills per game. The system also rewards you for the number of plants, diffusals, and how you use your abilities. The more you contribute to the team, the faster you can go up the ranks. There's no rank decay, but your rank gets hidden if you haven't played for 14 days.
If you haven't started playing, find out how to download the game here. While you're at it, why not look at the Valorant Characters List: All Agents and Abilities.