Many existing Valorant players have a wrong assumption that they will need to download the entire game through the Riot client if they want the game on a different drive. But that's not true, as you can move the game from the existing place to a new volume by changing certain directory paths inside some files of the RiotGames folder in the Program Data.
How to move Valorant from drive to another (easily)
As mentioned earlier, to move Valorant from one volume to another, you will need to change the installation path. To do this, follow the given steps.
Open your C: Disk and select the ProgramData folder from the list.
Navigate and find the Riot Games folder inside the ProgramData.
Find the RiotClientInstalls.JSON file and open it with any text editor like notepad. The complete directory is C:\ProgramData\Riot Games\RiotClientInstalls.JSON.
Replace the highlighted parts in the given image with your new Volume Drive. For example, if you want to move your game to D drive, change it to D: at the highlighted areas. Save the file and close the editor.
Now,in the same RiotGames folder section navigate to \Riot Games\Metadata\valorant.live and open the valorant.live.product_settings.YAML, using the notepad again.
Change the drive volume in product_install_full_path and product_install_root similar to the earlier one.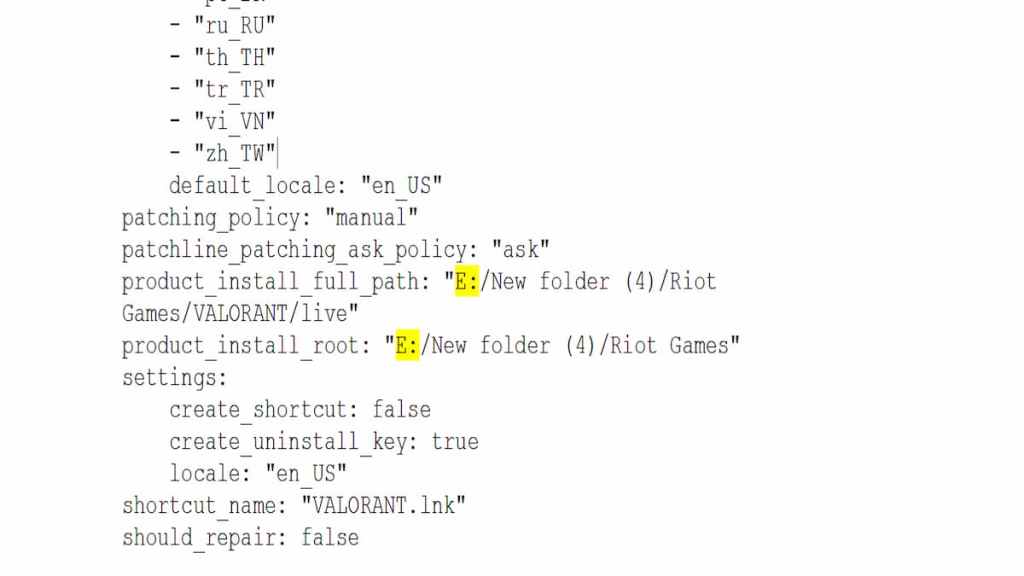 Save the folder and restart your PC. The game would have shifted to the new drive folder.
For more on Valorant, check out Best Crosshair Settings for Valorant or How to get a dot crosshair in Valorant on Pro Game Guides.