Vampire Survivors has been the breakout cult hit of 2022. Releasing into Early Access in late December 2021, the game found its feet in January 2022 before skyrocketing in popularity across the months. It even became the number one game played on Valve's Steam Deck.
Now, the game will finally be leaving Early Access on October 20, according to a post on the game's Steam page by developer Poncle. Accompanied by a tweet on the game's official Twitter and a fantastic hype video showcasing the leaps and bounds in development the game has made over the past eight months.
According to Poncle, the 1.0 port will expand the supported languages to English, French, Italian, German, Spanish, Polish, Portuguese, Turkish, Russian, Simplified Chinese, Korean, and Japanese. Additionally, a new engine is in development for the game, but that won't release until later this year.
The biggest news from the 1.0 announcement is that the game will continue in full force with new features. According to Poncle, starting from October 7, the developer will reveal something new about the game daily. So for two weeks, we'll be teased with new features. Below, we have the advent calendar used to use to track it.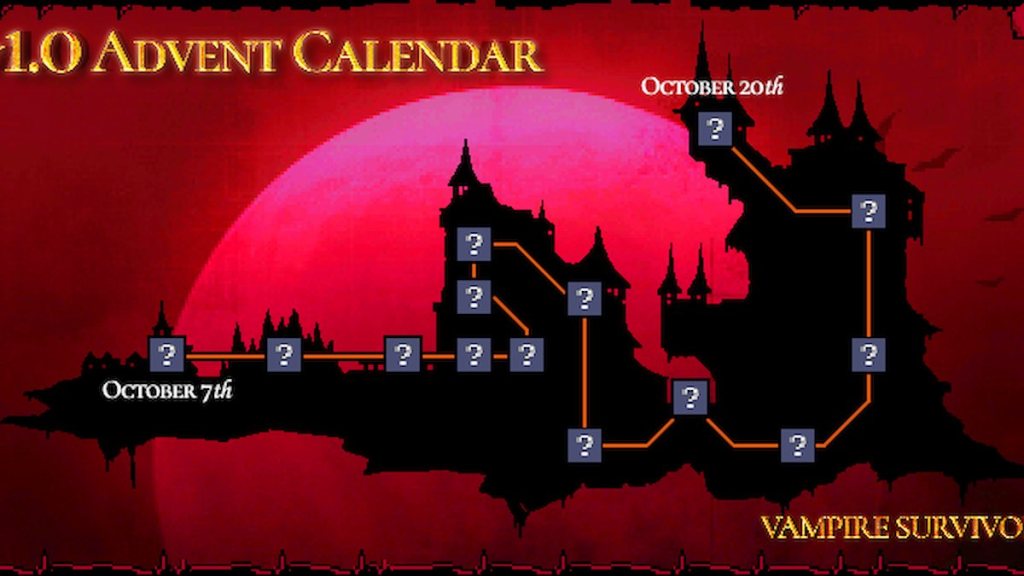 Overall, this feels like just the beginning for Vampire Survivors. Its launch is the end of one development cycle and the start of another. And for a game that's already launched dozens of imitators, that's great news for fans of the genre.
For more Vampire Survivors news, guides, and information, check out How to unlock Queen Sigma in Vampire Survivors on Pro Game Guides.