Queen Sigma is the new character added in Vampire Survivors patch 0.11.0. Queen Sigma is described as the most powerful character in the game, a fearsome sword-wielding monarch, according to her release trailer. So how do you unlock Queen Sigma in Vampire Survivors.
Unlocking Queen Sigma
To Unlock Queen Sigma, you'll need to complete the entirety of the Collection. That means collecting all 122 Weapons, Characters, Upgrades, Arcanas, and Relics in the game. This is a huge undertaking and only has a few unlockable items missing from it, such as the secret or cheat characters.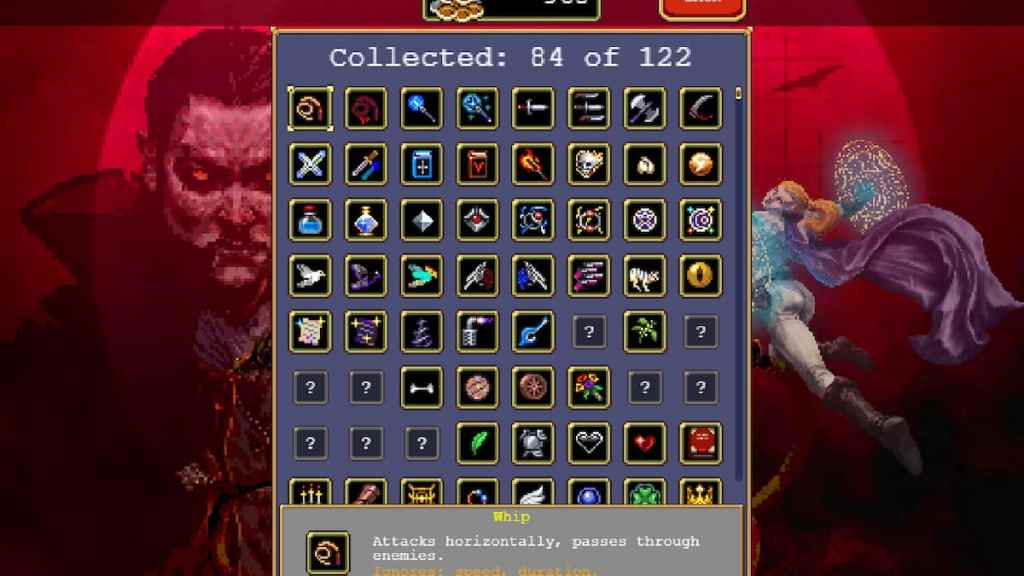 Completing this task takes a mastery of the game, or a lot of grinding for Golden Eggs. Either way, it's no simple unlock, and will take hours of grinding. Your best way of doing this is just to put aside some time and play the game as much as possible. Aim to complete the achievements corresponding to the respective unlocks and slowly build up your collection.
Related: The Queen Sigma update will be the last update before Vampire Survivors launches 1.0
Queen Sigma's Weapon
Queen Sigma starts with the Victory Sword. You can evolve this weapon by unlocking Torrona's Box. This Passive Item has a random chance to drop when you hold six different Weapon Evolutions at once. Torrona's Box will appear, and if your Victory Sword is upgraded to level eight, it will evolve into Sole Solution.
Sole Solution, unlike other Weapon Evolutions, doesn't replace the original weapon. Instead, it slowly generates small sparkles around the character. These build up, and the weapon will eventually unleash a huge swirling galaxy. This renders the player intangible, which means they can still collect pickups but can't be damaged. This weapon also increases in damage per 5,000 enemies killed, and this amount is uncapped.
Queen Sigma abilities
Living up to her status as one of the strongest characters in the game, Queen Sigma can't pick up Golden Eggs to increase her stats. Instead, she starts off with some of the highest stats in the game and gains 1% might and 1% Growth every level without cap. The Golden Eggs are replaced by the Candybox weapon in the Merchant's shop.
Queen Sigma can also have up to seven Arcanas at once and select Arcanas from the full list of Arcanas rather than four randomly drawn cards. Overall, this character is absolutely broken, and a fitting reward for the huge unlock requirements needed.
For more Vampire Survivors guides and info, check out How to find and unlock the Grim Grimoire in Vampire Survivors on Pro Game Guides.