Enchanting in video games can differ depending on what genre. In some games, enchanting is essentially upgrading, but in others, it's imbuing a certain stat or debuff to it, which causes an assortment of effects. For example, by enchanting a sword with a poison gem, that sword will now have the chance to poison anyone it encounters! Vigil: The Longest Night uses enchanting in this manner; it's a stat that gets added to the weapon. But how exactly do you enchant in Vigil: The Longest Night?
How to enchant?
When you arrive at Maye Town, you can access Zachary in the Smithy. Talk to him, and you can enchant your equipment. It's the same menu as forging.
Click on Enchant, and a different menu will appear. Find the piece of equipment that you want to enchant and press A. Then move left or right and choose the Gem you want to apply to it.
Like forging, all equipment can be enchanted apart from rings. There are six enchantment gems in total.
Thorite Crystal
Frost Stone
Cursed Stone
Glowing Ember
Blood Shard
Amber Spark
Each of them provides two unique abilities for weapons and armor. However, you can only choose either-or. You cannot have both of the abilities, only the one.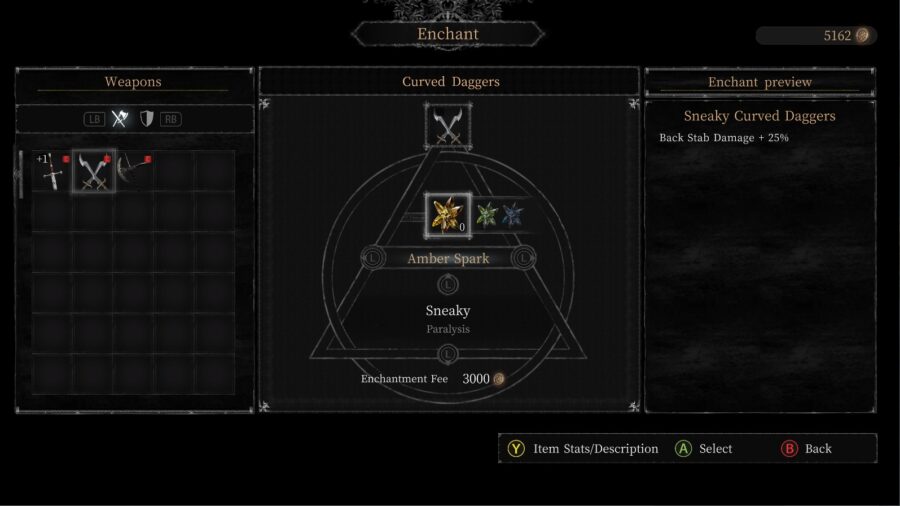 An item can only be enchanted once, so you cannot stack multiple enchantments on one item. You can enchant the equipment again, but the previous enchantment will be lost for the new one gained. The free for enchanting is 3000 Gold.
Gem Effects
The gems add the following effects to Weapons:
Thorite Crystal

Rotten

Applies a Poison effect to the target.

Erosion

Frost Stone

Gathering
Frost

Applies a Slowing effect to the target.

Cursed Stone

Disaster

Per 1% of health reduced will increase attack by 0.5%. Potion recovery -72%

Unfortunate

Applies curse effect to the target

Glowing Ember

Arsonous
Scorching

Applies a Burning effect to the target

Blood Shard

Giant

Adds the enemy 0.1% of Max HP as additional damage

Bloodthirsty

Applies a bleeding effect to the target

Amber Spark

Sneaky
Paralysis

Applies a Lightning effect to the target
The gems add the following effects to Coat Armor:
Thorite Crystal
Frost Stone

Piercing

Unarmed damage +75% of the defense value

Frozen

Cursed Stone

Ascetic

Per % stamina reduced will increase Attack by 0.5%. Initial Attack -20%

Frenzy

Glowing Ember

Molten

Reflect 75% physical damage

Insulated

Blood Shard
Amber Spark

Rehabilitation

Reduce Debuff Duration +20%

Insulated
As there are three pieces of armor, only the coat piece gets the effects above. If you enchant the Gloves and Boots, the effects are halved of the stats above.
For example:
To enchant, it's entirely up to you. If you fancy a weapon that does burning damage, then do it. If you're playing blind, you've got no idea what enemy will be weak or strong to a certain status effect. And in honesty, some of these effects make no sense until you try them out and see if they're actually worth it.
Our opinion is to stick to the ones you understand; Sneaky for extra Backstab damage is something you cannot go wrong with. Same as Frost, which slows enemies down. For the armor, extra health and poise are always nice! Simple is often best.