Forging and upgrading your items are always an integral part of RPG's and the same can be said about the Soulsborne style of games. There are tons and tons of different weapons in those games, but finding one you like and upgrading it to the max is the best part. Vigil may differ somewhat, as it's more limited, with only 4 different weapon styles, it's hard to choose which one you fancy using. Undoubtedly, not long after you upgraded, you'll come across a new weapon that is just plain better! Here's how to forge your weapons and armor in Vigil: The Longest Night.
How to forge
In Vigil: The Longest Night, forging means upgrading, reforging as you will. All your equipment can be forged apart from your rings, and the max level is capped at +7, with a capped stat increase of 150%. You cannot get any more than 150% on anything in the game.
To forge a weapon, you must get to Maye Town; here, you'll find a Smithy and a man called Zachary. Upon speaking to him, the option of Forging will be available.
You need materials to be able to start reforging. Those materials are called Shimmer Stones. There are three different versions of them.
Small Shimmer Stone - Levels up an item between 1-3
Large Shimmer Stone - Levels up an item between 4-7
Triangular Shimmer Stone - Levels up and idea to level 7.
It's the same mechanic as in Dark Souls. You have to use the Small Shimmer Stones until you increase it to level 4, then you can use the next tier of stone to reach the other levels. You cannot go straight to level 7 by using a Triangular Shimmer Stone.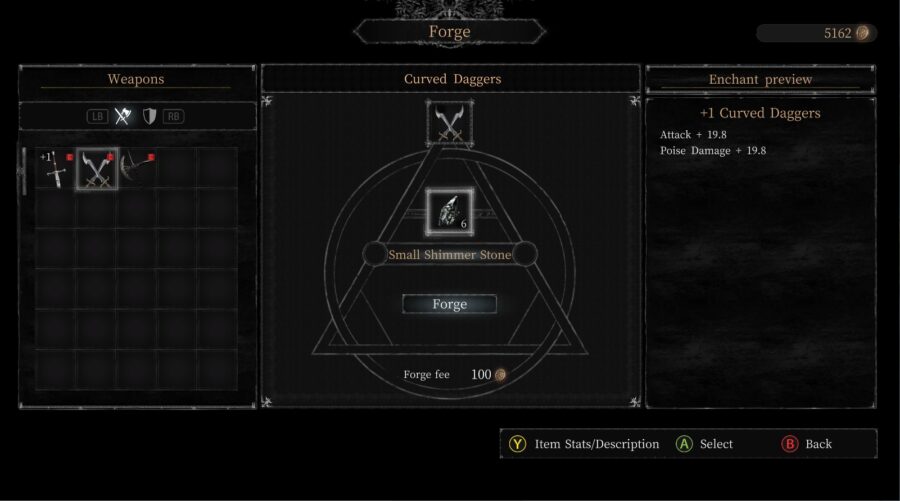 We'll start by upgrading a weapon first. The initial starting sword will do nicely:
Vigilant Sword

Attack: +29
Poise Damage: +50
Block Absorption: 40
If I upgrade it once using a Small Shimmer Stone, the stats increase too:
Vigilant Sword +1

Attack: +31.9
Poise Damage: 55
Block Absorption:+44
The stat increase is negligible at best, but as the Sword is a semi-fast weapon, so it makes sense that it's not overly high. If you were to increase the Halberd, the Attack increase stat would be higher, as it's a slower but heavier hitting weapon. Next up, we'll upgrade an armor piece:
Forging this, the stats increase to:
There are three parts of your armor set, the Coat, Gloves, and Boots. Each one has to be upgraded individually, but you can see the upgraded values are pretty minute. To upgrade, it's honestly best to way until you find a decent armor set and then upgrade that.
The same goes for weapons; wait until you find yourself a decent weapon, then upgrade that. We're a few hours into the game, and I've upgraded the Vilgilant's Sword once; the extra damage isn't needed until probably later on in the game. Save all those Shimmer Stones and use them on something worthwhile.