Warpath: Ace Shooter is a real-time strategy game set in World War 2 alternate universe. This game looks like a combination of Company of Heroes (gameplay) and World of Tanks (visual style and actual tanks). So if you like alternate history and WW2 stories, you're in for a treat.
To succeed in battle, you'll need resources. Fortunately, we found some Warpath Codes to give you a fighting chance. By claiming rewards, you'll get Gold, Building Materials Rush (reduces production queue), Tech Rush (reduces Tech research queue), Officer experience, etc.
If you're into warfare, check out codes for war-themed games like Top War: Battle Game Codes, Roblox Military Tycoon Codes, and Roblox Trenches Codes. Also, we have Tons of Codes for Many Different Games!
Warpath Codes List
Updated May 10, 2023

Added new Warpath codes.
Working Warpath Codes
These are all the working Warpath codes.
thankyou
EASTER3GGS
EASTEREGGS
BDAY2023
LunarNY2023
Expired Warpath Codes
These codes for Warpath no longer work.
TY21
Easter2022
SUMMER2021
Dollarplays
Join_Discord_Now
Peace_Treaty

MothersDay2021
GiftCode101
@westie
@whang
anniversary2022
@phly
@evan
@dezgamez
@isp
@bitwit
@thedooo
@twins

@warfare
@simplehistory
@jmwfilms
@kandG
@cartoonz
@tko
@baronvontactics
AprilFoolsDay2021
MERRYXMAS
HauntedMansion
Airforce2021
Demolition_Ranch

JCVD_2021
@Demolition
@zanny
@angrycops
@drewski
@Kentucky
@awesome
@markfelton
@notabene2021
Warpath2021
Warpath_iOS
valentine2021

theSpringFestival
TrickorRetreat
warpath001
warpath_cp
Nywp
FORUM
CHECK
IN
OUT
GAME
Easter2021
warpath_ojg

santajack
TDAY20
merryxmas
warpath_bvg
Warpath Frequently Asked Questions
Here's everything you need on Warpath codes in one place.
How to redeem Warpath codes
Redeeming codes for free prizes in Warpath takes a few steps if you're entering codes for the first time.
Enter the game, and tap on the Commander profile picture in the upper left corner. In there, you'll find your Online ID number. Copy it.
Go to the official Warpath page to activate your profile. In the UID box, enter your ID number and press Send Code (leave the Verification Code box empty for now).
Click on a New Mail button in the lower-left corner.
When in Mail, you'll notice you have Verification mail. Open it and copy the Verification code.
Return to the Warpath page and enter both UID and Verification code you got from the in-game email.
If you did everything correctly, then the previously mentioned Warpath page will look like this: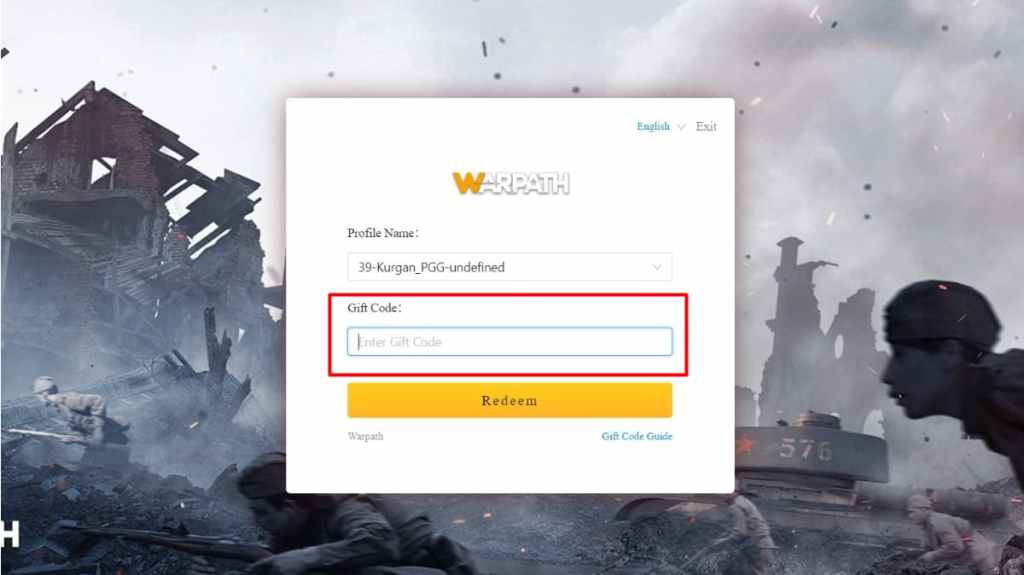 8. In the Profile Name box, choose your commander to whom you wish to give a reward. If you have just one account, you'll find only one option.
9. In the Gift Code box, enter the code exactly as it appears in the list above.
10. Press Redeem button. Enjoy your well-earned prize!
This is a one-time process, so next time just repeat steps 8 to 10.
How to find more Warpath gift codes?
If you want to have all Warpath code information in one place, this page is a great choice. Just bookmark it and visit it often for updates. You can always visit the official Warpath Facebook, Twitter, Reddit, and Discord pages for more information.
Why aren't my Warpath codes working?
Warpath codes don't last forever, so claim the rewards before they expire. If this is the case, be sure to let us know so we can update the page! Another reason for codes not working can be a spelling error. Ensure to enter codes precisely as they appear in the Working Warpath Codes List segment.
What is Warpath?
Warpath is a mobile RTS game where you'll have a chance to wage war against Ravens (which are Germans in this alternate universe). Although the year is 1941 and you have historical weaponry, you'll notice that this world is more technically advanced.
If you like real-time strategies, check out Best RTS games on PC. If you're into World War 2 games, find out Can you kill Hitler in Sniper Elite 5, and How long is the Campaign in Call of Duty: Vanguard on Pro Game Guides.