While Wartales has been extremely well received by the tactical RPG community, it had a long live development process. This has meant some of the updates have left stray code behind that is still in the process of being tidied up after the official launch. One thing that has confused me, and many others, are Wartales titles. There are a couple of different types, which can seem random and uncheckable, which is strange in a game with such data-driven depth. Here's what we currently know about Wartales titles, explained.
How do you get titles in Wartales?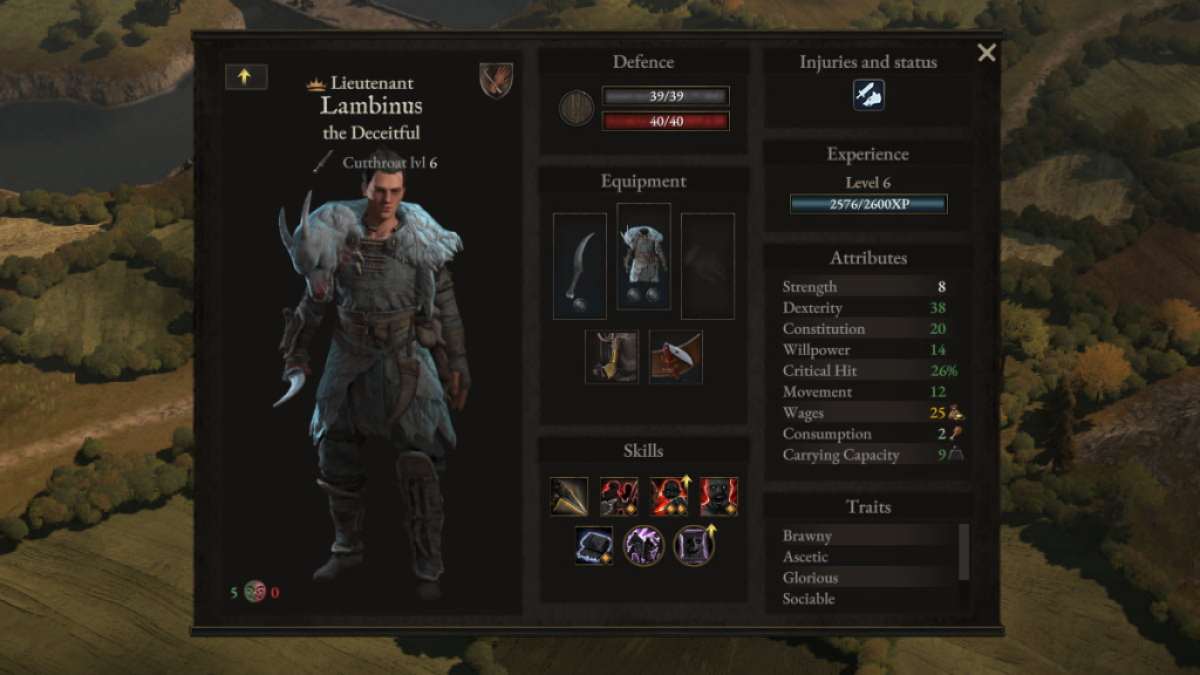 Not to be confused with military ranks (Lieutenant and Captain), Wartales titles are displayed underneath a character's name rather than above it. Each of your companions can have one of these titles and they are earned by that individual character hitting a particular gameplay milestone (see below). Once a character has a title it will stay with them forever and, as far as I can tell, you can only have one companion with each title in your party. There is no way to edit or examine these titles in-game at this time.
Related: Wartales Changing Profession & Multiple Professions, Explained
What does title unlocked mean?
What has caused a lot of confusion is that this isn't the original title system. In earlier pre-launch versions of Wartales titles worked differently. Titles were connected to the Paths system and gave bonuses when your party hit certain conditions. A message would come up on the screen telling you that you had unlocked a particular title. Unfortunately, while that system was removed, the unlock messages and triggers remain in place. So, if you see a title unlocked message you should just ignore it, as frustrating as that might be.  
What do titles do in Wartales?
When one of your Wartales companions receives a title, they will immediately receive a free Aptitude point, so they're definitely worth having. There has been some community speculation that certain titles are also tied to particular Traits, but I haven't seen any hard evidence of that. Some are definitely easier to get than others, while as with everything Wartales they are subject to change as the game is still being regularly patched and altered.
Wartales titles list
| | |
| --- | --- |
| Title | Condition |
| the Braggart | 10 Valour Points spent in one battle |
| the Bulwark | 30 Enemies engaged |
| the Cleanser | 10 Plague-infested outgrowths destroyed |
| the Cross-eyed | 5 Allies struck with a bow |
| the Deceitful | 30 Enemies killed from behind |
| the Deft | 100 Items created |
| the Friend of Beasts | 15 Nights spent next to an animal |
| the Miser | 500 Krowns paid in wages |
| the Nimble Elbow | 10 Days in a row of alcohol consumption |
| the Pigs Bane | 10 Boars killed in one battle |
| the Scarred | 10 Injuries suffered |
| the Survivor | 10 Dying statuses obtained |
| the Wolf Tamer | 10 Wolves killed in one battle |
Looking for more information on Wartales? We've got you covered at Pro Game Guides! Check out All Wartales Specializations, Explained, and our Wartales Relationships Guide.