Looking to play a Fire Mage in Dragonflight but not sure how to build it up? Perhaps you feel like the damage is really low, and you're looking for a build to boost it. Maybe you're aware of Fire Mage's general underperformance and still have a passion for playing it. If you have to question either of these statements, you've come to the right place. Here's a talent build you can get behind until Blizzard gets on the ball with buffs for Fire Mage in WoW Dragonflight.
Related: Best Blood Death Knight Talent Builds in WoW Dragonflight
The Strongest Fire Mage Talent Build in WoW Dragonflight
You may have noticed to lack of plural-defining "s" in the above title. This is because Fire Mage in Dragonflight has only one viable talent built in all forms of content. The spec has many dead talents and many that are just a net loss for the talent point spent. Even so, Fire Mage, as a specialization, lives and breathes through the Combustion ability to deal any meaningful damage. Knowing that the following talent build focuses heavily upon keeping Combustion up at much as possible:
Fire Mage Sun King Build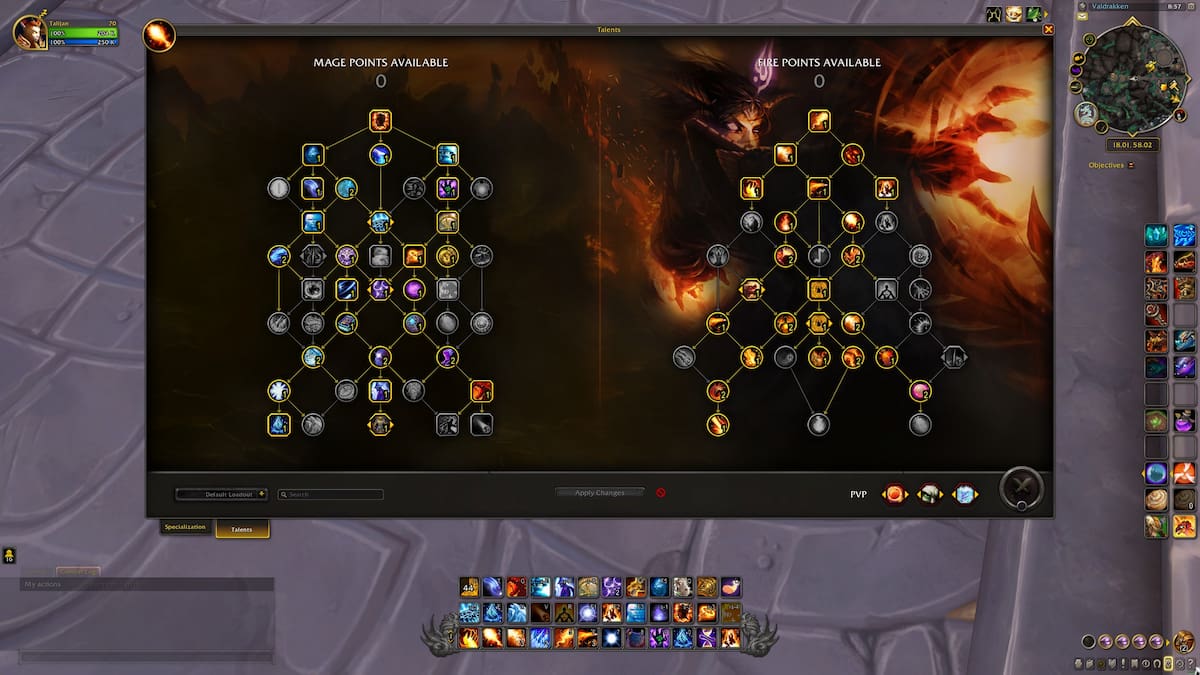 As the title suggests, this talent build focuses upon the capstone talent, Sun King's Blessing, to maintain an active Combustion for as long as possible. This ability allows you to activate a mini-Combustion after eight Hot-Streak-related crits. Combustion is a massive boost in damage for Fire Mage, so keeping it active through Sun King's Blessing, along with the following Ignite damage from boosted fire spells, allows this spec to shine in DPS if you can maintain it well. Other key talents/abilities include:
Rune of Power - A massive 40% damage boost to all spell damage while you're standing in it
Shifting Power - Reduces the cooldown of all spells during its channel. This is used to reduce the CDs of Combustion and Rune of Power
This spec major weakness is its total reliance on Combustion uptime. Your damage will be extremely poor if you cannot maintain Combustion for long periods. As such, we highly recommend stacking Haste over Crit so you can get as many casts as possible quickly. Sun King Blessing is the Fire Mage's only saving grace currently, so learn to use it well, or you'll fall into DPS obscurity. If this changes, we'll update this guide for any new builds that become viable.
For more useful guides relating to World of Warcraft Dragonflight, check out this guide on How to get the Iskaara Trader's Ottuk mount in World of Warcraft Dragonflight right here on Pro Game Guides.