Certainly some of the most valuable items in The Legend of Zelda: Tears of the Kingdom are the parts of the dragons. Just like in Breath of the Wild, players can farm parts off of Farosh, Dinraal, and Naydra in this sequel. Nayrda is a little tough to farm since it mostly flies around the freezing Mount Lanayru. Link will have lots of tall heights, though, from which to aim his arrows.
Where to find Naydra in TOTK (Zelda Tears of the Kingdom)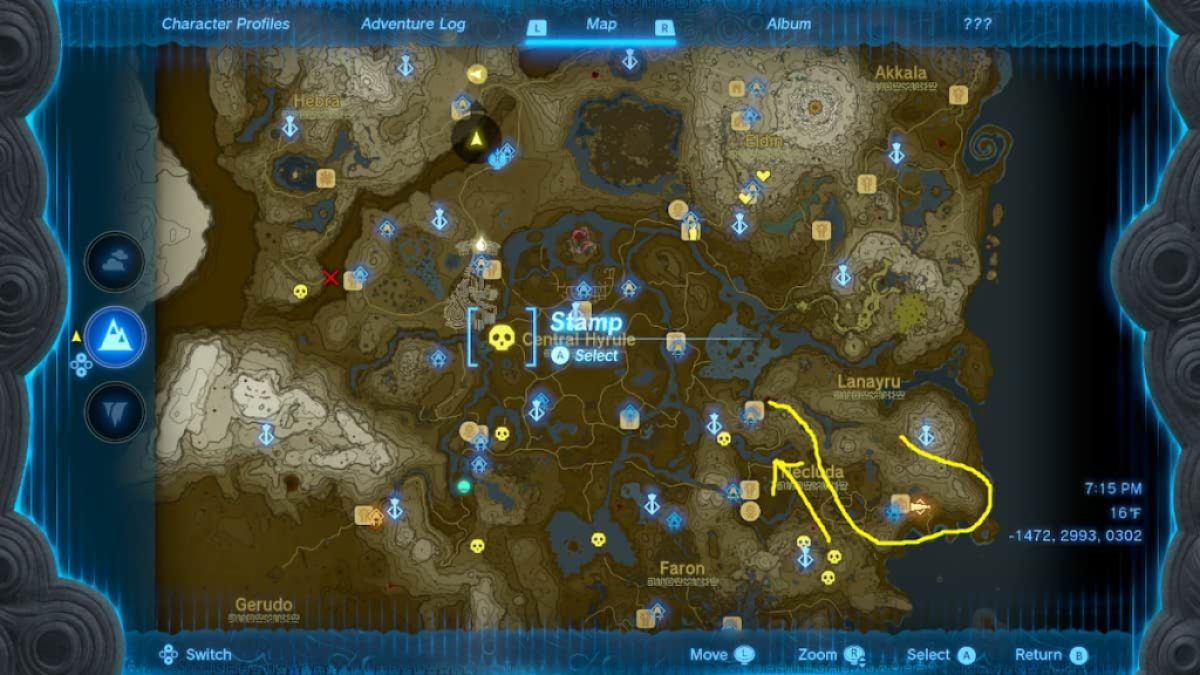 The dragons in Tears of the Kingdom follow a path that both starts and ends in one of the gloom pits. As for Naydra, this dragon emerges from the pit in Naydra Snowfall (coordinates 3537, -1369, 0209), then circles around Mount Lanaryu and Hateno Village before flying through the pit in East Hill overlooking Kakariko Village (coordinates 1929, -0891, 0164). You might have to wait 10-15 minutes to see the dragon start to emerge from the chasm, at which point you can fast travel or do whatever you need to do in order to position yourself to get near Naydra.
How to farm Naydra's Scale in Zelda TOTK (Tears of the Kingdom)
In TotK, dragon parts like Scales, Claws, and Fangs can only be harvested from a dragon once every 10 minutes or so (10 in-game hours). Of these three types of parts, players will have the easiest time farming the scales. All players really need to do is shoot an arrow at any part of Naydra's body for a scale to pop off.
In order to get close enough to Naydra to land a shot, I found it best to descend from Mount Lanaryu Skyview Tower. From that skyline, it's really easy to see where Naydra is flying below. For the best results, try diving right on top of Naydra and then glide to the side to line up a shot. You can also land on top of Naydra to shoot a scale off and immediately pick it up while riding on its back.
If the scale falls off Naydra and starts tumbling downward, players still need to keep track of it or else it might be lost. This makes it very important to keep gliding while following the decent of the scale so as not to lose it.
Related: How to reach the Second Shrine in Zelda Tears of the Kingdom (TOTK)
How to farm Naydra's Claw in TOTK (Zelda Tears of the Kingdom)
Essentially, players will want to stick to the same process, except they will be specifically aiming for one of Naydra's claws (or feet). This is a very difficult shot to hit, so players really need to get as close as possible first. If farming multiple parts from the dragon, it might be best to land on its back to get a scale and wait 10 minutes for the dragon to start glowing again, when you can try to farm a claw or fang part. When shooting from the air, you'll use a good chunk of stamina, not to mention the stamina you used gliding over to the dragon. Be sure to bring some stamina dishes if you need to. I like cooking just one Staminoka bass at a time for one full ring of stamina regeneration.
The only way I was able to grab a claw was by practically diving onto Naydra and getting in point-blank range of its claw. Try not to miss and hit the body or you'll have to wait 10 minutes for another part to be harvestable. If Link takes a bit of damage by hitting Naydra, don't worry about it: just keep gliding, hit the claw, and heal up afterwards.
Want more Zelda Tears of the Kingdom guides? Pro Game Guides has you covered with Is the Paraglider in Zelda Tears of the Kingdom?