Animal Crossing: New Horizons is the newest installment in the whimsical Nintendo franchise about creating a town full of beautiful shops, villagers, and landscaping. Players have the ability to play as the villager (not the mayor in this installment) while they help grow the town through building, planting, and purchasing objects. As the island levels up, the number of villagers allowed on the island increases. The player can have a maximum of ten villagers, given the prepare they properly the plots.
Best Villagers in Animal Crossing: New Horizons
While players don't get to directly select their villagers, they can either go hunting for them on mystery islands or make trades with real players online. There are almost 400 villagers in ACNH. So, which villagers are the best of the best?
Read below to see the best villagers, which we've divided by species.
Alligator — Gayle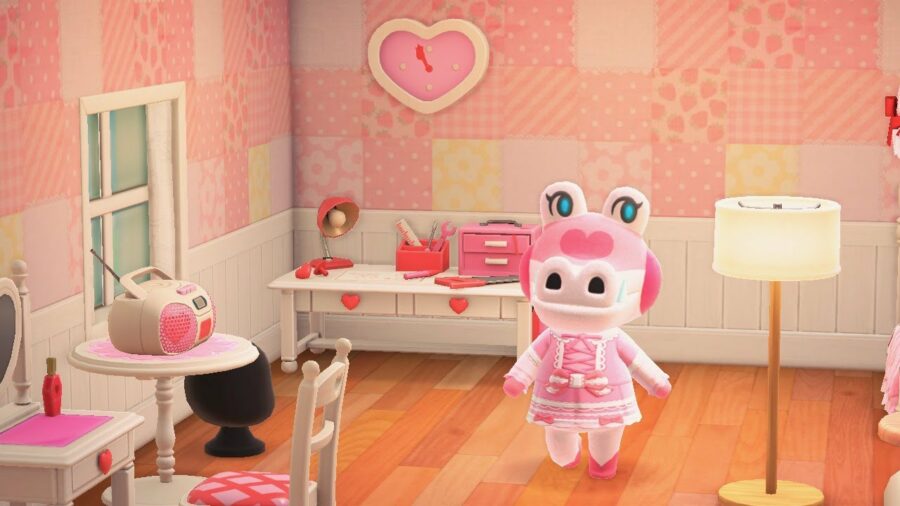 Gayle is an adorably sweet alligator villager. She has the normal personality type and furnishes her home with the Lovely Series. She wakes up at 6 am to walk the island and can be seen befriending other villagers and acting kind.
Anteater — Antonio
Antonio is a jock anteater who uses "honk" as his original catchphrase. His favorite song is "K.K. Ragtime" and he furnishes his home with the Modern Series. He can be seen around the island working out.
Bear — Megan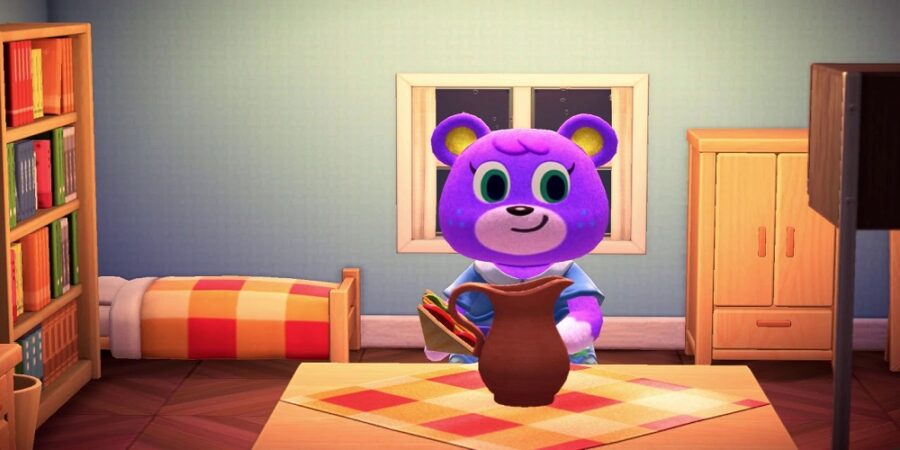 Megan is a normal personality bear with purple fur. Her favorite song is Forest Life and she plays it in her home if a stereo or record player is purchased. Just like Gayle, she begins wandering the island at 6 am.
Bird — Piper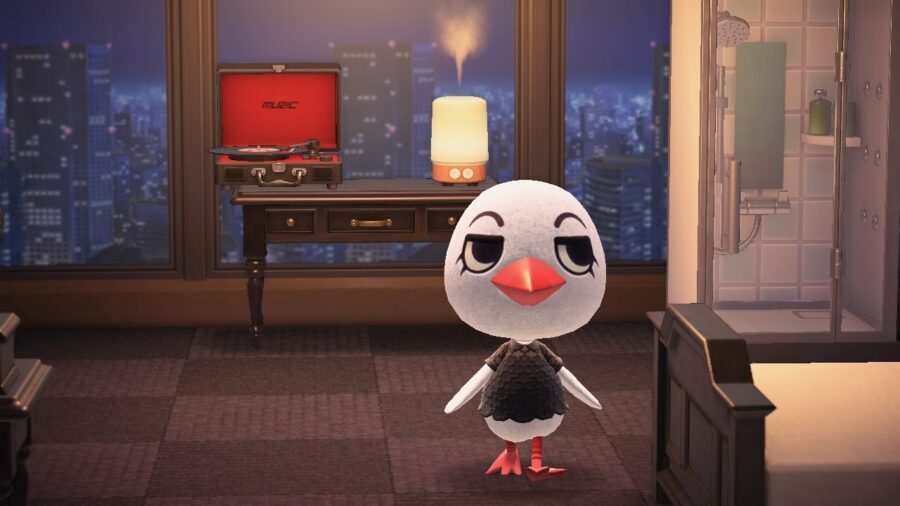 Piper is a white bird with a peppy personality. Her favorite song is K.K. Synth. She decorates her home with the sleek Cabana series, which complements her minimalist appearance. She will have an excitable demeanor which is great for increasing island morale.
Bull — Coach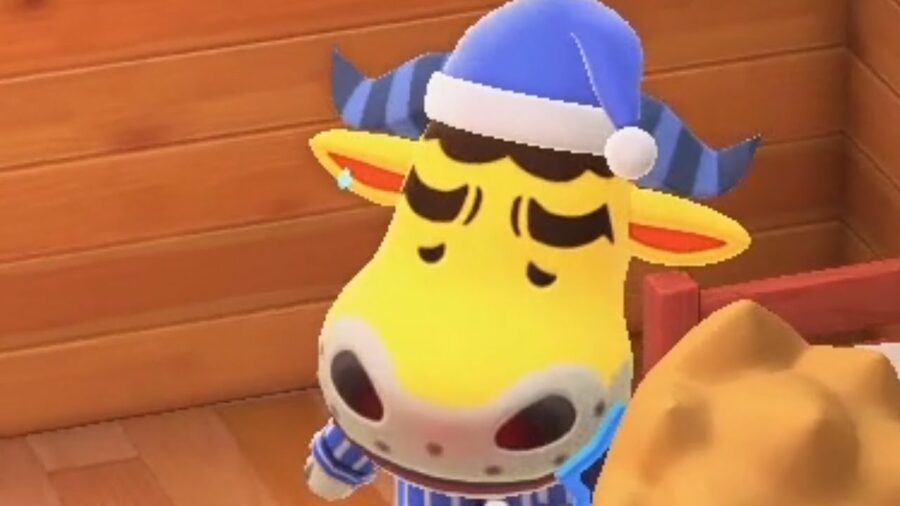 Coach is a yellow jock villager with blue horns. His favorite song is "Mr. K.K.," which you may hear him play in the town square if you add a music player. He will be interested in exercising and exuding self-confidence.
Cat — Merry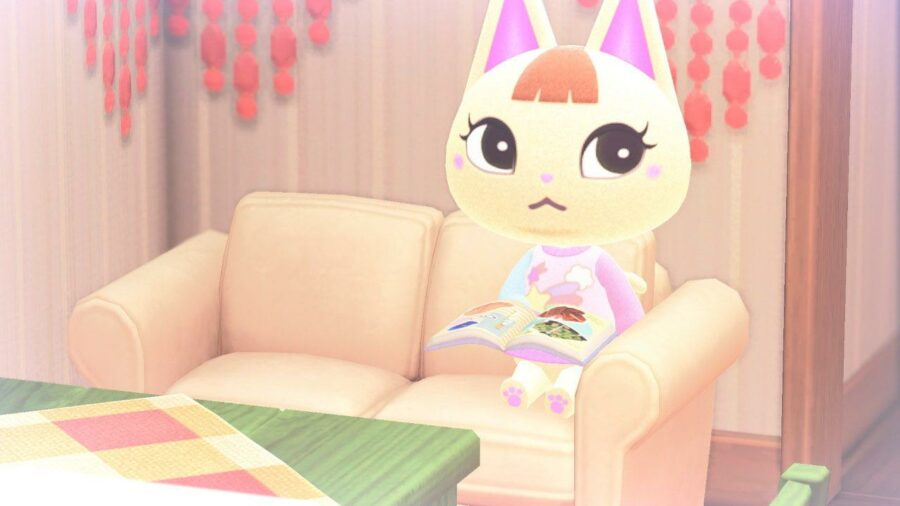 Merry is a peppy personality cat with signature bangs and a cute appearance. Her favorite song is "Neapolitan," which you may get to hear her sing if you're lucky. Since she is peppy, she will interact with other villagers easily.
Chicken — Knox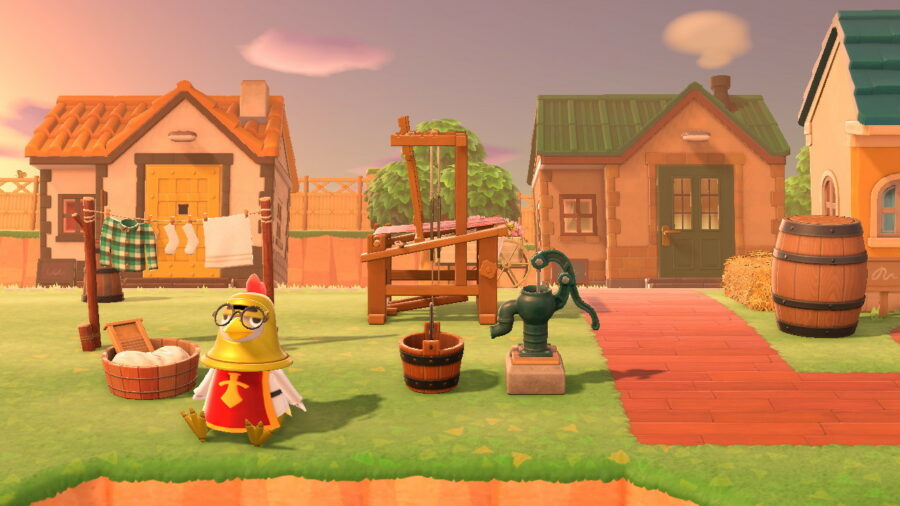 Knox is a cranky personality chicken who can be seen walking around dressed like a knight. His favorite song is "K.K. Chorale." He furnishes his home with items from both the Golden Series and Zodiac Set.
Cow — Norma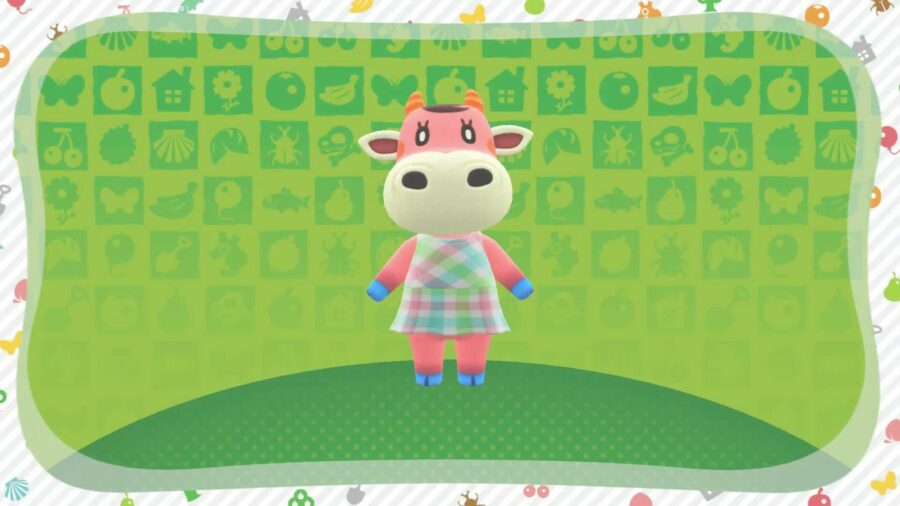 Norma is a sweet-looking pink cow with a normal personality type. Her home is quirky, featuring a field of flowers. She is sure to fit in well with most villagers, due to her neutral personality.
Cub — Pekoe
Pekoe is a Chinese-inspired cub who adds a demure atmosphere to any island. Her favorite song is "Imperial K.K.," which can be heard when she chooses to play music. Her room fits her default Eastern-inspired style.
Deer — Beau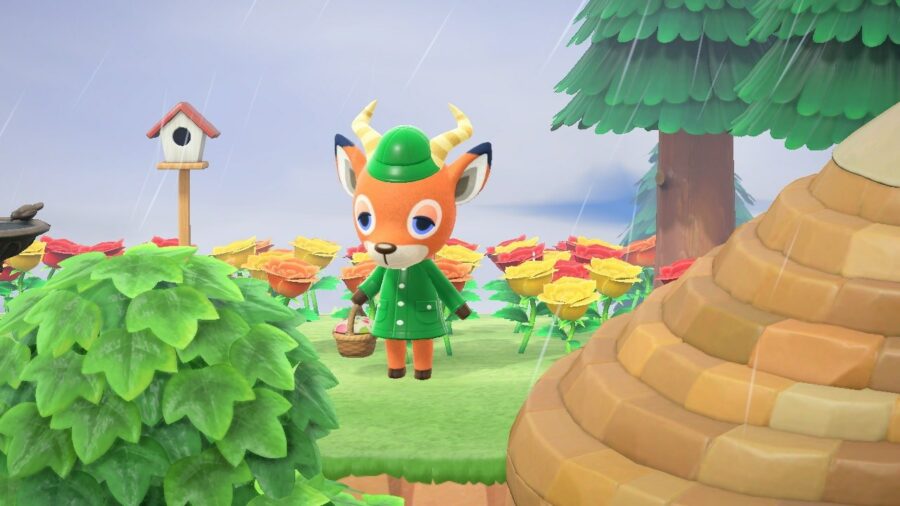 Beau is a sweet and lazy type deer with a soft spot for the human villager (the player). His favorite tune is "Mountain Song," which fits the style of his forest-themed home. Since he is a lazy villager, he likes calm activities like fishing.
Dog — Daisy
Daisy is an adorable dog villager with a normal personality, meaning she will begin walking the island at 6am. Her song of choice is "Forest Life," which you may hear playing in her simply designed home.
Duck — Freckles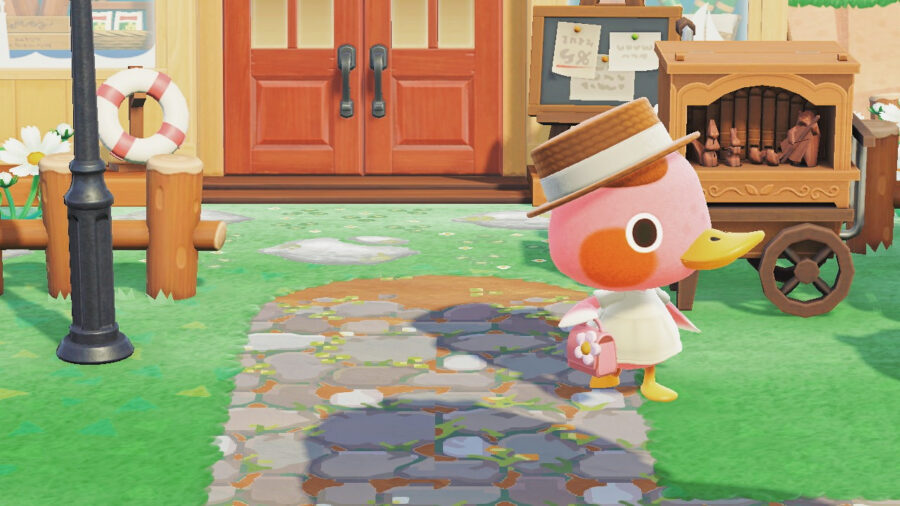 Freckles is a goofy duck with a peppy personality. Her catchphrase is ducky, which exemplifies her quirky attitude. Players have to make sure to remember conversations they just had, because she won't with her forgetful brain.
Eagle — Celia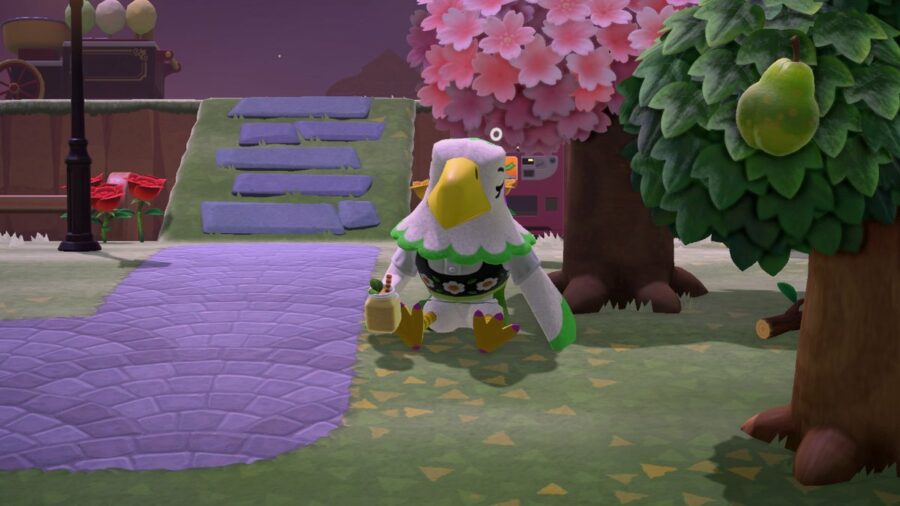 Celia is a majestic eagle villager with a normal personality, meaning she will be a neutral influence on the island. Her cute Alpine style dress gives her a distinct look that makes her look cute in her Rattan set home.
Elephant — Tia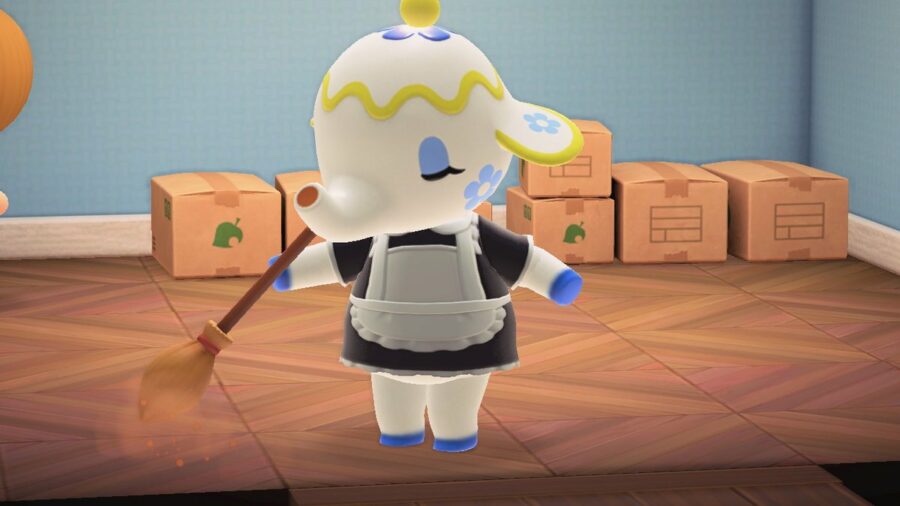 Tia is an elephant who looks like a teapot, giving her an endearing appearance. Her personality is normal, which will mean she will roam around starting at 6am. Her favorite song is "K.K. Bossa," which can sometimes be heard playing in her café-themed home.
Frog — Lily
Lily is a frog with giant blush spots and a normal personality. Her catchphrase is "toady". Though she has a normal personality, her demeanor is pleasant to have as an addition on any island.
Gorilla — Boone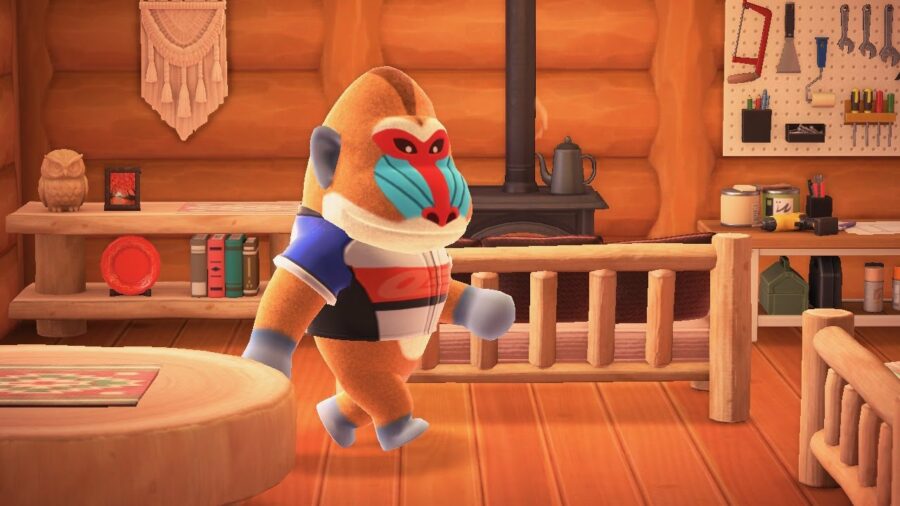 Boone is a baboon-inspired villager with a jock personality. He can be seen on the island interacting with other villagers or pumping iron. He is confident but can sometimes put off other islanders. His appearance and friendly attitude more than justify his presence.
Goat — Pashmina
Pashmina is a sisterly goat who is eager to help everyone, including the player. While their attitude may be overbearing, she is a great addition to the other villagers and the main player. Her home is a stunning, retro-style diner.
Hamster — Soleil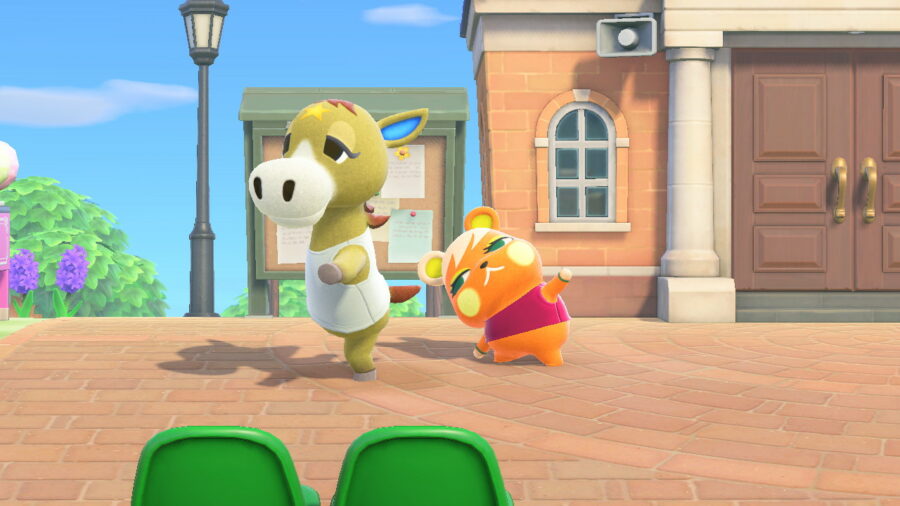 Soleil is a snooty, but stylish hamster that can add flair to any island. Her favorite song is "K.K. Oasis." She styles her home beautifully in the Imperial style. Wherever Soleil goes, style will follow.
Hippo — Bertha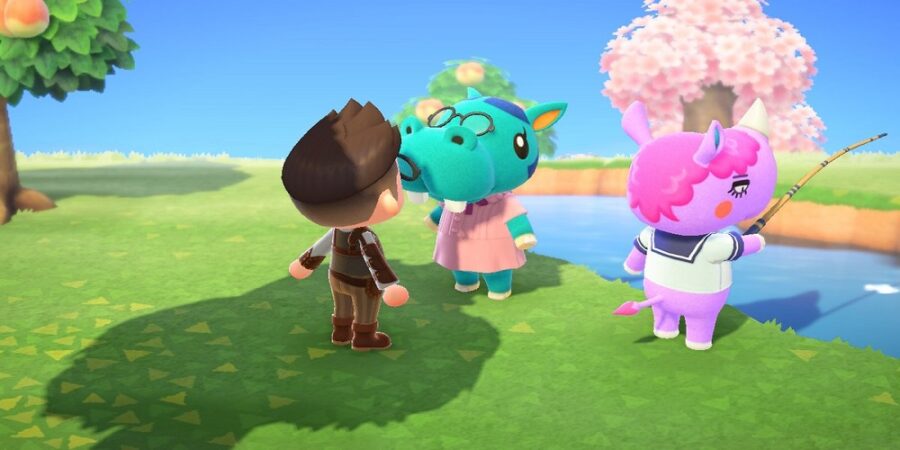 Bertha is a blue hippo with a normal personality. She meshes well with most other villagers, giving off a calm and amicable demeanor. She participates in a variety of hobbies. Her favorite song is "Two Days Ago."
Horse — Julian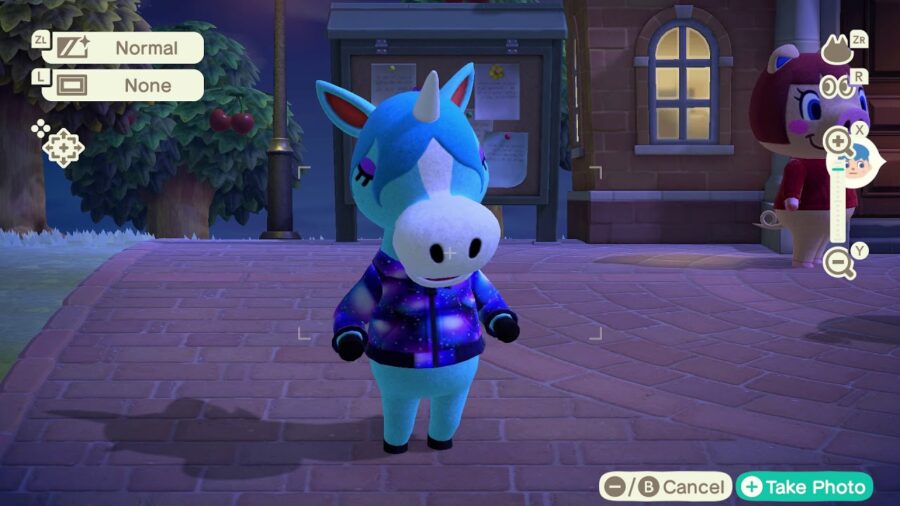 Julian is a unicorn-inspired horse villager with a smug personality and a glimmering style. His attitude may be uptight, but he can help add a dose of assurance to the player and other villagers. His favorite tune is "Space K.K.," which can sometimes be heard in his polar-themed home.
Kangaroo — Carrie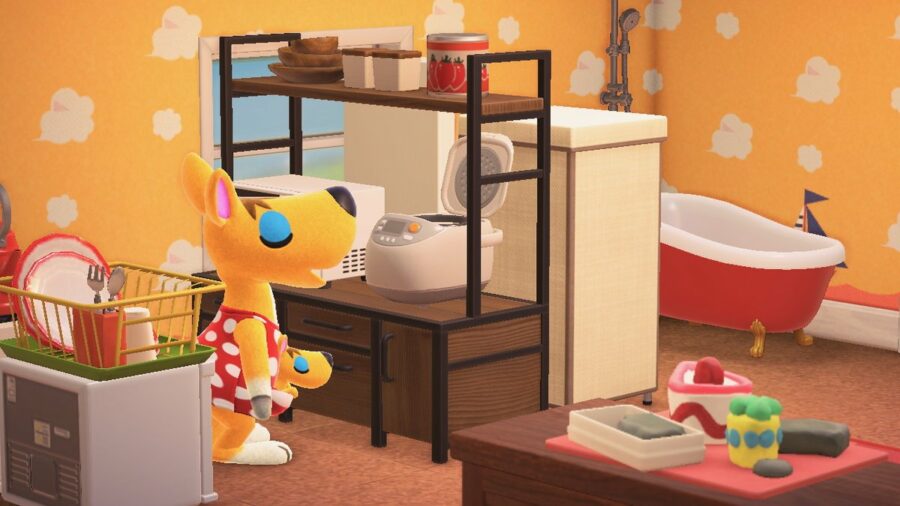 Carrie is a casually dressed kangaroo who carries her joey along everywhere. Her personality is normal and she likes to call any villager "little one." Carries furnishes her home with unpretentious items for her and her child.
Koala — Eugene
Eugene is a cool-looking koala who has a smug personality. His leather jacket complements his big ego. Despite being arrogant, he gets along well with others. He has a surprising office-themed home.
Related: How to kick out villagers in Animal Crossing: New Horizons
Lion — Mott
Mott is a jock lion with a preppy appearance, glasses included. His favorite song is "K.K. Fusion" can sometimes be heard in his wooden décor home. He can be seen walking around exercising and using his "cagey" catchphrase.
Monkey — Shari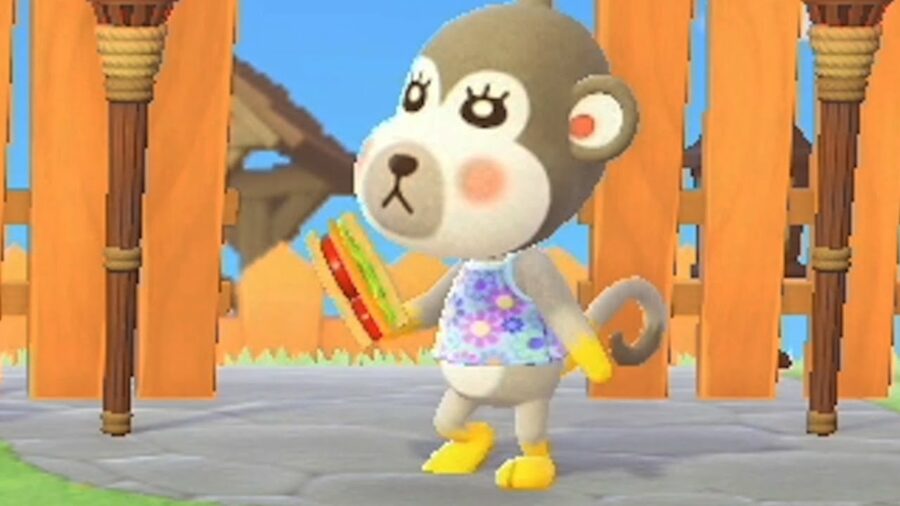 Shari is a sweet-looking monkey with a sisterly personality. Her home theme is purple and black furniture from the Rattan set. She can be seen on the island helping others, with a slight bossy attitude, while calling villagers "cheeky."
Mouse — Chadder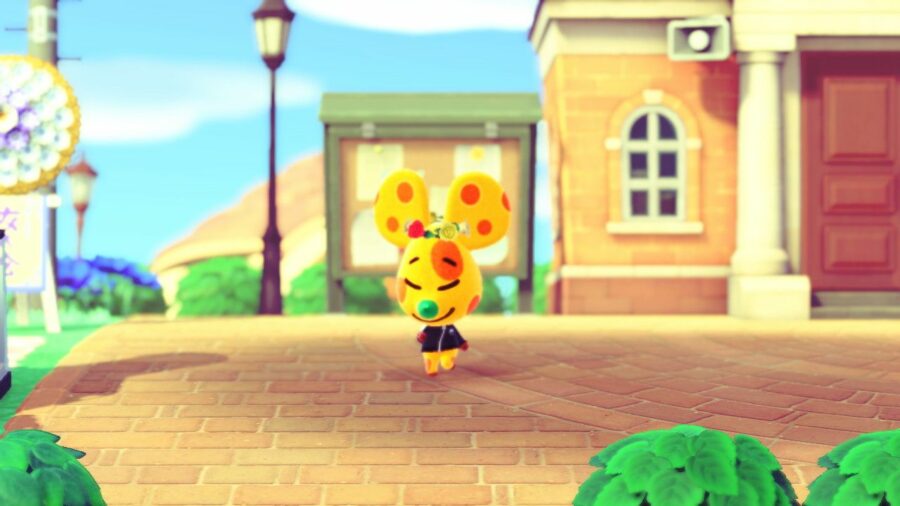 Chadder has a smug personality and fancy appearance. His unique appearance comes along with his luxurious bathroom-themed home. His favorite song is "K.K. Soul," which may be heard in the town square while he is there if a music player is installed.
Octopus — Marina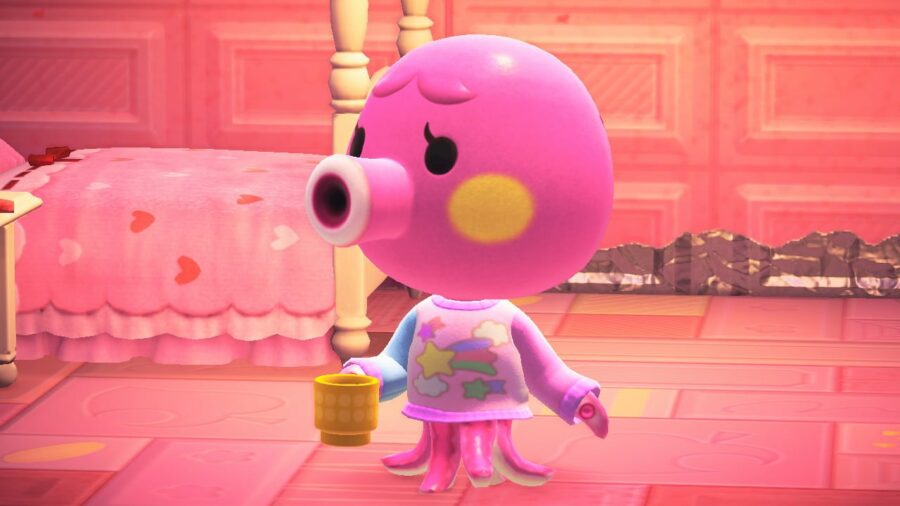 Marina is a colorful and endearing octopus with a normal personality. Her signature saying is "blurp," which she will call villagers if they visit her in her pink Lovely Series home. Her favorite song is "Bubblegum K.K.," true to her bubbly style.
Ostrich — Phoebe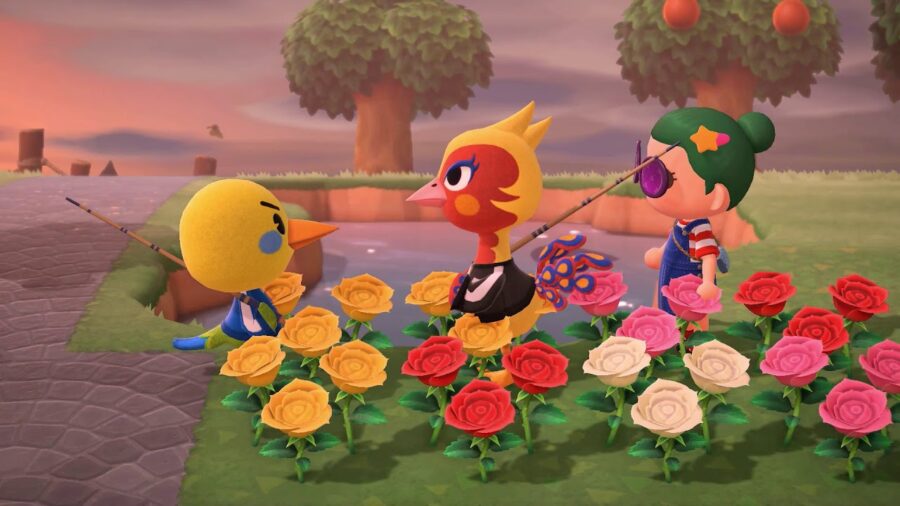 Phoebe is a sisterly ostrich with a phoenix-inspired appearance. Her attitude is confident, helpful, and a bit overbearing at times. She has an astonishing lava-based home that reflects her mythological origins.
Penguin — Roald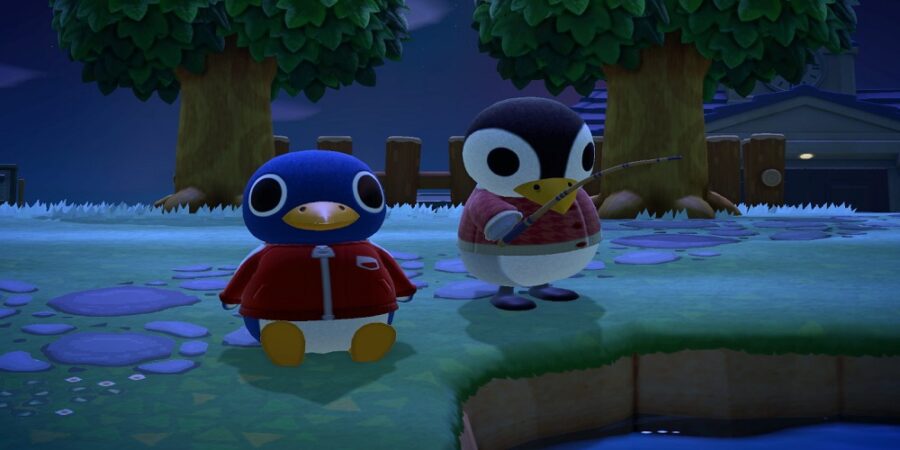 Roald is a peculiar-looking penguin with a jock personality. He may be a jock, but he is still congenial with a big heart for other villagers. Players may hear "K.K. March" playing in his ice palace home.
Pig — Lucy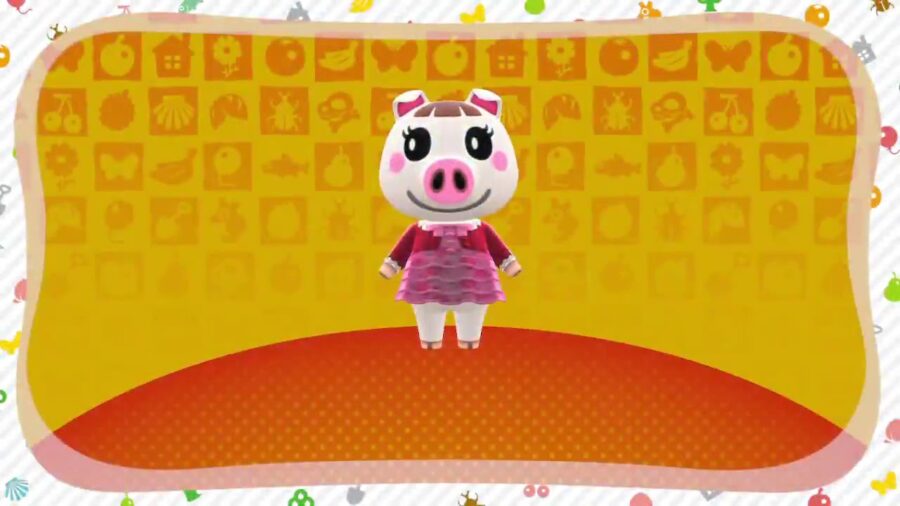 Lucy is a pleasantly dressed pig with signature bangs and eyelashes. She has a normal personality and uses the catchphrase "snoooink". Players may hear "K.K. Sonata" in her music recital-themed home.
Rabbit — Chrissy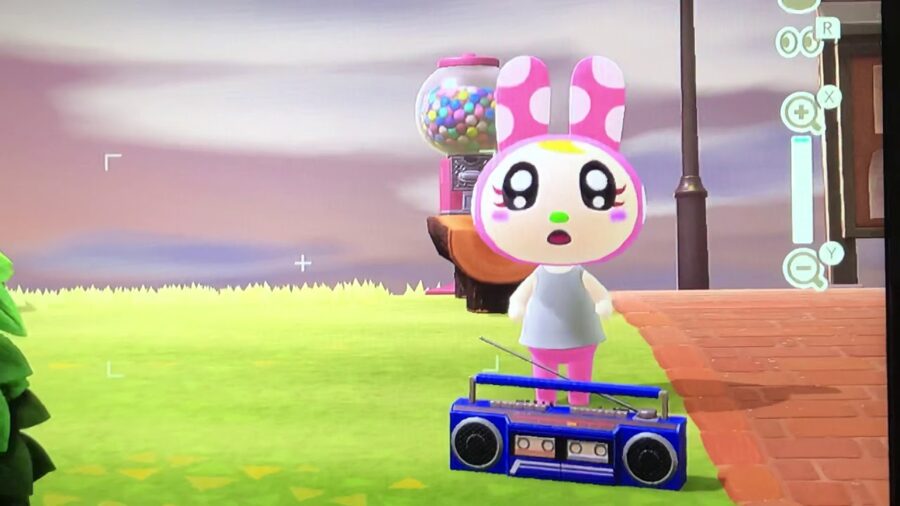 Chrissy is a polka-dotted rabbit with the peppy personality. She brings a lot of personality to any island, as is seen through her "sparkles" catchphrase. Her home is decked out with adorable pink furniture from the Cute Series.
Rhino — Merengue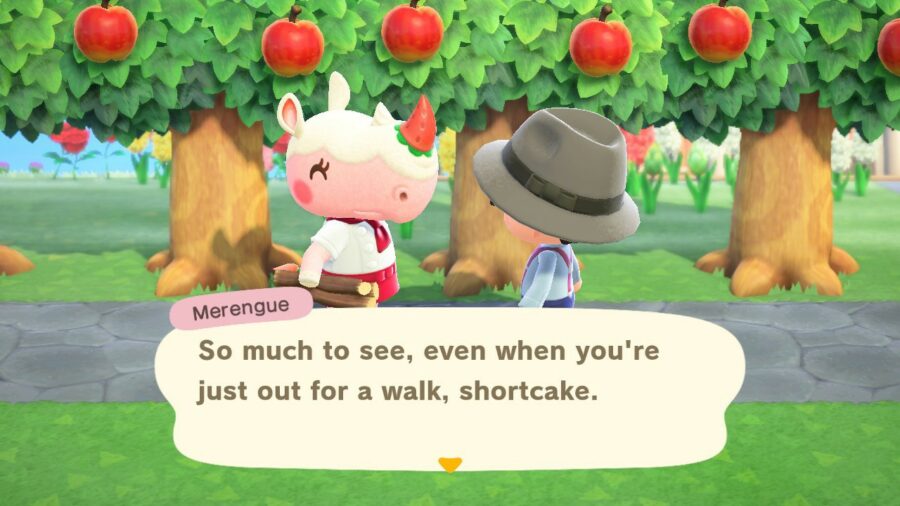 Merengue is a unique-looking rhino—she looks like a strawberry shortcake! She has the normal personality and her favorite song is "K.K. Ballad." Her home reflects this, with a mixture of cute and peppy design items.
Sheep — Stella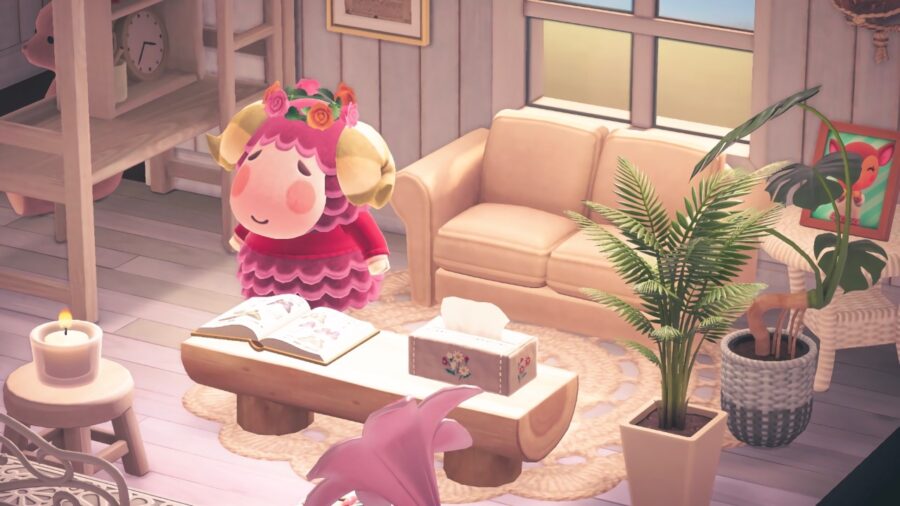 Stella is a shaggy pink sheep with the normal personality. She can be seen roaming the island starting at 6am while interacting with villagers and participating in various hobbies. Her default home has the Wooden Series with pink sheets.
Squirrel — Marshal
Marshal is a highly sought-after squirrel in ACNH. His smug personality goes well with his phrase of "sulky." This brooding squirrel has a home with a café twist that fits his upscale demeanor.
Tiger — Bianca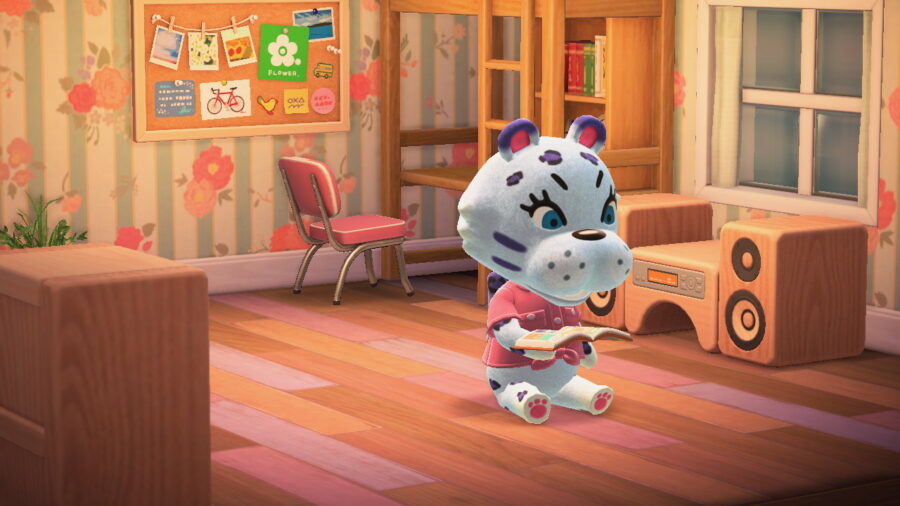 Bianca is a beautifully designed white tiger. Her default home has simple wooden furniture and leopard print flooring. Using the stereo, she may play the "K.K. House" song. Her personality is peppy.
Wolf — Audie
Audie has a special story. She is believed to be designed after the famous grandma who had logged over 3000 hours in the previous Animal Crossing installment. She has the peppy personality and an island-diner inspired home.
Want to read more about Animal Crossing: New Horizons? Check out Best Gifts for Each Villager in Animal Crossing: New Horizons on Pro Game Guides.