While most goldfish are pretty easy to find, this one is a lot more elusive! We're taking a look at the best methods on how to catch a Ranchu Goldfish in Animal Crossing: New Horizons.
How to Catch a Ranchu Goldfish
Let's take a look at the Ranchu Goldfish's Critterpedia information because it's vital to know when you can actually catch this thing. While it's available all year, the time-frame when you can catch it during the day is kind of awkward if you're working or going to school.
Northern Hemisphere: All Year
Southern Hemisphere: All Year
Active Hours: 9am - 4pm
Shadow: Small
Location: Pond
Price: 4,500 Bells
The shadow of the Ranchu Goldfish is small, but not the smallest of shadows. You'll find quite a few Tadpoles if you aren't familiar with the size. Try to learn to recognize the smallest shadow pretty well, so you'll know the difference between it and the small size. Credit to Rinimt for the image below.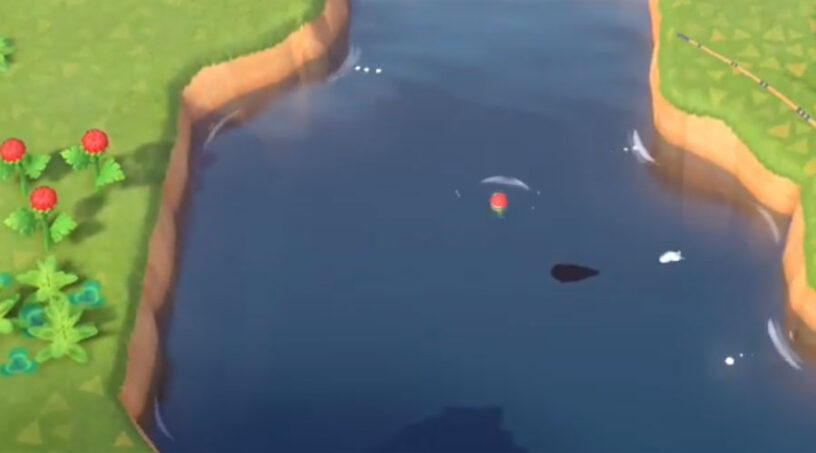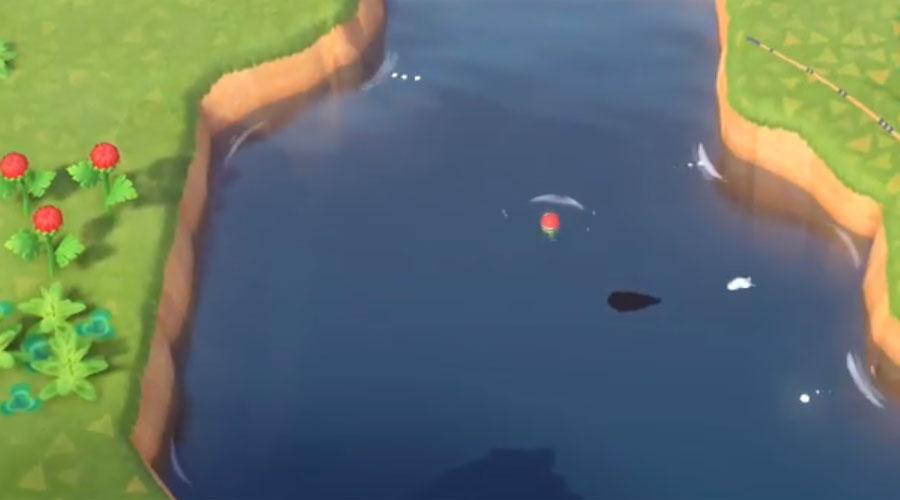 There's usually a few different methods I employ to catch rare fish, but with a pond fish you only really have the option to use Fish bait. There's a trick you can use to save yourself some headache on having to farm clams and create bait one by one.
Fish Bait/Hard Resets
Fish bait can be gotten by running around your beaches and looking for dark holes that spout out water. Use your shovel on one of these locations to obtain a Manila clam. Gather a bunch of these up and head to the crafting table. You can use them to create Fish bait. Once you've got the bait, head over to a pond, which is a small body of water that doesn't lead to the sea. Scatter the bait into the water, and you will get a guaranteed fish spawn. If the shadow isn't the right size, just throw in more bait. Repeat until you get the one you want!
If you don't want to continue to farm Fish bait, then you can use the reset method to make things easier. What you need to do is gather up 10 Fish bait, and then go to a pond. Wait for your game to auto-save, look at the top right of the screen for the spinning dot icon. Once that happens, start throwing bait into the water and look for the shadow that is the size of the Ranchu Goldfish. Cast at any that match the size! If you don't catch one, hit the Home button on your controller and fully close Animal Crossing. You have about 2 minutes between auto-saves (if you see the auto-save indicator, DO NOT close the game or your save might be corrupted), so just make sure to reset before the next save! This will put you back to where you saved previously and you will have all of your bait. Repeat this method until you catch the Ranchu Goldfish!