In Apex Legends Mobile, players will get various graphics setting options that can be tweaked to improve the game's performance based on the device. The Graphics and Audio tab in Settings features a plethora of intricate adjustments that players can customize according to their preference. Apex Legends Mobile features both the first-person and third-person perspective, and you get to change three distinct aspects, including the game's Display, Camera, and Audio.
The best graphics settings for each device will differ based on the various specifications. There are five Graphics Quality options: Smooth, Normal, HD, UltraHD, and Original. While most devices support all five Quality options, some may not have UltraHD and Original. Regardless, players can tweak these settings to get the most out of their devices. Ideally, you want to get maximum FPS without compromising the visual integrity of the game, which is why we recommend players run the game at Smooth or Normal Quality.
Related: All Week 1 Battle Pass challenges in Apex Legends Mobile Season 1: Prime Time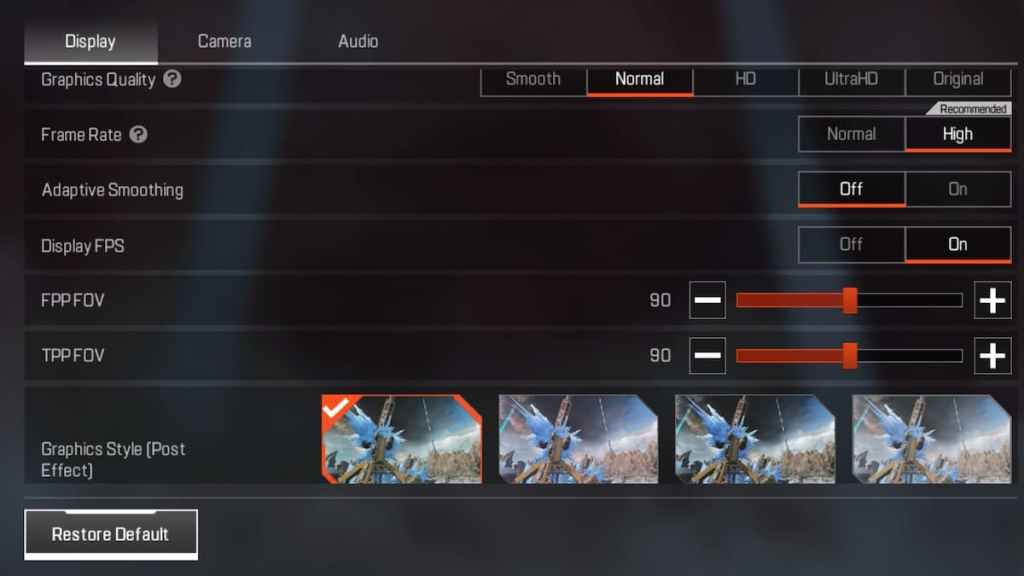 Similarly, for Graphics Style, we recommend players go with Soft or Classic instead of Vivid or Realistic. You can also switch off Dynamic Shadows and turn on Visual Assistance for Color Blind Mode. In the Camera section, players can switch on the Left Shoulder Camera and the Screen Shake effect. We recommended players turn on the Display FPS counter to see the performance meter in-game. We have tested the game with all the Graphics Options on both Android and iOS devices and recommend players target at least 30 to 50 FPS with their settings.
FPP and TPP FOV represent the field of view for the first-person and third-person perspective. Players can increase this option to get more vision in their line of sight. However, increasing it too much will blur out objects that are far away. We recommend keeping the FOV anywhere between 90 to 110 for the best visual options.
For more Apex Legends Mobile content, check out All weapon skins on the Apex Legends Mobile Season 1: Prime Time Battle Pass on Pro Game Guides.