In As Dusk Falls, players will get to experience a captivating tale revolving around two families during the 90s in Arizona. The narrative starts with a robbery-gone-wrong which soon turns into a hostage situation, where the Holt boys take over the Desert Dream motel. In this situation, players will get to make various critical decisions, and one of them involves calling the Police Sheriff Dante. You can unlock the What's Your Emergency achievement in this chapter, and here's how players can get this quickly in As Dusk Falls.
How to get locked in the back room in As Dusk Falls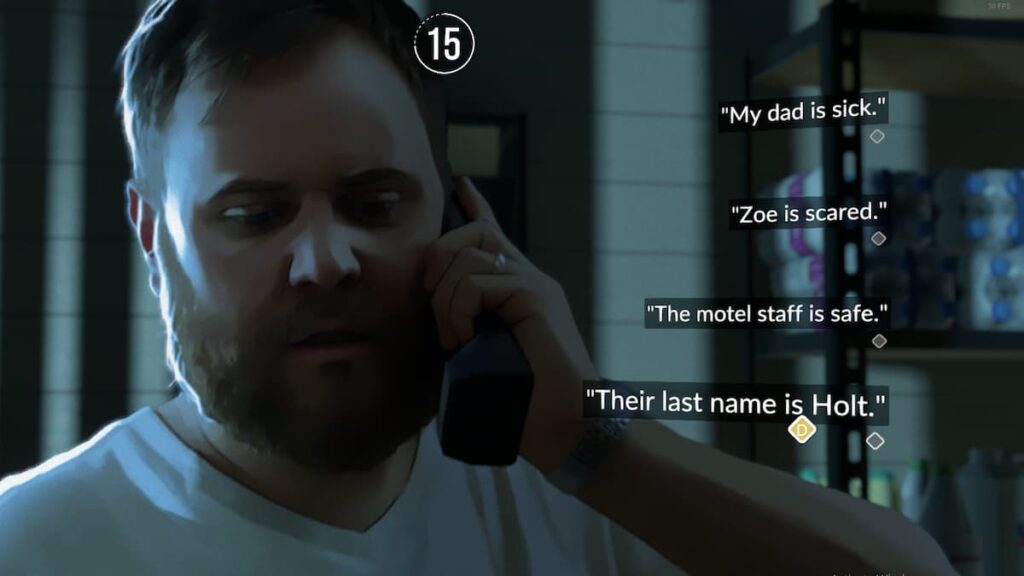 In Chapter 2, the What's Your Emergency achievement is unlocked when Vince calls Sheriff Dante from the second phone after getting locked in the backroom. The situation starts when the Police surround the Desert Dream motel, after the Holt boys take the Walker family hostage. When Sheriff Dante announces the negotiation offer, Tyler spooks and starts lashing out at Michelle and Zoe. Vince intervenes, and here you will have three dialogue choices: insult Tyler, calmly defy him, or crack a joke.
Related: How to get the Tables Turned achievement in As Dusk Falls
If players select the crack a joke option, then Tyler locks up both Michelle and Vince in the motel's backroom. This is where you will find the second telephone to connect with Sheriff Dante and inform him about the hostage situation. Players will have to escape from their bindings by performing the QTEs properly, and then you can call the Sheriff. Tyler will eventually break through the door, but before this, you will have a brief window to inform the Sheriff with details about the Holt boys.
There are various other decisions you will make which will directly affect all the characters in As Dusk Falls. Every Crossroad poses a unique situation, and the outcome is dependent on your dialogue choice. Some of the achievements are designed to reward opposite choices, and players will get the option to go back in the Story Tree and replay the situation with different decisions.
Wondering how to play with friends in As Dusk Falls? Check out How to play As Dusk Falls with friends on Pro Game Guides!