Ubisoft revealed a lot of amazing titles during last year's showcase, but half of the announced titles went into one of their biggest IPs: Assassin's Creed. Most notably, they revealed Assassin's Creed Mirage, the next main title in the series. Here's everything you need to know about the game, including its release date.
What is Assassin's Creed Mirage's release date?
Assassin's Creed Mirage will release on October 5, 2023. You can follow the official Assassin's Creed Twitter for more updates.
However, rest assured Assassin's Creed Mirage will be free to pay for all Ubisoft+ subscribers upon release. The game will launch on PS5, PS4, Xbox Series X|S, Xbox One, and PC. It's also available on Amazon Luna.
What is Assassin's Creed Mirage about?
Assassin's Creed Mirage is a narrative-driven coming-of-age action story that follows my favorite street thief Basim and his growth into becoming a master assassin. In his thieving days, he was saved by Roshan (a former Persian slave), and he flees to join the Hidden Ones. Roshan takes Basim as her apprentice and trains him.
Mirage is set in Baghdad, Iraq, roughly 20 years before the events of Assassin's Creed Valhalla.
The game heavily focuses on stealth, much like the early titles in the Assassin's Creed series. The gameplay has also been improved so players can track targets more accurately.
Is Assassin's Creed Mirage available for pre-order?
You can pre-order Assassin's Creed Mirage on Ubisoft's official website. There are three editions for you to choose from:
Standard ($50)
Deluxe pack ($60)
Collector's edition ($150)
Everyone who pre-orders the game can access the Forty Thieves side mission. No information about this DLC has been released yet.
Aside from Forty Thieves, those who order the Deluxe pack will get one DLC outfit for Basim, weapon skins based on the Prince of Persia, and other in-game freebies. The Collector's edition contains the Deluxe pack and a lot of other items.
What's included in the Assassin's Creed Mirage Collector's edition?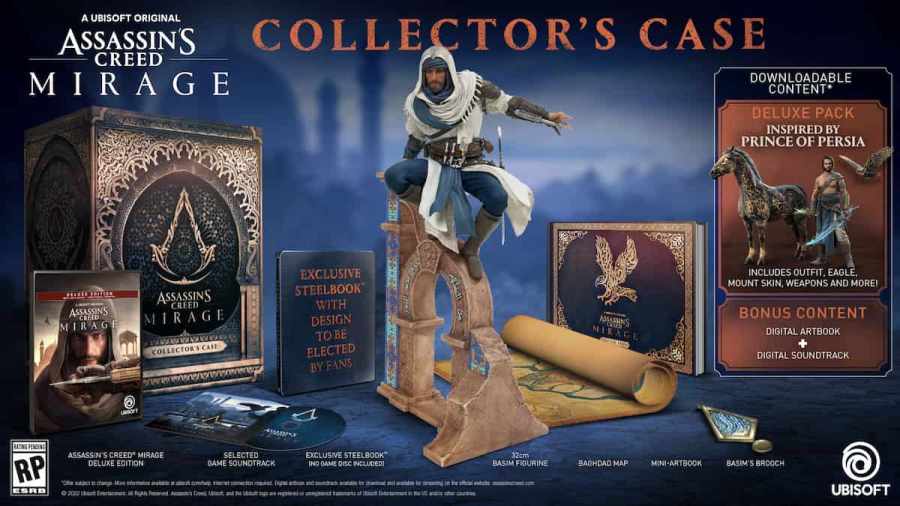 Assassin's Creed Mirage Deluxe pack
Steelbook
Mini artbook
32cm Basim figure
Basim's brooch
Baghdad map
Digital artbook
Selected soundtracks on CD
Digital soundtrack
Other DLCs
Other revealed information about Assassin's Creed Mirage
Despite the setting being Baghdad, Mirage's Baghdad is actually closer to what Samarra looks like today.
Roshan will be voiced by Shohreh Aghdashloo, who was also the voice of Admiral Tonbay in Mass Effect and Lakshmi-2 in Destiny. Shohreh is Iranian, much like her character.
Assassin's Creed Mirage is the official title of what was before known as Assassin's Creed "Project Rift"—the "smaller, unannounced premium game." But now, it seems to be one of Ubisoft's flagship titles!
Assassin's Creed Mirage Trailer
During the opening night of gamescom 2023, Assassin's Creed Mirage was given a more in-depth look via a World Premiere Trailer. During the trailer, viewers are shown setting details and lots of hints about the larger story of Mirage. No gameplay was shown, but there was a lot of establishing the tone and look for the game.
Interested to learn more about the other upcoming Assassin's Creed games? Check out Assassin's Creed Rift – Location, Main Character, and Dates (Leaks) on Pro Game Guides.