In Atelier Ryza 2, players can craft tons of items through a process called Synthesis (alchemy); however, it can be a little tricky to understand first starting out in the game. Luckily, we will explain the entire process in-depth for you in this guide.
Atelier Ryza 2 Synthesis Guide: How to craft items.
To craft items in Atelier Ryza 2, you must unlock their recipes by gaining new skills by leveling up. Once a recipe is unlocked, you can craft it by using the cauldron shown below in Ryza's atelier.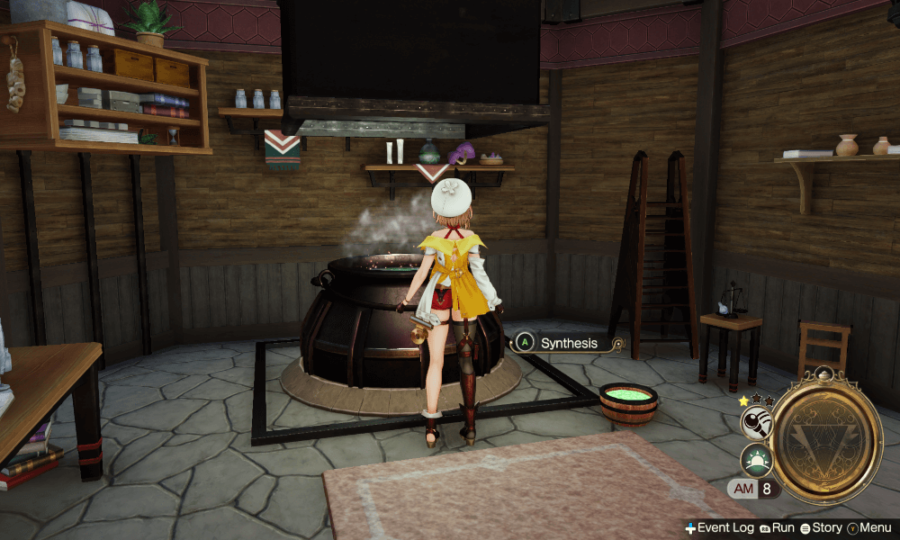 After clicking the cauldron, you can then craft an item by finding its recipe under the crafting menu. But to craft an item in Atelier Ryza 2, you will need at least three elements from items that give a particular element placed inside two effect slots.
For example, most items you will gather early on will only have one to two elements, so at most, you will need two to three ingredients placed in the two effect slots to craft an item. You can find materials that fall under all element types out in the world by gathering items at gathering spots; then, if it falls under an element you need to craft something, you will see it when you click one of the effect slots while inside the cauldron as shown below.
In the box shown above, you can see the full list of ingredients you have that fall under an element you need to craft something; you can also see how much an ingredient adds of an element group by looking at the number next to it. So, for example, the one currently selected adds two lighting and wind.
As a side, every ingredient item will have a basic element it belongs to; below is every element in the Atelier Ryza 2.
Fire (Red)
Lighting (Yellow)
Ice (Blue)
Wind (Green)
Furthermore, you can check if an item has an element you need by finding the color-coded circle on it. If you want to view your entire inventory of items, you can do so by clicking the container option under the menu hub. After you pick the ingredients you need, you will then be able to craft your item, but you might not want to just yet, as you can improve the item further by adding more ingredients to it.
To improve an item, you will need to increase its element value, which is done by adding more ingredients with a specific element. Doing this will unlock new effect slots, which will allow you to add more materials and raise its quality.
Along with this, you can also add traits by adding items that carry a specific trait like critical; this will boost your critical attacks when added. You can also unlock trait slots that will allow you to add more traits by adding ingredients that meet specific element requirements; for example, some trait slots will require you to place an ingredient with at least three lighting or fire.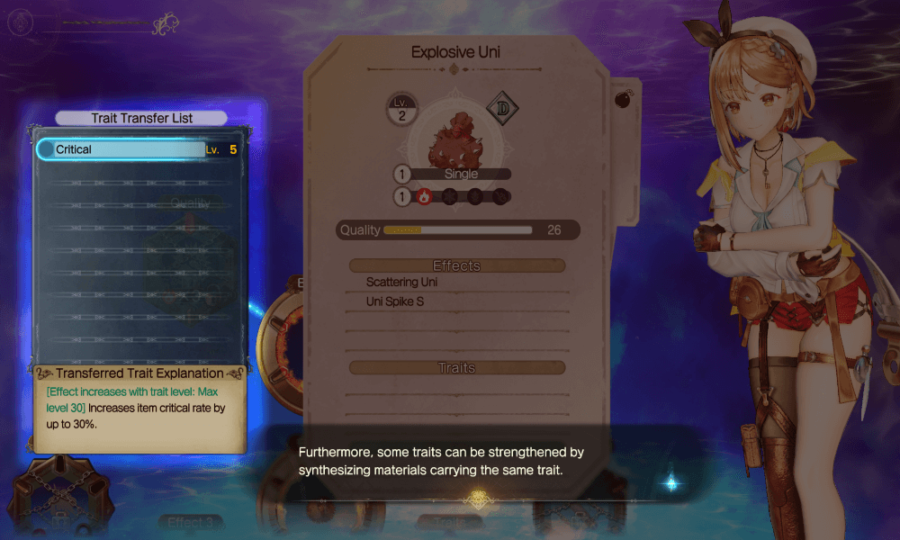 Certain ingredients can also have a specific trait, so if you successfully add one or two to your item, you will be able to pick and choose and transfer the trait to your item when you go to synthesize an item. You can also level up some traits by adding more ingredients carrying the same trait.
For more guides on Atelier Ryza 2, PGG has you covered with guides like All Traits and Effects and how to change your outfit in Atelier Ryza 2 .