Bleak Faith: Forsaken is an action RPG that blends Soulslike elements all over its gameplay with the addition of some ambitious and creative classic RPG mechanics. Starting from nothing, players have only their equipment to get by and increase their survivability. With no way of leveling up like in other action RPGs, Bleak Faith: Forsaken has its players rely on customizing their armor and weapons to increase their stats. Exploration is key, and there is a vast amount in this title. However, much of what the game sets out to be is undermined by performance issues, bugs, and glitches. While the game has good ideas, the execution leaves much to be desired.
Gameplay
With a development team of only three people, Bleak Faith: Forsaken shows a lot of promise with its visuals and gameplay. It's rough around the edges; however, the game takes on a unique approach to the Soulslike formula. The game features a large world to explore and unique mechanics that make it stand out. Like other similar games, Bleak Faith: Forsaken focuses on getting to and from different areas and collecting gear on the way. There is no way to level up, so to make the right build, players have to craft Crystals to embed their equipment to increase their Stats or change their Stats to what they want.
The game functions the same as other Souls titles with the gameplay loop being focused on exploration, stat raising, and finding the boss at the end of areas. Enemies respawn after each death, but players can create their respawn point, or Homunculus, to skip having to go through the enemies and obstacles in between Homunculi. There are no huge issues with the core gameplay on its own, and experimenting with different weapons is fun, but there are a lot of pressing issues with how the game feels to play. Mainly, there are plenty of graphical and gameplay glitches that do more than blemish this title.
While there isn't too much to complain about in regard to gameplay, it doesn't do anything too fancy either. Without the glitches to make everything infinitely more frustrating, the game feels like a futuristic Dark Souls II. Unfortunately, the moments where nothing goes wrong are few and far between, resulting in a decent game being squandered by the inability to even play it.
Score: 3/5 Stars
World and Level design
Each area of the game is littered with enemies, which isn't a bad thing on its own. However, it begins to feel tedious when there are so many narrow corridors that the camera frequently gets stuck behind. The grey textures of every building will become increasingly familiar while trying to reach a ladder or elevator with how many times the camera will focus on it instead of the enemy right in front of you.
Every location of the game feels like a maze, with several paths leading back to one central point. This level design feels fantastic from a gameplay perspective, and if it weren't so frustrating to navigate, it would be the main focus of this section. There are a multitude of areas where you can slip off and fall, and due to the clunkiness of the controls, even going slow and being painstakingly careful can mean certain death.
Score: 3/5 Stars
Related: How to use Weapon Abilities in Bleak Faith Forsaken
Combat
What makes Bleak Faith: Forsaken so unique is its Perk and Ability system that can be swapped around as players see fit. Making a build is much easier using Perks that help focus on two weapons, ranged, or two handed fighting styles. Some of the best early game Perks will cause copies of the player to come out to help in combat. There are many ways to become overpowered very early on, and it only gets better in the later stages of the game. The game does so many things right, but there are a lot of ways that it can go wrong.
Some mechanics, such as climbing the giant enemies in the game, can cut the FPS in half. The developers have made it apparent that anything above 90 FPS will cause issues. But even with a locked framerate of 60, there are a lot of bugs. It's possible to avoid combat altogether in the game due to how often enemies will die upon spawning in.
Score: 2/5 Stars
Controls
Much like Dark Souls II and Elden Ring, ambushes will be around every corner, especially near useful items. The controls of the game make it hard not to die to gravity, and issues don't stop there. One particular enemy is almost entirely invisible and can't be damaged, but will stand in the way of items. Standing near it drains HP and it's possible to be stunlocked and unable to move once caught.
Playing on a controller, you can jump using L2 + X or LT + A while on PC it's Alt. The first boss of the game has an area of effect attack that is completely avoided by jumping and nowhere in the game does it explain that this combination of strange inputs would cause the player to jump. Control of the character can also lock up, making it impossible to attack or do anything, and the Stamina meter can be frozen while not even in combat. It's certainly possible to get through the game despite the clunkiness and inconsistency of the controls, but that doesn't make it enjoyable.
Score: 1/5 Stars
Verdict - A promising Soulslike, but it needs more time
While the game has potential, there are currently too many issues to be able to recommend purchasing it. The developers seem well-intentioned and have been patching the game every day since its release, but there is still a lot to be done. With enough time, this game could be incredible. But until that day comes, it is hard to look past the glaring issues. For those that can deal with them, Bleak Faith: Forsaken might be the maze-like adventure they've been looking for. For everyone else, however, even the most diehard of Souls fans might want to wait for more updates before trying this title.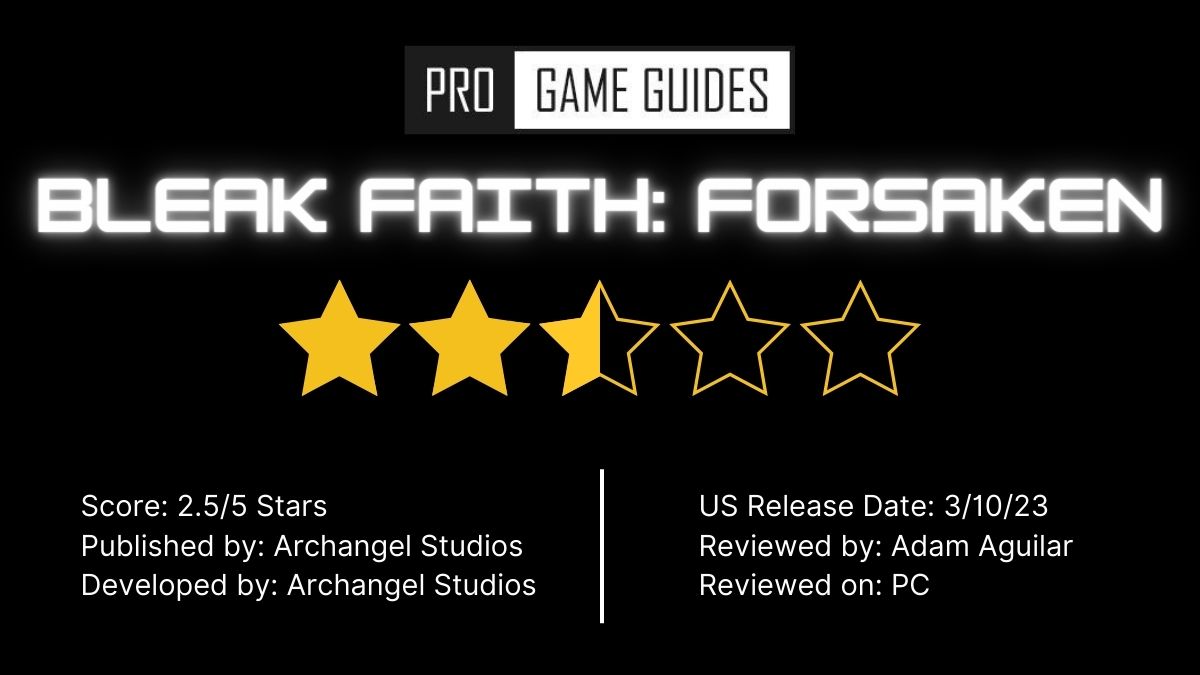 For more information on Bleak Faith: Forsaken, check out What does each stat do in Bleak Faith Forsaken? on Pro Game Guides.