Our Borderlands 3 Skins List features a look at all of the full body cosmetics that can be found, earned, or purchased in the game! We're taking a look at skins for all of the characters: Amara, FL4K, Moze, and Zane! A lot of the skins overlap between classes, but some of them are unique to each one. There's quite a few outfit options to choose from, and there will likely be more added to the game as time goes on.
Skins are pretty interesting Borderlands 3 because they not only change the look of your character's outfit, they will change the unique head that you can set as well! If that isn't enough customization for you, then you can change the color the primary, secondary, and tertiary colors on them too.
Borderlands 3 Skins List
Here's a list of the ones we know of so far! You can obtain them via the VIP Program, as drops in the game, and purchase them via Crazy Earl with Eridium in Sanctuary 3.
Blood Harvest Skins
Blood Harvest is an upcoming spooky event coming in October for Borderlands 3. This is a free update that you'll be able to explore with lots of scary Haunted enemies to take down.
Once you've earned entry into the Bloody Harvest map, beware: dreadful dangers abound at every turn. Look to the shadowy sky and you'll see winged Rakk-O'-Lanterns soaring through the air, eager to swoop down and breathe fire in your face. Tread lightly through a ghastly graveyard crawling with Maliwan goons who've reserved a burial plot just for you. Resist the urge to retch as you fight through a Ratch-infested pit with rivers of blood running through it.
Included in this event will be a chance to earn some Blood Harvest skins!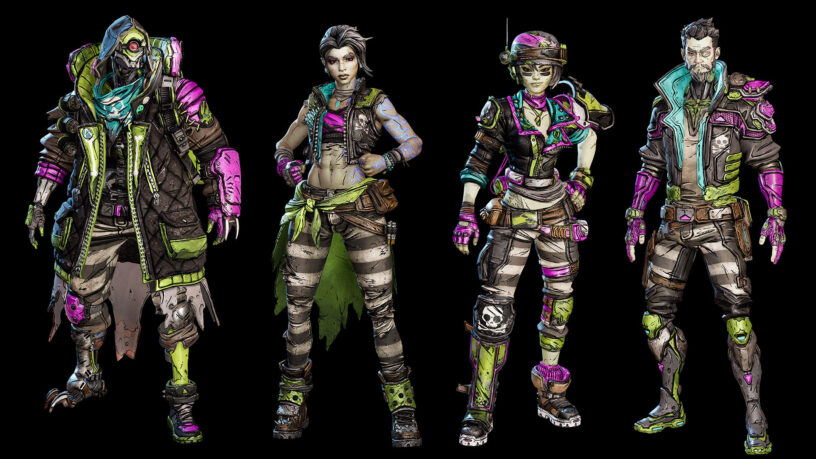 Deluxe Edition Skins
These are obtained by purchasing the Borderlands 3 - Deluxe Edition (Affiliate Link) or the Super Deluxe Edition (Affiliate Link).
Vip Rewards
These are heads that can be purchased via the VIP Program. There's only one currently available, but the points are pretty easy to get. You can learn more about that here.
Missions, World/Monster Drops, Moxxi's Slots Skins
These are skins you will earn while playing various missions in the game. You'll want to complete as many story missions and side-quests as you can if you want to collect all the cosmetics. Some of these can also be dropped from monsters in the world, and you can "farm" some by playing the slots at Moxxi's bar.
FL4K Skins
FL4K Skins Video
Zane Skins
Zane Skins Video