The Season 2 update for Call of Duty: Modern Warfare 2 and Warzone 2 wouldn't be called a new update if there were no new cosmetics being added. While some of these skins will be available in the Battle Pass, others can be acquired by purchasing bundles from the CoD Store for a premium price.
All Operator Skins in Season 2 Battle Pass for Modern Warfare 2 & Warzone 2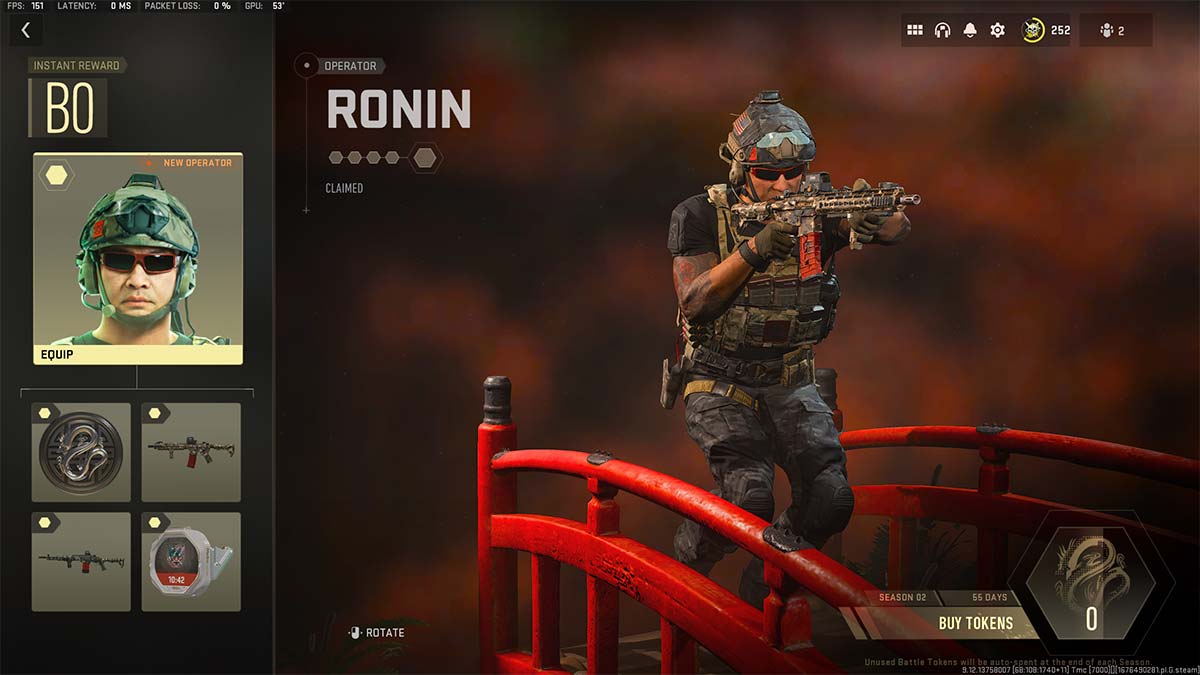 The Modern Warfare 2 and Warzone 2 Season 2 Battle Pass consists of several cosmetic items including 10 operator skin rewards. To unlock all these rewards, you'll have to purchase the Battle Pass for 1100 CoD Points and progress through the sectors by playing the game, accumulating tokens, and then using them.
Ronin base operator unlocked at Sector B0
Fusillade operator skin for Chuy unlocked at Sector B2
Expedition operator skin for Konig unlocked at Sector B3
Gozen operator skin for Kleo unlocked at Sector B8
Vengeful Dragon operator skin for Hutch unlocked at Sector B9
Sheathed Blade operator skin for Roze unlocked at Sector B10
Return Fire operator skin for Conor unlocked at Sector B15
Ruthless Pursuit operator skin for Nova unlocked at Sector B16
Vanquisher operator skin for Fender unlocked at Sector B20
The Peak operator skin for Ronin unlocked at Victory Sector (after you complete the entire Battle Pass)
Related: All 'Path of the Ronin' Event challenges and rewards in Warzone 2 & Modern Warfare 2
All Operator Skins in Season 2 store bundles for Modern Warfare 2 & Warzone 2
As mentioned earlier, the Call of Duty Store will also have several new surprises this season. New operator pack bundles with weapon blueprints and other items will be added for separate purchases.
Urban Veteran MW2 Pro Pack 2 with a skin for Chuy operator
Ballistic Love Tracer Pack with the Snack operator skin for Reyes
Purple Jolt Tracer Pack with the Violent in Violet operator skin
Red Fox Tracer Pack with the Foxy operator skin for Hutch
VII: Envy and VII: Gluttony bundles with the Covetous and The Hunger operator skins respectively
Stay tuned to Pro Game Guides for more Call of Duty: Modern Warfare 2 and Warzone 2 content. In the meantime, head over to our article on How to customize perks in Warzone 2.