In Call of Duty Warzone 2, there are several methods to get your custom loadouts. However, you must unlock the gun and build a setup in the Weapons section. The FTAC Recon is a Battle Rifle part of the M4 Platform and is exceedingly effective and mid-to-long range. Here are the best attachments and loadout for FTAC Recon in Warzone 2.
Best FTAC Recon Loadout Warzone 2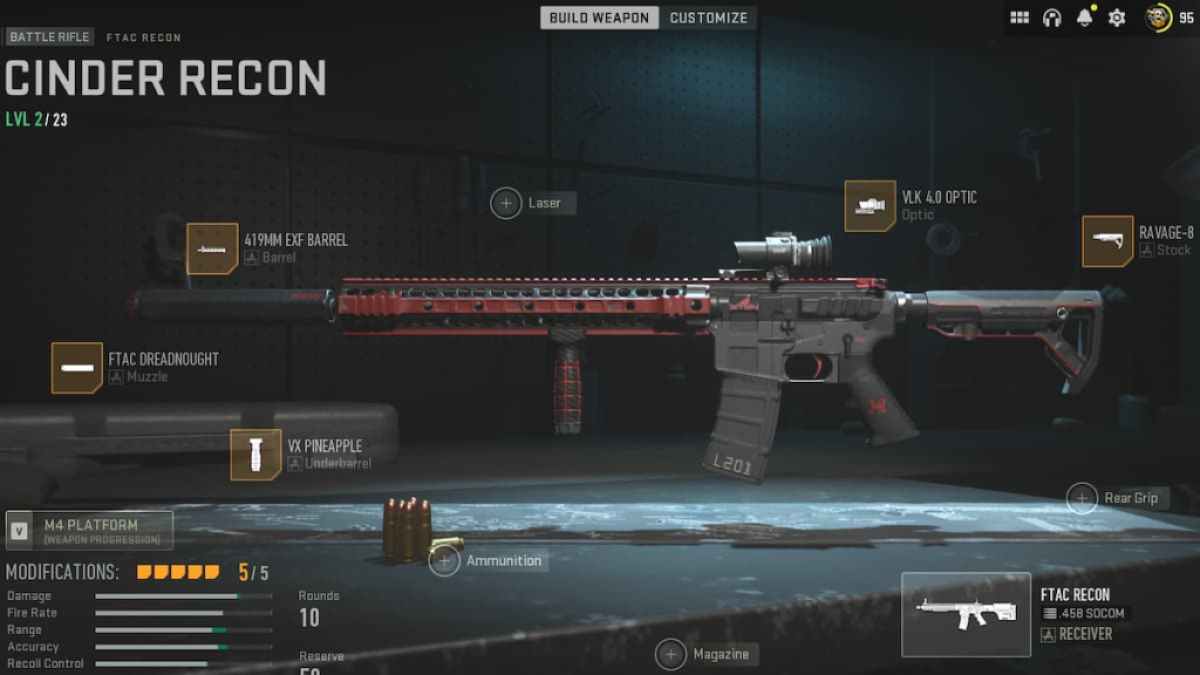 The FTAC is a Battle Rifle with single and auto-fire modes, and this gun is unlocked when you progress the M4 to level 13. Players would have various attachments automatically unlocked for this gun if they purchased the Vault Edition. We recommend players level it up quickly by playing Multiplayer game modes like Domination, Free-For-All, Team Deathmatch, and Hardpoint. The FTAC Recon has brilliant Accuracy, Range, and Damage, but its Recoil Control is quite low, and it's difficult to memorize the pattern. It also has a smaller magazine with 10 rounds per clip. Test it out with the following attachments in the Firing Range before dropping in Warzone 2.
Barrel: 419mm EFX Barrel
Muzzle: FTAC Dreadnought

Tune Muzzle for maximum Aim Down Sight speed and Bullet Velocity

Underbarrel: VX Pineapple
Optic: VLK 4.0

Tune Optic for maximum Far eyesight, and Aim Down Sight speed

Stock: Ravage-8
Best FTAC Recon Perk and Equipment Setup for Warzone 2
After selecting all five attachments for the FTAC Recon, players need to set up a Secondary weapon, along with Perks. You must also select Lethal and Tactical equipment. Here are the best ones to use with the FTAC Recon.
Secondary Weapon: 556 Icarus
Tactical: Stim
Lethal: Drill Charge
Perk Package: Weapon Specialist Perk (for two primary weapons)
Wondering how to unlock weapons from DMZ? Check out How to unlock weapons you don't have through DMZ? on Pro Game Guides.