Warzone 2.0 takes advantage of the latest in hardware tech to make the battle-torn plains of Al Mazrah really come to life. However, these quality settings can take a toll on most players' devices. To keep up with the fast-paced battles, higher frame rates and smooth gameplay is what you need. In this guide, we'll tell you the best graphic settings for maximizing your FPS in Call of Duty: Warzone 2.0.
Best settings to get more FPS in Warzone 2.0
The graphic settings in Warzone 2.0 are divided into three categories: Display, Quality, and View. To tweak your settings, go to the Settings page from the main menu. Then, select the Graphics tab from the options on the left of your screen. The following are the best settings to use for increased FPS in Warzone 2.0.
Display Settings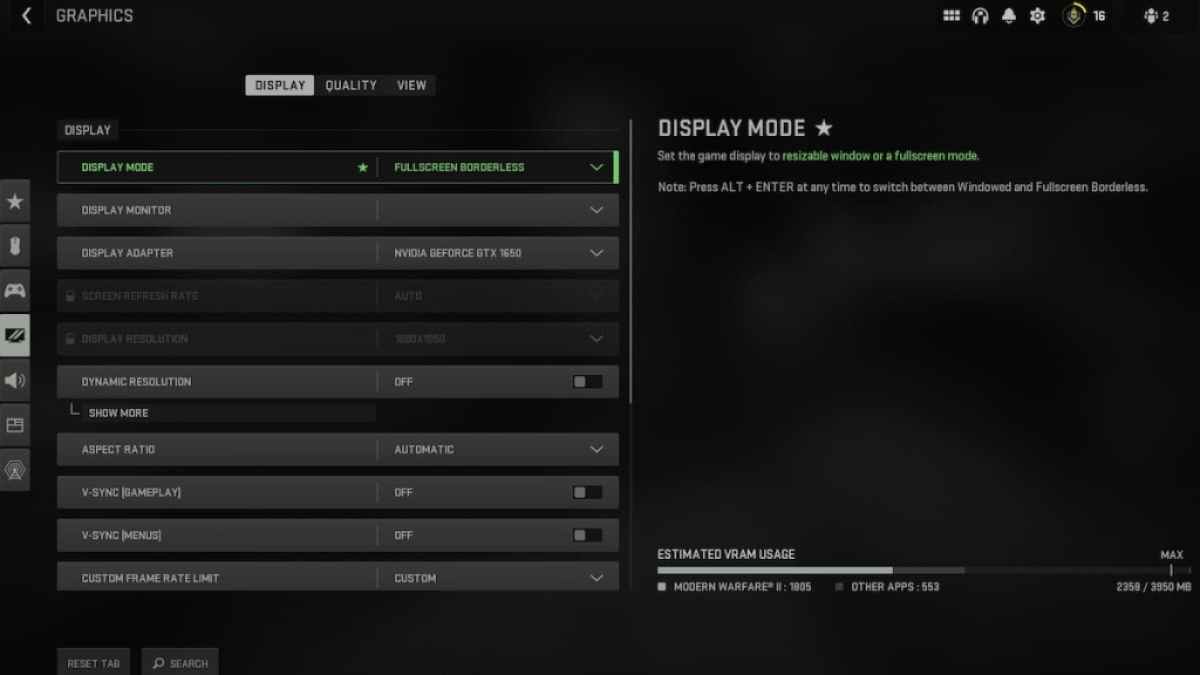 Display Mode: Fullscreen Exclusive / Fullscreen Borderless
Display Monitor: Auto
Display Adapter: Auto
Screen Refresh Rate: Auto
Display Resolution: Auto
Dynamic Resolution: OFF
Aspect Ratio: Auto
V-SYNC (Gameplay): OFF
V-SYNC (Menu): OFF
Custom Frame Rate Limit: Custom

Gameplay Custom Frame Rate Limit - 300
Menu Custom Frame Rate Limit - 100
Out of Focus Custom Frame Rate Limit - 30

Display Gamma:

For monitors - 2.2 (SRGB)
For TVs - 2.4 (BT1886)

Brightness: 55
Focused Mode: OFF
High Dynamic Range: OFF
Quality Settings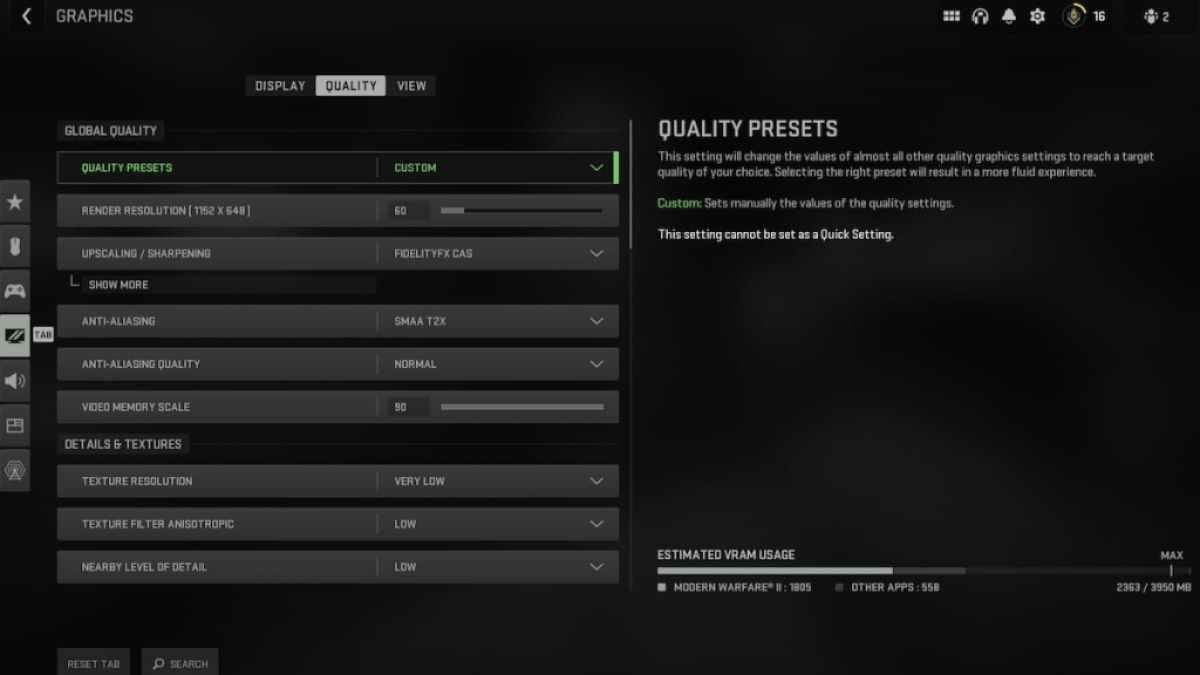 Quality Presets: Custom
Render Resolution: 100
Upscaling / Sharpening: FidelityFX CAS

FidelityFX CAS Strength: 75

Anti-Aliasing: SMAA T2X
Anti-Aliasing Quality: Normal
Video Memory Scale: 90
Texture Resolution: Very Low
Texture Filter Anisotropic: Low
Nearby Level of Detail: Low
Distant Level of Detail: Low
Clutter Draw Distance: Short
Particle Quality: High
Particle Quality Level: Low
Bullet Impacts & Sprays: OFF
Shader Quality: Low
Tessellation: OFF
Terrain Memory: Max
On-Demand Texture Streaming: OFF
Streaming Quality: Low
Volumetric Quality: Low
Deferred Physics Quality: OFF
Water Caustics: OFF
Shadow Map Resolution: Very Low
Screen Space Shadows: OFF
Spot Shadow Quality: Low
Cache Spot Shadows: ON
Spot Cache: Low
Cache Sun Shadows: ON
Particle Lighting: Low
Ambient Occlusion: OFF
Screen Space Reflections: OFF
Weather Grid Volumes: OFF
Nvidia Reflex Low Latency: ON
Depth of Field: OFF
World Motion Blur: OFF
Film Grain: 0.00
View Settings
Field of View (FOV): 120
ADS Field of View: Affected
Weapon Field of View: Default
3rd Person Field of View: 100
Vehicle Field of View: Default
1st Person Camera Movement: Least (50%)
3rd Person Camera Movements: Least (50%)
Wondering how the DMZ mode works in Warzone 2.0? Check out How does the DMZ work in Warzone 2.0?, right here on Pro Game Guides.