It can be frustrating to not find your preferred weapon in Warzone 2.0. Fortunately, you can set up a personalized loadout that you can acquire while in a match by raiding enemy Strongholds, or from Buying Stations. The Lachmann-556 is a solid weapon choice for any player thanks to its versatility across the board. In this guide, we'll tell you how to set up your Lachmann loadout in Call of Duty: Warzone 2.0.
Best Attachments for Lachmann-556 in Warzone 2.0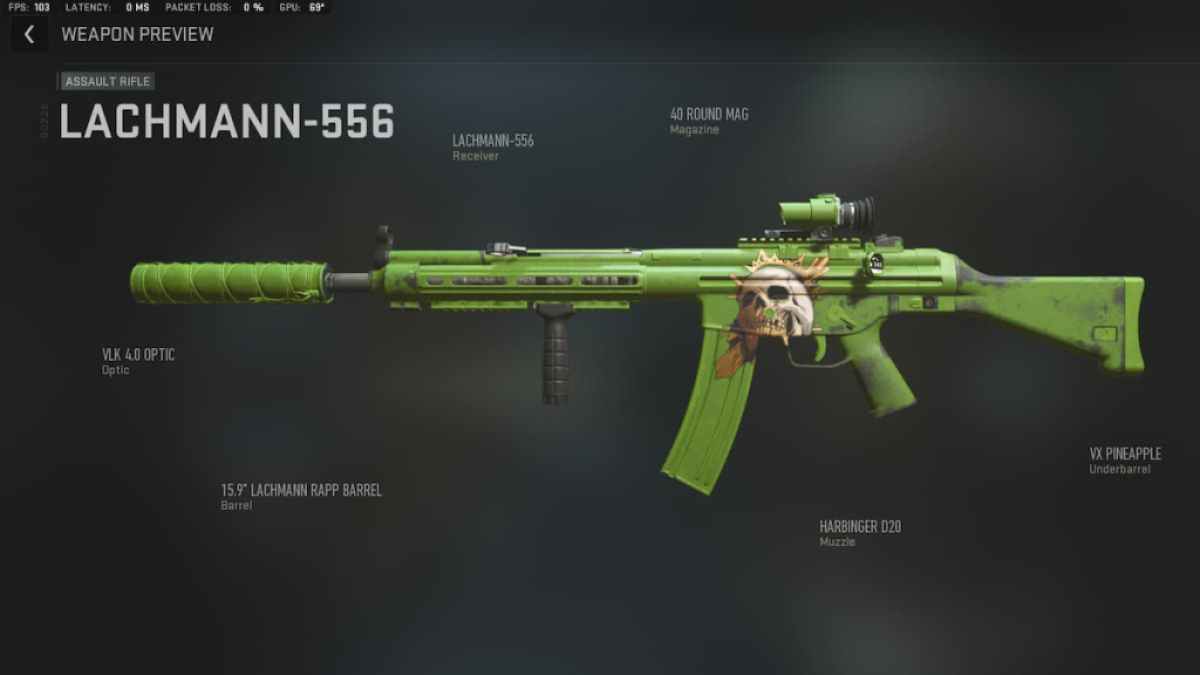 The large map of Al Mazrah is filled with high buildings and sprawling open spaces. As a result, players will often find themselves caught in long-range fire fights. Therefore, your assault rifle attachments should primarily focus on improving range, recoil, and handling. The following are the best attachments for the Lachmann-556 assault rifle in Warzone 2.0.
Barrel: 15.9" Lachmann Rapp Barrel
Muzzle: Harbinger D20
Underbarrel: VX Pineapple
Optic: VLK 4.0 Optic
Magazine: 40 Round Mag
The Lachmann-556 is part of the Lachmann & Meer weapon platform. Players need to progress the Lachmann-762 to level 13 to unlock the Lachmann-556. This assault rifle is one of the easier weapons to use thanks to its top notch recoil control and decent fire rate. Equipping the 15.9" Lachmann Rapp Barrel will significantly increase its damage at range, while also working with the VX Pineapple Underbarrel to mitigate recoil.
Best Loadout for Lachmann-556 in Warzone 2.0
Your final loadout in Warzone 2.0 must include carefully chosen throwables and perks which compliment your weapon's playstyle. Though, feel free to swap the Tactical and Lethal equipment as per your personal preference. With that being said, the following is the suggested equipment and Perk Package for your Lachmann-556 loadout in Call of Duty: Warzone 2.0.
Lethal: Semtex
Tactical: Flash Grenade
Perk Package: Vanguard

Basic Perks - Double Time & Bomb Squad
Bonus Perk - Resupply
Ultimate Perk - High Alert
Wondering how to get higher frame rates in Warzone 2.0? Check out the Best graphics settings for max FPS in Warzone 2, right here on Pro Game Guides.