Amidst the supremacy of newer Submachine Guns in Call of Duty: Warzone, the PP-19 Bizon from Modern Warfare has made a major comeback. After recent buffs, the SMG has become a serious competitor to other weapons in its class, all thanks to its top-notch damage, movement, and viability stats. Here's a guide to the best PP-19 attachments and class to use in Warzone Pacific.
Best PP-19 Bizon Loadout Warzone Pacific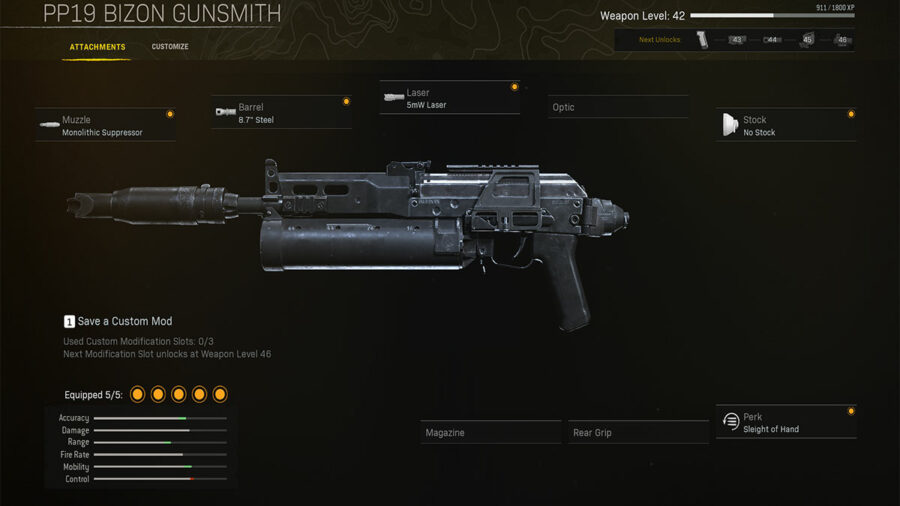 Muzzle: Monolithic Suppressor
Barrel: 8.7" Steel
Laser: 5mW Laser
Stock: No Stock
Perk: Sleight of Hand
We recommend using these attachments for a dominant close-to-mid-range PP-19 loadout. The muzzle and barrel mods used here improve the gun's damage range and bullet velocity. The mobility stats, such as sprint-to-fire, movement, and aim-down-sight (ADS) speeds, are strengthened by the 5mW Laser and No Stock attachments.
Related: Best SP-R 208 Loadout and Class in Call of Duty Warzone
Moreover, you can make adjustments to this Bizon build by replacing certain attachments with others. For instance, you can swap the perk for the Stippled Rear Grip for added sprint-to-fire time and ADS speed. Some players also prefer the 8.7" Polygonal barrel, as it has less impact on the ADS speed.
Best PP-19 Bizon Class Setup Warzone
Secondary Weapon - PP-19 Bizon
Lethal - Throwing Knife
Tactical - Stim
Perk 1 - Cold Blooded
Perk 2 - Overkill
Perk 3 - Combat Scout / Amped
Stay tuned to Pro Game Guides for more Call of Duty content. In the meantime, head over to our article on Best Pelington 703 Loadout and Class in Call of Duty Warzone.