Call of Duty: Vanguard provides two different weapon classes for precision over long-range. Apart from high-caliber Sniper Rifles, these weapons include fast-firing Marksman Rifles such as the SVT-40. Here's a guide on building the best SVT 40 loadout in CoD: Vanguard.
Best SVT-40 Loadout Vanguard
The best SVT-40 attachments for high accuracy and range are as follows:
Muzzle - MX Silencer
Barrel - Kovalevskaya 800mm B03
Optic - ZF4 3.5x Rifle Scope
Stock - Empress Crown
Underbarrel - M1941 Hand Stop
Magazine - 6.5 Sakura 15 Round Mags
Ammo Type - FMJ Rounds
Rear Grip - Fabric Grip
Proficiency - Vital
Kit - Fully Loaded
Related: Best TYPE 100 Loadout and Class in Call of Duty: Vanguard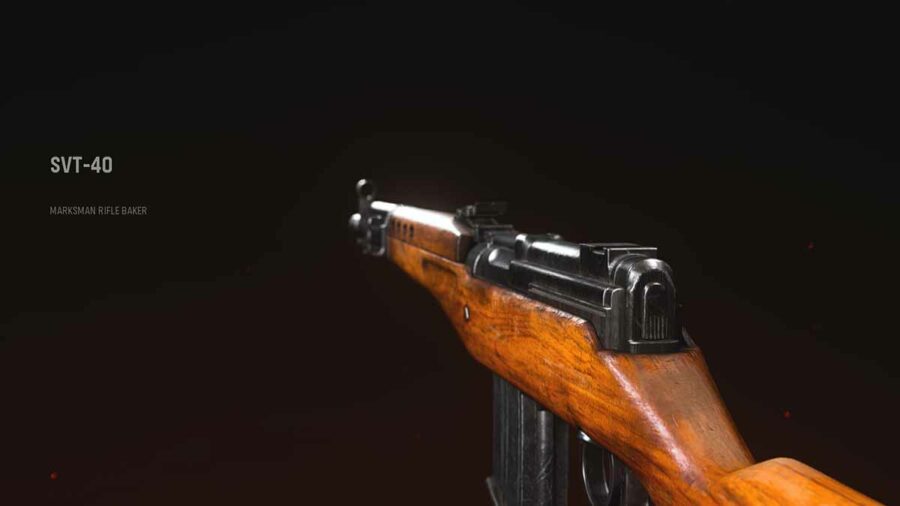 The first attachment we equip is the MX Silencer muzzle for sound suppression and accuracy. The second and the most crucial attachment is the 800mm barrel, which boosts accuracy and extends the one-shot kill area for the weapon.
You can modify the optic, proficiency, and kit attachments in the SVT-40 class to your preference. We strongly recommend using Vital to widen the one-shot kill area even further. The Empress Crown stock enhances the aiming stability, flinch resistance, and recoil control while hurting the movement and sprint-to-fire speed.
These cons aren't worrisome as you'll probably use the SVT 40 for mid to long-range rather than close-range. There are several magazine options available to try for the Marksman Rifle. We prefer the Sakura Mags as the advantages far outweigh its downsides.
Stay tuned to Pro Game Guides for more Call of Duty: Vanguard content. In the meantime, head over to our article on – Best PPSH-41 Loadout and Class in Call of Duty: Vanguard.