In Call of Duty Modern Warfare 2, players get to participate in tons of different game modes which present unique challenges. Most of these game modes are familiar for fans of the CoD franchise, while some of them are new additions. While starting the game, you can see a list of game modes on the home page. Here's how you can filter the game modes is Call of Duty Modern Warfare 2.
How to select specific game modes in Modern Warfare 2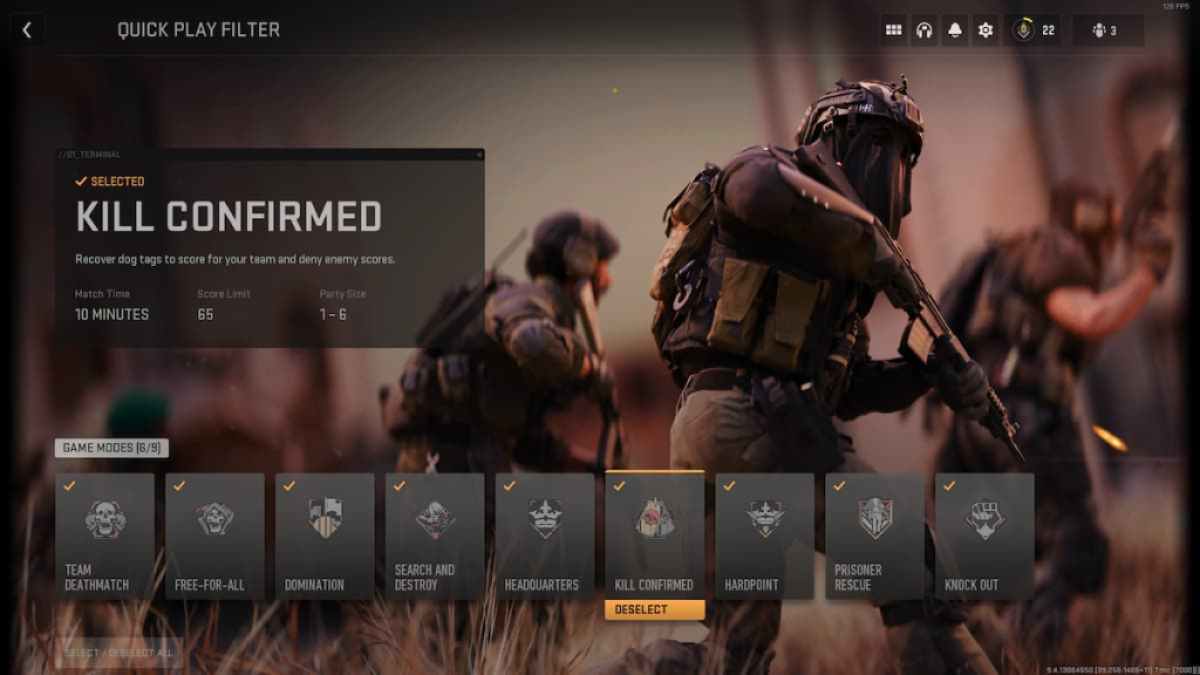 On the home page in Modern Warfare 2, you'll see four tabs, Featured, Multiplayer, Campaign, and Cooperative. The Featured tab has a Quick Play option that has a number of game modes. Selecting the Quick Play option starts the matchmaking for any of these game modes. You'll be placed in a lobby for any of the game modes you see on the image above.
However, if you want to play a specific game mode, then start filtering out the others. For example, if you only want to play Team Deathmatch or Kills Confirmed, hover over the Quick Play option and press R (PC), Square (PlayStation), and X (Xbox) to enter the filter mode.
Once you are inside the Quick Play filter, start deselecting the game modes you want to avoid. If you want to play only one specific game mode, then make sure to deselect all others. The Quick Play option features nine different game modes: Team Deathmatch, Free-For-All, Domination, Search and Destroy, Headquarters, Kills Confirmed, Hardpoint, Prisoner Rescue, and Knock Out. Most of these game modes are familiar for the CoD community, with a few new introductions in Modern Warfare 2.
After filtering out the game modes, return to the previous screen and press Play to queue into the game modes you selected. Although the queue time can be a little high for specific game modes, this is how players can filter out modes they don't want to play.
Having trouble logging in to Modern Warfare 2? Check out How to fix MW2 'keeps crashing on PC, PS5, & Xbox' issue on Pro Game Guides.