FPS Call of Duty: Modern Warfare 2 has been a huge hit, continuing where the franchise left off while adding a raft of new features and regular updates. But recently players have seen a rise in a particular game-breaking error that can completely stop them from playing the game. If you're one of those players affected, here's how to fix Dev Error 11557 in MW2 & Warzone 2.
How do you fix Dev error in Modern Warfare 2?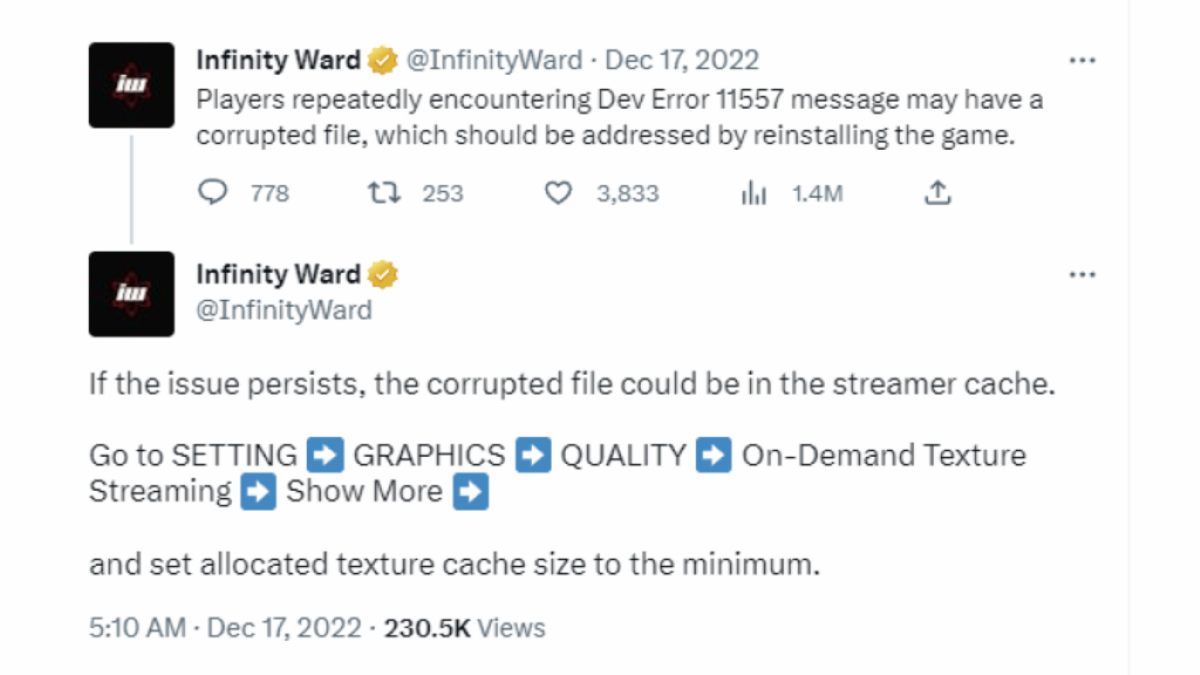 It seems that Dev Error 11557 is a graphics issue, which can either be triggered by a stalled game update, graphics card update, or a graphics settings change required. If playing on PC, it is always a good idea to have your graphics drivers up to date to the latest official version, so we'd suggest doing this first as it is good practice either way. If that doesn't fix the error, refer to the tweet from the developer Infinity Ward's official Twitter account and change the game's allocated cache size to its minimum. To do so, go to Settings, Graphics, Quality, On-Demand Texture Streaming, and Show More.
If this doesn't fix the issue, the problem is likely to have been due to a game installation or update problem. First, check the integrity of the game files:
Steam: Click on Steam's Library tab, right-click the game on your Library list and click Properties, choose Local Files, then Verify Integrity of game file.
Battle.net: Go to All Games in the top menu, click My Games, then select the game. Choose the gear (next to Updates) and press the Scan and Repair option.
If this doesn't fix the problem, unfortunately, your next step should be to reinstall the game. For continuing issues, or to get more info outside the game itself, you can try the official Infinity Ward Trello board.
Looking for more Call of Duty guides? Check out DMZ Rusted Fridge Key Location – Warzone 2 and How to Equip Ranked Skin in MW2 right here at Pro Game Guides!